There are many strange natural phenomena across the world that draw tourists in droves to marvel at the spectacles. Australia's pink lake, Mexico's hidden beach, a blood-red waterfall in Antarctica, and the rolling stones in the US are some of the most well-known among those. If you just let out a sigh, saying you cannot go that far to enjoy a strange natural phenomenon, well, there are plenty in India itself. If you plan your trip right, and with a bit of luck, you can enjoy some of these beautiful natural phenomena in India itself. Here are six of the best.
1. Magnetic Hill, Ladakh
Imagine the car being on neutral and still rolling up the hill! Yes, that happens in Ladakh's Magnetic Hill, which is now a much-visited tourist attraction in the Union Territory.
It lies on the Leh-Srinagar highway, around 30 km from Leh. While the Border Roads Organisation (BRO) signboard at the spot reads "The Phenomenon That Defies Gravity," scientists have explained the phenomenon as an optical illusion.
Locals, however, believe that the surrounding mountains have magnetic properties that attract metal, which explains why cars apparently move up the hill at a speed of almost 20 km per hour. Interestingly, though, the phenomenon happens only at the designated place, which does not explain why the "optical illusion" does not happen anywhere else.
Believe it, or not? It's totally up to you.
2. Mass bird suicide, Jatinga, Assam
Let's be honest; this one is a little macabre. But if you have an appetite for thrills and chills, you must consider paying a visit to Assam's Valley of Death.
Jatinga is a small village on a ridge in Assam's Dima Hasao district. There is nothing apparently strange about this Khasi-dominated village. Only, after every monsoon, usually in September-October, the village turns into a mass suicide point for all kinds of birds.
Apparently, the suicides happen only on moonless nights, when the birds of Jatinga start behaving erratically, that too exactly between 6 pm and 9.30 pm. And if they see any lights, they plunge to their death.
Also read: This 'Motorcycle Diaries' features a mom, her son, and a Bajaj Chetak
Even top-notch ornithologists have failed to explain the reason behind Jatinga's bird deaths. Some have explained it as the combined result of high altitude, wind, and fog, which make the birds disoriented. The sudden light further adds to their trouble and they fall before they can stabilise themselves. Others have attributed it to changes in the magnetic qualities of underground water, which disorients the birds.
Jatinga, located 9 km from Haflong town, now attracts tourists to witness this strange phenomenon. But it would be a much better destination for watching birds and not their deaths, don't you think so?
3. Gujarat's Chir Batti / West Bengal's Aleya
What's common to West Bengal in the east and Gujarat in the west of India? Well, there may be several things in common, but bizarre "ghost lights" are one of them.
In Bengal, they are called "aleya", while in Gujarat, they are called "chir batti". But the phenomenon is not unique to India. Remember reading about will-o'-the-wisp in English classics? It's the same phenomenon and has its equivalent in several cultures across the world.
This phenomenon is unique to marshlands, where orbs of light float eerily above a bog or marshy grasslands, as in Gujarat's Banni. The fishermen of Bangladesh and West Bengal believe these to be ghosts — the souls of dead comrades — that can either harm them or help them.
Also read: Why migratory birds are back at Bengaluru's Varthur Lake after 20 years
However, these have been long been explained by science as the result of gases such as methane produced by decaying organic matter in the swamps. When these gases rise to the surface, they meet the oxygen in the air and light up. Even the colours of the lights can vary, depending on the specific gas. If you leave out the superstitions, these "ghost lights" can be a marvellous thing to witness.
Unfortunately, "ghost lights" cannot be predicted. It's up to the ghosts, er, the gases to build up and rise. But if you happen to visit Sunderbans in West Bengal or Gujarat's Banni Grasslands Reserve, do keep your eyes open in the evening for ghost lights!
4. Fireflies Festival in Purushwadi, Maharashtra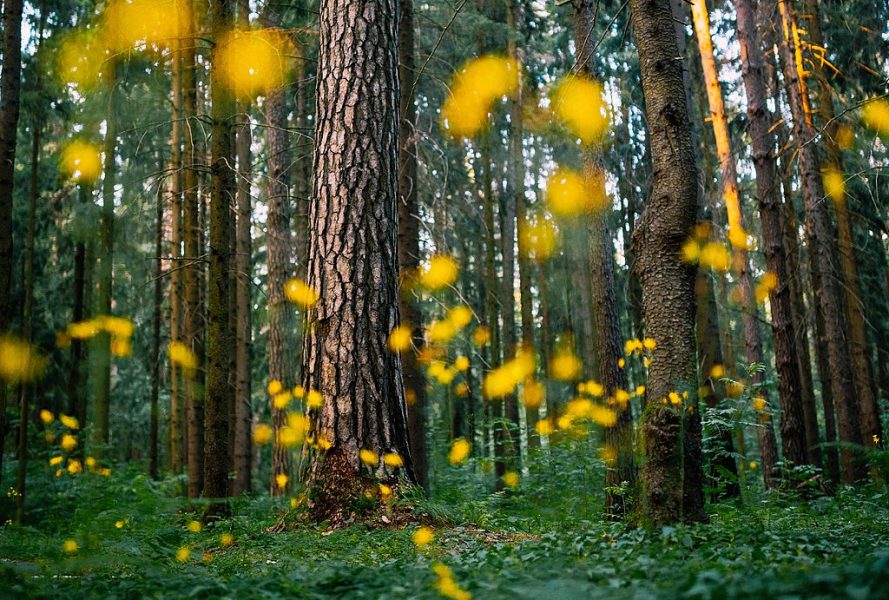 If you want to chase lights, why rely on the unpredictable? The more "plannable" phenomenon is the Fireflies Festival in Purushwadi near Nashik, Maharashtra.
It is small hamlet in Maharashtra's Ahmednagar district where, during May and June, billions of fireflies come out in the open meadows after sunset. The village, nestled in the Western Ghats, is home to many indigenous tribes, too.
Purushwadi is quickly gaining popularity as an eco-tourism destination among campers and travellers looking for the offbeat. You can stay in tents or home stays, eat local food, and experience the rural life, apart from marvelling in the sight of billions of tiny lights dancing in the meadows after dark.
The village is around 165 km from Pune and 190 km from Mumbai. So, the next time you make a pre-monsoon visit to Maximum City, try to attend this unique light fest.
5. Bioluminescence at Havelock Island, Andaman Islands
Talking about lights, another unique natural phenomenon, for which many beaches across the world are well-known, is bioluminescence. Yes, science fiction tales have been spun around it too. In this phenomenon, the waves lashing the shore seem to attain a bright blue glow at night.
Also read: Airbnb's top offbeat destinations: Pimpri-Chinchwad, Vellore on list
This glow, though it may look ethereal, is nothing that science cannot explain though. Tiny marine organisms called phytoplankton, which glow in the dark, give the ocean surface the bright-blue tint at night. The best time to enjoy bioluminescence is from November to February, on a moonless night, away from city lights.
Some of the best places to witness bioluminescence in India is Havelock Island in the Andamans, Mattu and Padukere beaches near Udupi in Karnataka, Betalbatim beach in Goa, and Bhangaram Beach in Lakshadweep. Bioluminescence is often seen in Mumbai's beaches also. Chennai's Thiruvanmiyur beach has also reported the phenomenon.
6. Krishna's Butterball, Tamil Nadu
One of the major tourist attractions in the Unesco World Heritage Site of Mahabalipuram, Tamil Nadu, is what is known as Krishna's Butterball. Also known locally as the Vaanirai Kal, which means "Stone of the Sky God" in Tamil, it is a 250-tonne boulder, with a height of 20 feet and width of 5 meters, which rests on a slippery hill slope, at an angle of 45 degrees, on a base of less than 4 feet!
The rock looks as if it will roll down the hill at any moment. But, it has been withstanding tsunamis, earthquakes, and cyclones for over 1,200 years. In 1908, even seven elephants could not move the rock an inch from its precarious perch.
Even scientists have no definite explanation for the rock holding its position for so many years, withstanding erosion and other forces of nature. Some say it could be due to a combined play of friction and centre of gravity. But nothing seems quite convincing. But then, "there are more things in heaven and earth"….