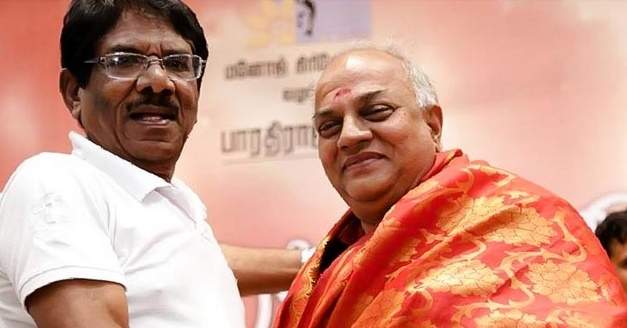 One of the most talented and well-known cinematographers in Tamil cinema, B. Kannan, breathed his last on Saturday (June 13) at Chennai due to age-related illnesses.
He was 69. He is survived by his wife and two daughters.
Kannan was fondly referred to as Tamil director Bharathiraaja's "eyes", and the two of them had worked together on more than 40 films.
Bhimsingh Kannan was the fourth son of A. Bhimsingh, a popular Tamil filmmaker. Born in 1951, Kannan came from a family of artists in cinema. He was the younger brother of B. Lenin, a well-known film editor, and the older brother of Gopi Bhimsingh, who directed the first-ever mega-serial Vizhuthugal, which was relayed on DD Metro in the mid-90s.
Kannan made his debut as cinematographer through the film Oru Nadigai Naadagam Paarkkiraal (1971), which was directed by none other than his father. The film was based on the eponymous novel of popular Tamil writer Jayakanthan.
Kannan worked with director Bharathiraaja for more than 20 years. The first film the two of them came together for was Nizhalgal (1980), and the duo continued to work together until the film Kangalaal Kaidhu Sei was released in 2004.
The two of them have liberated Tamil cinema from its traditional studio settings. While Bharathiraaja introduced village-themed stories to the industry, Kannan captured the life of villages in his frames in a realistic manner, with a touch of his own uniqueness.
Be it the setting of birds flying in the evening sky and the sunset in the song, "Ithu oru ponmaalai pozhuthu" in the film Nizhalgal, or that of the gigantic banyan tree in the song "Pothi vecha malliga mottu" in Manvaasanai, or the verdant forests in the song, "Kathal oviyam paadum kaaviyam" in Alaigal Oivathillai, or the roaring waves in Muttom beach in the film Kadalora Kavithaigal, Kannan's cinematography managed to convey a beautiful poem with each frame.
Keeping this in mind, Bharathiraaja said in his condolence message that Kannan and his eye for a good frame were (figuratively) his eyes during a shoot.
Speaking to The Federal, cameraman-turned-actor Ilavarasu said Kannan, besides teaching shooting techniques, also ingrained life lessons in people's minds. "He always made us ask the question of whether something we do or have was needed or not. For example, when we smoke, he used to ask us whether this was needed or not. We can't lie to ourselves for that question. That's how we quit smoking," he said.
"I joined as the fourth assistant cameraman to Kannan in 1983. He was doing camera work for the film Ethanai Paarvai Ethanai Konam, directed by his brother Lenin at that time. This film too was based on an eponymous novel of writer Jayakanthan. All the members of his family were fans of the writer. Theirs was one of the houses the writer visited frequently," recalled Ilavarasu.
Ilavarasu became an official assistant to Kannan in the latter's next film Manvaasanai (1983). He spoke about one of the most memorable scenes shot in that movie using innovative techniques.
"In that film, during a pathos (an appeal to the emotions of an audience) format of the song, 'Pothi vecha malliga mottu', the heroine Revathi walks amid a dust storm. That was shot within seconds. In today's scenario, people would have asked whether it was graphics. There was no trolley to move the camera and take circular shots those days. My senior Dhanapal and I used to lock our shoulders with each other, and Kannan would sit on us with the camera. We would then walk in a circle and shoot. That's how we managed to take circular shots without a trolley," he said.
Ilavarasu went on to talk about Kannan's skill and character. "Though he was a son of a great director, he never took it to his head. His cinematographic mind worked equal to the speed of a director's mind. He always managed to shoot scenes with whatever facilities available in hand. He never asked the director to wait until they received equipment or other facilities.
"He did not take away or ruin the original mood in the creator's idea in his shooting. That was his style of filmmaking," added Ilavarasu.
Many other cinematographers felt that with his skill in cinematography, he had created a repository of references for cinematography for others. Even today, most of them claim they refer to the films worked on by Kannan if they wished to shoot a film in a village setting.
"We can control the lighting the way we wish to if it is indoor shooting. But in outdoor shooting, it is difficult. Maintaining a natural colour scheme and skin tone in films is even more difficult. Kannan had good control over natural lighting and other aspects of cinematography. He redefined outdoor shooting," cinematographer C. J. Rajkumar told The Federal while reminiscing about Kannan.
Rajkumar also said Kannan had experimented with the zoom feature in shooting as well as trolley and crane movement shots, setting the trend for different angles in shooting.
Kannan had also received the Shantaram award, which is as prestigious as the National Award, for the film Kadal Pookkal (2001).
The film industry was also mildly surprised about the fact that Kannan did not venture into the directorial aspect of film-making, and about his long standing association with Bharathiraaja.
"One of the reasons could be the freedom given by Bharathiraaja. He considered each and every film of Bharathiraaja his own," said film reviewer Thirai Bharathi.
However, according to Rajkumar, Kannan simply had no time to direct a film. "Bharathiraaja did films back to back. So Kannan had no time to take up his directorial venture. However, he had been a director for a small-budget film," said Rajkumar.
Even before actor Kamal Hassan and cinematographer P. C. Sriram attempted to use digital technology instead of film rolls, Kannan had tried digital filmmaking for the film Aayul Regai (2005).
"While all other technicians woke up at 6 AM to get ready for a 9 AM shoot, Kannan would wake up at 4 AM and take the lead actors to a separate place and make them run, dance, and walk along river banks, agricultural fields, temples, etc. and take montage shots. Intrigued by these beautiful shots, Bharathiraaja himself edited all those montage shots during one instance and used it for a song sequence, 'Antha nilava thaan' in the film Mudhal Mariyaadhai (1985)," said Bharathi.
In the times that followed, Kannan served as the head of the cinematography department at the Blue Ocean Film and Television Academy (BOFTA), Chennai.