This one's for all you sports fanatics out there who miss watching tournaments on the television due to the lockdown imposed by several countries amid the COVID-19 outbreak.
Worry not, we've got you covered. Here are 10 Bollywood movies from the sports drama genre to keep you hooked and keep your spirits up during the lockdown.
Jo Jeeta Wohi Sikandar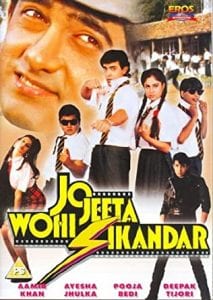 The evergreen 1992 film starring the perfectionist Aamir Khan still holds it's first position when we talk about sports dramas.
The story is of a complete mental and physical transformation of Sanjay aka Khan, a carefree young college student, who participates in an inter-collegiate bicycle race after his elder brother pulls out of the competition due to an injury.
The entertainer full of challenges, friendship, love, and family ideals, which is available on YouTube is sure to keep you motivated.
Iqbal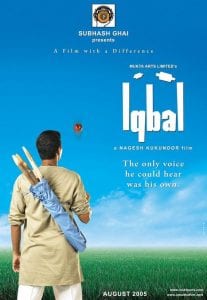 A national film award winner, Iqbal starring Shreyas Talpade and Naseeruddin Shah in the lead roles, is the story of a cricket-crazy deaf and mute boy from a remote village in India.
This rags to riches film shows the zeal of a boy with disabilities and his aim to overcome all challenges to become a cricketer and one day play for the Indian national cricket team.
The Nagesh Kukunoor directorial is available on Zee5 and can also be purchased or rented on YouTube.
Chak De India
"Iss desh mein gulli danda khel sakte hai, cricket khel sakte hai, politics bhi khel sakte hai but hockey thodi problem hai (In India we can play gilli danda, cricket and politics but hockey is a little problematic)," are the words of Kabir Khan played by Shah Rukh Khan, a former World Cup hockey star, who has made a comeback to the sport as a coach of the Indian national women's hockey team.
Khan, who is tainted as a player who betrayed the country by giving away crucial goals to the opponents, in a bid to prove his loyalty to the nation, begins coaching a team of women from all corners of the world.
The movie, available on Amazon Prime Video, is a must-watch to witness women empowerment, their challenges in a male-dominated society and tons of entertainment and nerve-tickling matches.
Kai Po Che!
Based on Chetan Bhagat's novel Three mistakes of my life, Kai Po Che starring Sushant Singh Rajput, Amit Saad, and Rajkumar Rao is a film that goes beyond the genre of sports drama.
The film revolves around the life of three friends who start a cricket academy of their own to train budding talent. However, they face challenges in the backdrop of 2001 Gujarat earthquake and 2002 Godhra riots that changed their way of looking at things. The Abhishek Kapoor directorial can be found on Netflix.
Fun fact! In the movie, Sushant Singh Rajput trains a teenager to become a district level cricketer. Unfortunately, the Indian Premier League this year has been suspended until April 15, but if it happens we might see that budding cricketer from the movie in a bright blue Mumbai Indians jersey.
Paan Singh Tomar
A movie that won two national awards for the best feature film and best actor features Irffan Khan in the lead role playing Paan Singh Tomar. He was a soldier in the Indian Army, who stuns the seniors with his athletics skills and goes on to winning gold medals at Indian national Games seven times in a row.
However, the plot twist becomes even more gripping when his mother is murdered and he turns into a dacoit after seeing the inaction from the police.
The movie which is available on Netflix is one of the films which started the culture of biopics in Bollywood.
Bhaag Milkha Bhaag
Come up is another biopic of India's most iconic track and field athlete, Milkha Singh. Based on the Flying Sikh's biography The Race of My Life, the film chronicles Singh's incredible struggles from being an orphan to becoming one of the greatest athletes of the country.
The role of a world champion and Olympian is played by Farhan Akhtar who has successfully put soul into the character. The movie is available on Hotstar for you to know the true story behind Milkha Singh's life who overcame the massacre of his family, homelessness, and civil war during the India-Pakistan partition to become the greatest of all time.
M.S. Dhoni: The Untold Story
When it comes to sports dramas it rains biopics in Bollywood and here's another one of probably one of the most loved cricketer of India – two-time World Cup winning captain Mahendra Singh Dhoni.
It is no secret that Dhoni has one of the biggest fan followings in the country especially after becoming the captain of Chennai Super Kings. So, here's Sushant Singh Rajput bringing the former captain's untold story on screen.
Rajput was highly lauded for his performance and there's no doubt that he absorbed Dhoni and his smallest of the small mannerisms to the fullest. The movie which is available on Hotstar will be a treat if you want to relive the best moments of Indian cricket.
Pro Tip: If you haven't watched the movie yet, do not shut the screen before end credits. There's a 10-second treat for all fans.
Saala Khadoos
A critically acclaimed film, which has highly compared with Chak De India for its plot, offers little extra for all the R. Madhavan fans out there in the Tamil as well as Hindi language industry.
The story revolves around a boxing champ who missed his chance of participating in the 1996 Olympics due to dirty politics in the boxing association and a comeback of the lead character Prabhu Selvaraj as a coach for the newcomer Ezhil Madhi who constantly puts off his efforts by her carefree playful attitude.
Also made in Tamil as Irudhi Suttru, the film is available for streaming on SonyLiv app.
Mary Kom
Another biopic which would highly inspire all the women and men who've kept their dreams aside to raise a family is Mary Kom.
The story is of a girl who encounters a renowned boxing coach whom she convinces to train her despite her father's disapproval only to become a mother of three, six-time world champion, and Olympic medal winner.
The oh-so-inspiring movie is available on YouTube, Google Play Movies, and Netflix.
Dangal
We started from the perfectionist Aamir Khan, and it's only fair to end the list with him featuring in a biopic of Mahavir Singh Phogat.
Dangal is a film that revolves around the life of a former wrestler, who decides to fulfil his dream of winning a gold medal for the country by training his daughters to wrestle their way through social stigmas and moving on to win the Commonwealth Games.
The fact that he wanted to give birth to a boy child to realise his dream and ends up with four daughters makes the movie all the more interesting in busting stigmas, barriers, and extending a message that family is always by your side in your hardwork.
The film is available for access on Netflix and is a must watch for your quota of rough, larger than life entertainment.