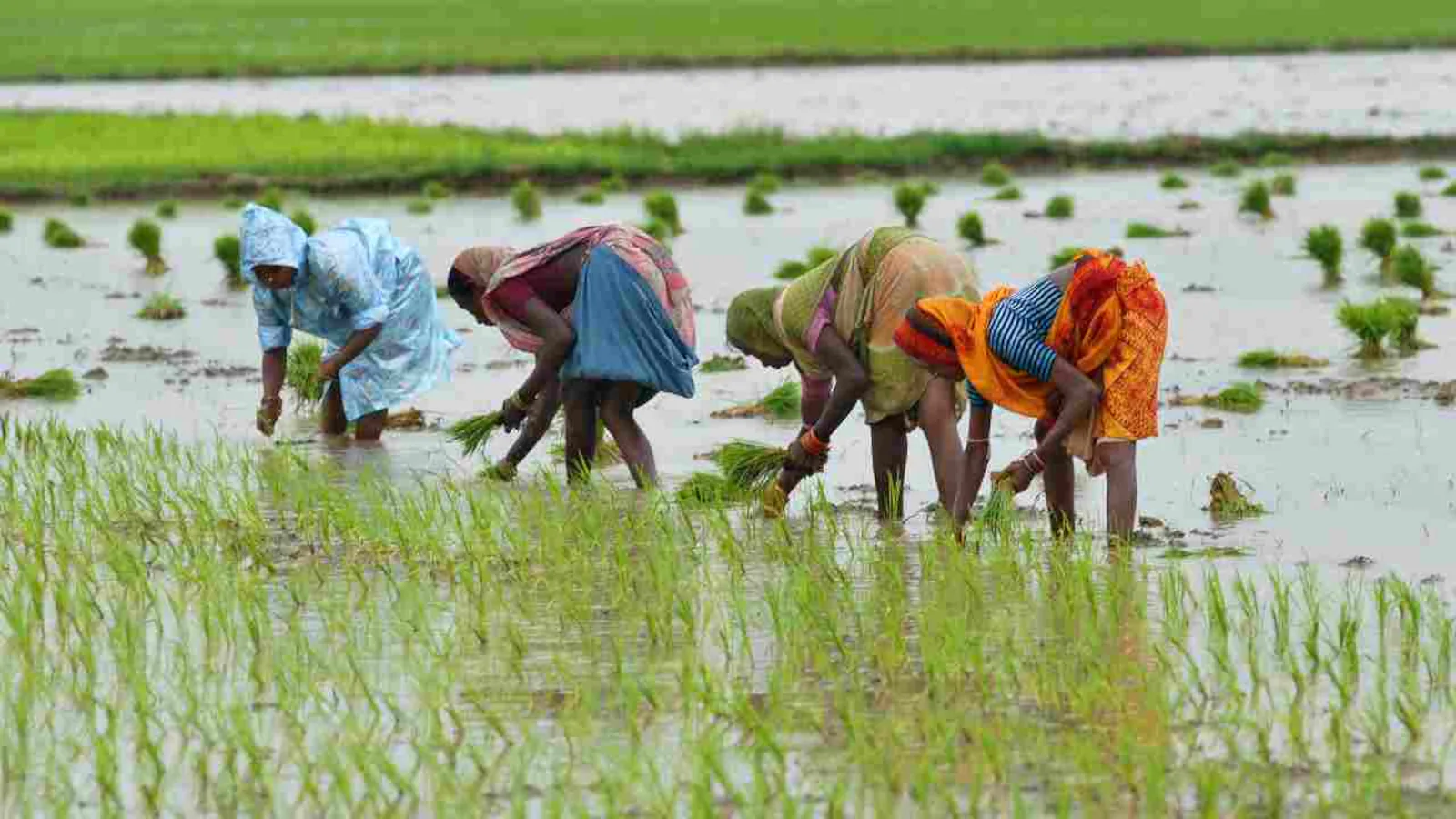 Monsoon's uneven march may cast shadow on India's rice production
Even as India has imposed a ban on non-basmati white rice to ensure adequate supplies and control prices, an uneven monsoon in the country this year may take a toll on paddy crop.
Flooding of paddy fields due to heavy rains in major rice producing states like Punjab and Haryana, coupled with deficient rainfall, lower sowing and reservoir levels in states like West Bengal, Bihar, Jharkhand, Odisha, Chhattisgarh and Madhya Pradesh do not bode well for the Indian farm sector and inflation.
Rain deficit

Heavy rainfall in northern states has narrowed rainfall deficiency to a large extent, yet the monsoon's distribution remains highly skewed with 47% of the country receiving deficient to large-deficient rainfall, according to data from the India Meteorology Department (IMD). Rains have been scanty in major rice growing states such as Odisha, Andhra Pradesh, West Bengal, Bihar and Jharkhand.
Also read: Will rice export ban impact India's credibility globally? Experts vary
As per media reports, from June 1 to July 28, Bihar has received 49% less rainfall than average, Jharkhand 48% less, eastern UP 35% less, and Gangetic West Bengal has recorded 40% less than normal rainfall. Apart from these, a deficient monsoon in Andhra Pradesh (15% below normal), Odisha (28% below normal), Telangana (26% below normal), Chhattisgarh (23% below normal) and Assam (7% below normal), has affected rice sowing detrimentally.
As per a report, cumulative rainfall is deficient in almost 25 of 38 districts in Bihar. Similarly, of the 24 districts in Jharkhand, 16 recorded deficient cumulative rainfall. In Uttar Pradesh, of the 75 districts, rainfall is deficient in 33 of them. Rainfall is deficient in almost 14 of the 23 districts in West Bengal.
Bihar bears brunt
Bihar is one of the worst-hit states when it comes to rain deficit. Bihar's Muzzafarpur received only 119.2 mm rainfall as compared to 304.8 mm last year. Kaimur and Rohtas district, known as rice bowls of Bihar, are also reeling under dry conditions. Paddy transplantation has already been delayed due to poor rains in June and July. As per the state agriculture department, only 31% of overall paddy transplantation was done across nine divisions till last week of June. The total coverage area of paddy cultivation in the state is around 35 lakh hectares. Bihar has recorded 81% deficient rainfall in June having received only 14.4 mm of rainfall as against normal rain of 81.5 mm from June 1 to June 20, as per official data.
July turned out to be no better with the state recording the lowest rainfall for this month in the last 10 years. Taking serious note of the poor monsoon, Chief Minister Nitish Kumar recently held a meeting to review the situation and directed officials to make all necessary arrangements to help farmers facing deficient rainfall. The state agriculture department has already alerted the districts and asked the officials concerned to prepare for the cultivation of optional crops that require less water.
Also read: IMF 'encourages' India to lift rice export check for sake of global inflation
According to the latest data released by the agriculture ministry, paddy sowing remained slightly higher at 23.75 million hectare till July 28 of the ongoing kharif season compared to 23.32 million hectare in the year-ago period. However, the impact of rain deficit and consequent decline in the area under paddy cultivation also reflected in its data. The ministry said the area under paddy coverage was lagging in dozen-odd states with huge gaps in sowing areas in Odisha, Karnataka and Andhra Pradesh so far.
Flooding woes
Meanwhile, massive crop damage has been reported in Punjab and Haryana due to heavy rainfall in the month of July. These two states together contribute about 20% to India's rice production. Punjab and Haryana have witnessed rainfall in excess of 96% and 91% above the long period average (LPA), respectively from June 1 to July 12. Heavy rainfall in these states has reportedly led to inundation of standing paddy crop in Amritsar, Hoshiarpur, Gurdaspur and Fatehgarh districts of Punjab, and in Ambala, Kurukshetra and Yamunanagar districts of Haryana.
According to the agriculture department in Punjab, paddy transplanted on 2.59 lakh acres has been completely ruined across over half a dozen districts. The department officials say paddy and basmati rice varieties have to be re-sown and they have already recommended PR 126 variety (non-basmati), PUSA 1509, PUSA 1847 and PUSA 1121 (basmati) varieties for affected areas.
Talking to The Federal, Dr GS Romana, Senior Farm Economist, Punjab Agriculture University (PAU), said there will certainly be a drop in the state's rice production, though they aren't in a position to spell out the exact extent of damage right now. He said there has been 100% crop loss in some of the worst-affected districts like Mansa. According to him, the farmers who opt for resowing paddy crop will not be able to get the yield at par with the farmers in unaffected areas. "They will hardly get 50 to 60% of the productivity due to loss of nutrients and decline in soil quality in the aftermath of the rain," he added.
Also read: Explained: Why India banned rice export and how it will affect the world
In Haryana, the exact crop loss is yet to be ascertained, but initial reports suggest damage to 5 lakh acres of standing crop in Kurukshetra, Yamunanagar, Ambala, Kaithal, Karnal and Ambala districts. "As per our assessment, around 50,000 acres of paddy in Kaithal district alone have suffered 100% loss. Now farmers are left with no other option but to sow the crop again," said an official of the agriculture department.
Wait and watch
Talking to The Federal, Ravishankar Mantha, CEO, Agrisk Data Analytics, said the scenario may look scary at the macro level, but things are different at substrata level. He opined that the quantum of rain required for paddy is pretty much on track as of now and it remains to be seen as to how it evolves in August, as IMD has predicted a monsoon break. "As of now, the paddy crop is decent and we need to wait and watch," he added.