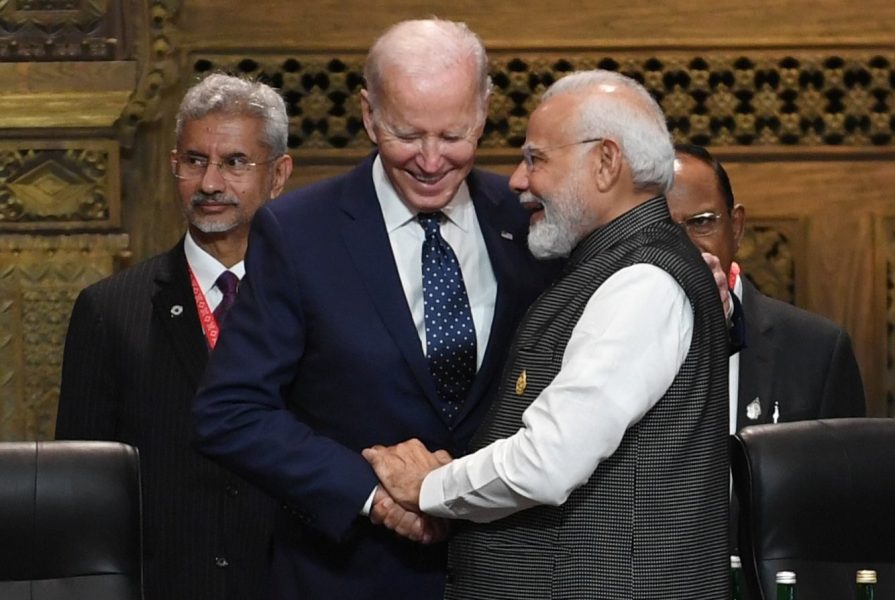 Explainer: What's special about PM Modi's visit to the US this time?
Prime Minister Narendra Modi has visited the US multiple times for bi-lateral and multi-lateral meetings since the beginning of his tenure in 2014. But, this visit assumes a lot of signifance because none of his visits earlier to the US were classified as a 'state visit'.
For a state visit is considered as the highest ranked visit by a head of the government of a state.
Modi's earlier visits fell under the category of a working visit (2014), working lunch (2016) and official working visit (2017). While, his 2019 visit has been described by the US officially, as one in which Modi "Participated in a rally in Houston, Texas".
On June 21, Modi will travel to the US on his first state visit at the invitation of President Joe Biden and First Lady Jill Biden. All eyes are on Modi's high-profile visit to the US predicted by political analysts to be a "significant milestone" in the India US bilateral relationship.
Here's why all eyes are on Modi's state visit to the US on June 21 to June 24:
Why is this visit different?
This is said to be Modi's first state visit to the US during his nine-year long reign as PM. This means that US President Joe Biden will host Modi during his visit and he will be offered a room for four days and three nights at Blair House, the President's official guest house, located within walking distance of the White House.
What are state visits?
It is the highest ranked visit and are accorded to America's closest allies and friends. It is to be differentiated from other kinds of visits accorded to a ranking member of a foreign government like an "official visit," an "official working visit," a "working visit," and a "private visit." The "state visit" , the highest ranking visit can only be offered to a chief of state – such as the President of a country or a reigning monarch – and must be at the invitation of the US President.
It is the highest expression of friendly bilateral relations and is full of official public ceremonies. It is a visit of a state rather than visit of a leader.
Also read: 'You are too popular,' Biden tells Modi as he asks him for autograph
What will the state visit involve?
In short, a state visit ensures a meeting with the US President, a state dinner at the White House, a full honors arrival and departure ceremony on the south grounds of the White House, and a 21 gun salute. Gifts may be exchanged and spouses can attend the ceremonies and dinners.
On June 22, the US President and his wife will host a state dinner. Earlier, on the south lawns of the White House, President Biden and the First Lady will welcome the Indian Prime Minister amid a 21-gun salute. The White House has sent out invitations for the welcome ceremony, which many Indian Americans were clambering to be invited to.
This invitation reportedly marks the first time a country-specific diaspora has been invited to the White House in such large numbers, said news reports.
Why is this visit important?
According to political analysts, Modi has been invited for several bilateral and multilateral meetings with American Presidents in the past, but this official 'state visit' accompanied with a state dinner before the G20 Summit in September, is a signal that the US considers India to be an equal partner. The first Indian Prime Minister to receive a state dinner at the White House was Jawaharlal Nehru in October 1949, after which many Indian PMs have been invited to enjoy a sumptuous meal at the White House.
The visit is also meant to strengthen the two countries' "shared commitment to a free, open, prosperous, and secure Indo-Pacific" and their shared resolve to elevate their strategic technology partnership, including in defense, clean energy, and space, said official releases by the two countries.
Why is US wooing India?
At another level, the visit is important for the US as it tries to counter China's growing clout and wants to possibly shift its investments to India, said experts. According to political scientists, the Biden administration is "desperately courting India" because they need a potential counter to China, for the purpose of establishing a "global supply chain and for investment reasons."
This visit can also provide an opening for the US to urge India to openly condemn Russian  invasion of Ukraine.
"We look forward to hosting Indian Prime Minister @NarendraModi in June, whose visit will celebrate the deep partnership between the United States and India," US Secretary of Stae, Anthony Blinken tweeted recently, weeks before Modi's visit.
While John Kirby, White House National Security Council spokesperson told reporters recently on June 6, two weeks before Modi's visit, "India is a strong partner of US at very many levels." He cited additional defence cooperation deals, "lot of economic trade", and for India being a member of the Quad and a key partner and friend of Indo-Pacific security.
"There's innumberable reasons why India certainly matters not just bilaterally between the two of our nations, but multi-laterally on many multiple levels," he stressed.
Analysts believe that the US is looking for a location for its manufacturing. The classic case often given is of Apple, which has launched manufacturing in India and is expected to export 20 million iPhone 14s. There are a lot of other companies also looking from that perspective, said experts. There's also a key General Electric deal in the offing, which involves building GE engines that will power HAL's Tejas-Mk II Light Combat Aircraft.
The signing of the MoU with General Electric will be one of the biggest deliverable of Prime Minister Modi's State visit to the US, said news reports. With bilateral trade reaching a record-breaking $191 billion last year, the US-India Business Council (USIBC) will host the INDUS-X conference scheduled to be held over two days in Washington to coincide with Modi's visit. INDUS-X is a platform for start-ups and enterprises from both countries to identify collaborations for high-tech innovations within the ambit of the Initiative on Critical and Emerging Technologies (iCET).
Also read: PM Modi greets US President Biden with tight hug at G7 Summit in Japan
Why is this visit important for Modi?
'Diaspora diplomacy' has been one of Modi's key political strategies since he was the Gujarat Chief Minister. This US visit is crucial for Modi's global image, to show off India's global grandstanding and to send the message back home that Modi as the leader has accomplished this. This is important for Modi before the 2024 Lok Sabha elections.
One of the highlights of Modi's visit to the US?
Modi will address a joint session of the US Congress during his state visit to Washington DC on June 22, becoming the only Indian PM to address the joint sitting of the US Congress twice.
The Congressional leaders invited Modi "on behalf of the bipartisan leadership of the United States House of Representatives and the United States Senate", to address a joint meeting of Congress on Thursday, June 22. It will be the second time that Modi will address a joint meeting of the US Congress, the first being in 2016. At that time, he was the fifth Indian PM to address the joint session of US Congress, the others being Manmohan Singh (2005), Atal Bihari Vajpayee (2000), PV Narasimha Rao (1994) and Rajiv Gandhi (1985).
Other key activities on Modi's US visit agenda?
On the agenda are agreements on trade, defence and critical minerals and significant progression of the Indo-US defence partnership, with the signing of a joint production agreement.
Ahead of Modi's state visit, US Defence Secretary Lloyd Austin arrived in India on a two-day visit to explore ways to lay the groundwork for highly anticipated agreements on bilateral defence cooperation, especially in areas of transfer of critical technologies for co-development of military hardware.
What are the events organised by the Indian diaspora?
Multiple events have been planned to extend a grand welcome to Modi.
An 'India Unity Day' march is being planned from the Washington Monument to the Lincoln Memorial in Washington DC to welcome Modi, two days before Modi's arrival in America.
Other such marches are being planned in 20 other places, including New York's Times Square and San Francisco's Golden Bridge. A group of Indian Americans will be at the Andrews Air Force Base to welcome Modi as he lands on June 21 afternoon in New York. While hundreds of the community members will gather at Lafayette Square Park in front of the White House.
The Indian diaspora has planned "a cultural event spanning Kashmir to Kanyakumari, and West to East in front of the White House", to showcase the growth of India during Modi's term in the past nine years.
News reports said that Modi may well lead the International Yoga Day celebrations on June 21 in New York.
Who's organising these events?
The Overseas Friends of BJP (OFBJP) USA, along with other right-wing organisations such as the Hindu Swayamsevak Sangh, which has approximately 205 local chapters, including in college campuses will organise these events.
This same groups had organised Modi's meeting at New York's Madison Square Garden in 2014 and the "Howdy Modi" jamboree in Texas featuring Modi and Donald Trump in 2019. Many people flocked to these events and chanted Modi's name giving him a rockstar reception. It is said that  crowd of over 50,000 people was present when Modi and Trump jointly addressed the 'Howdy Modi!' gathering in Houston, Texas.