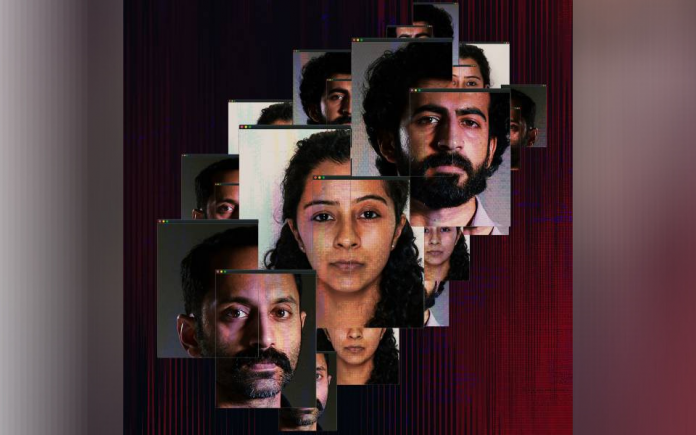 Film-maker Mahesh Narayanan is in a euphoric mood. His radical 'computer-screen' movie, C U Soon, which is currently streaming on Amazon Prime Video, is notching up rave reviews. Critics, who are aware of similar films set within the confines of electronic devices such as Searching and Unfriended, are rating it as 'innovative' and a 'solid, moving thriller'.
In a conversation, Narayanan, a film editor turned director/scriptwriter tells The Federal, "We did not expect such a fantastic response. We were not even sure if the film will click with the audiences since it is experimental."
However, Narayanan and his good friend, one of India's acclaimed actors, Fahad Faasil, who has produced and acted in the film, had a good reason to make this film. In the COVID-19 pandemic, the Malayalam film industry has been in the doldrums, struggling to find platforms to exhibit their new releases. Ostensibly, OTT platforms are not rushing to sign up new regional films (blame it on the Bollywood fixation!)
"OTT platforms are slow to pick up new regional films. Malayalam film-makers are fighting for survival and we were particularly concerned about the plight of technicians and other workers in the industry," explains Narayanan, who decided with Faasil, to work on a film that will push Malayalam cinema to the forefront and provide work for technicians and labourers. "Also, we wanted to prove that the film-industry can do a work-from-home too," adds Narayanan with a laugh.
An old video sent by a journalist friend to Narayanan in 2015 was dug up and made the focal point around which a storyline was developed. It was a 'shocking, morbid video' of a girl in the Gulf that had stayed with him for a long time. Narayanan wrote the script, directed, edited and has done virtual cinematography for C U Soon. All through the process, he has been conscious that the film, which largely plays out through chat messages on virtual platforms, video calls, laptop screens and CCTV camera footage, should not weaken the emotional content of the film.
C U Soon is a gripping watch. You cannot let your mind wander for a moment as the plot quickly kicks in with screen messages flying between a Dubai-based banker, Jimmy Kurian (played by Roshan Mathew) and Anu Sebastian (Darshana Rajendran) after they meet on a dating app. In a matter of few days, (which plays out through a few hasty texts on a mobile phone and Google chats) Jimmy professes his love for the petite Anu.
What's more, he wants to get married to her. In a more logical move, his mother, who is based in America, makes a video call to Jimmy's cousin, Kevin (played by the inimitable Fahad Faasil) and asks him to check the background of this girl, who has popped up on her son's screen.
Kevin, who works for an IT firm and has his own complicated on-off relationship with a colleague, clears her after a cursory online check. Obviously, it is a breeze for a techie to navigate Anu's footprints on cyberscape. But, all is obviously not what it seems to be in the virtual world! Kevin embarks on a frantic, deeper digital hunt. All the scenes unfold on electronic screens, including the one when he tracks down Anu in her hometown in Kerala and gets on a video call with her.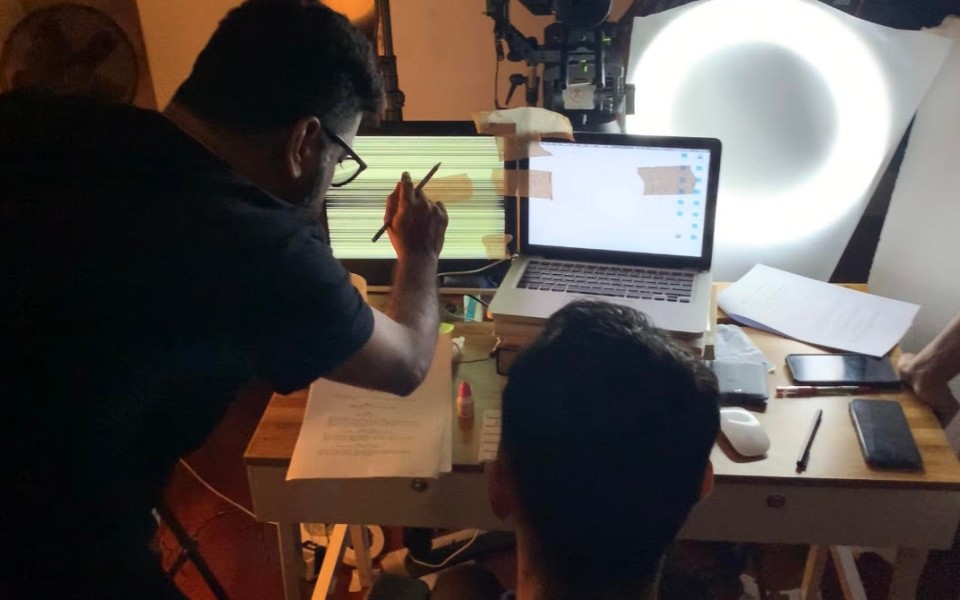 C U Soon, which took around three months to make, involved a complex filmmaking process. To start with, the entire crew was brought under one roof and had moved into rented flats situated inside Faasil's building complex.
"It was like we had quarantined ourselves in these apartments. I completed writing the script in this space, and we did the script readings and proceeded to shoot the film here," narrates Narayanan. The film was shot with a 'single lens movie camera' and not on an iPhone, as widely mentioned in the print media earlier, he clarifies. Each actor was shot separately as they emoted in front of blank device screens with cues from the crew.
The crew learnt as they went along. "We used to find new ways to shoot every day. There is a scene in which Fahad had to react emotively to a shocking video. We had shot the video but we could not play it real time on his computer since it is just a blank screen lit with markings. We could only show the videos prior to the shoot to Fahad and then give him cues during the shot and he had to emote without seeing the video," reveals the film-maker, admitting that it was challenging for actors to perform in such a scenario.
For Narayanan, the post-production stage was most demanding. "It involved combining two different technical tools like virtual cinematography and editing, which requires a lot of patience and I was so frustrated at one point. But, it is a major requirement and I slowly started to enjoy the process. I had never tried anything like this before, it was a great learning experience," says the film-maker, who has edited many films in his career, including Traffic, Kanyaka Talkies, Ennu Ninte Moideen, and Kamal Haasan's Vishwaroopam-2.
Keeping safety norms in mind, the crew functioned with just a 20-member crew during their 18-day shoot, except for one outdoor location at Grand Hyatt, where they had to recreate an airport set.
On his creative collaborator and producer of C U Soon, Faasil, with whom he has made another film, Malik, he says: "Fahad has always experimented from his first film. He does different kinds of roles and is never satisfied. What makes me happy is that though he has a pan-India presence, he wants to focus on pushing Malayalam film industry to explore a wider audience."
"It is a great time to be in Malayalam cinema, which has been shaped by cinematic giants like K G George," says Narayanan. There was a slump when Malayalam films had lost their way for a while but Narayanan feels the industry is back in a bright space. The divide between commercial and art cinema has blurred, directors are also writing their scripts and there is lot of scope for experimentation, he says.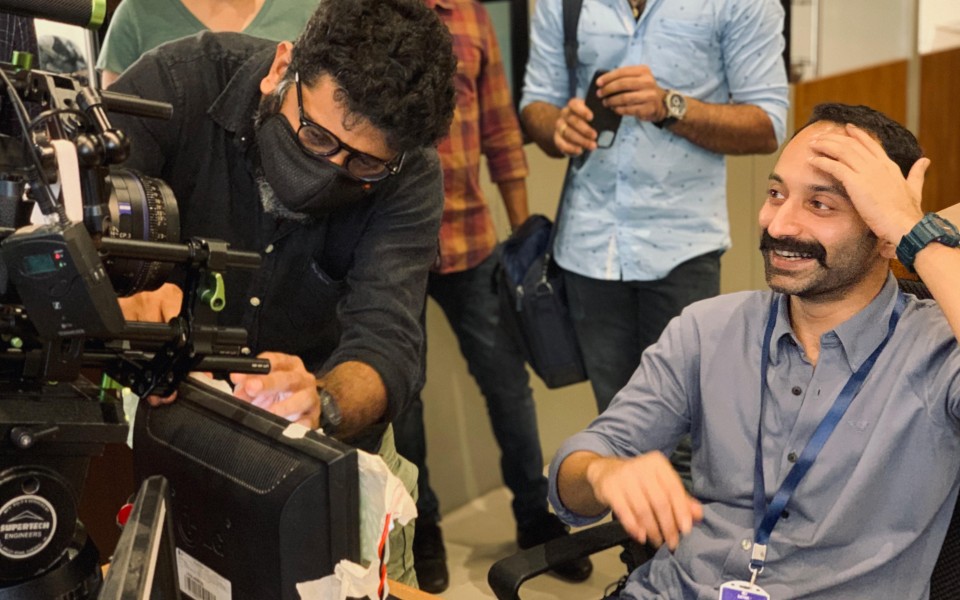 "We don't have a studio culture here. Producers give a lot of creative freedom to directors and that is the reason, I could make my debut directorial Take Off. I've faced no obstacles with Malik too, though it is a big budget film. I had no pressure to add an item song for example," he says. Narayanan, a graduate from the Adyar Film and Television Institute in Chennai, is devoted to the theatre experience and is willing to wait to release Malik after cinema halls open to full capacity.
"Malik is made for a theatrical experience, so I want to wait and may release it next year. The film includes a lot of geography, and I want the entire atmosphere to tell the story. Set in a coastal region of Kerala, it deals with the geopolitical situation currently prevailing in Kerala," he says and clams up reluctant to divulge more.
There was a time, after the critical and commercial success of Take Off, a 2017 film on the ordeal faced by kidnapped Indian nurses in Iraq, Narayanan fell into a depression. Nobody was willing to produce his next venture. "You are as good as your last film. I had met more than 20 producers but no one was willing to back my project. I did not fall in the commercial director bracket," he recalls. It was then Fahad stepped in and agreed to do Malik, an idea which he had first mooted to him back in 2011.
On the future of the film industry in India, he says, "We have to adapt to the new normal. Shooting will move into more controlled environments, much like the way Hollywood functions. For example, Joker was entirely shot on a specially designed set. This will make people feel safe, while in terms of viewing, theatres will transform and start upgrading to the latest technology like LED Cinema display. The entire format of exhibiting may change with 5G spectrum moving into the space."
What's next for this director brimming over with restless energy? Do we expect to see him soon in another digital film?
"I am done with computer screen films. I will never do another one. Right now, I am focusing on releasing Malik," says Narayanan emphatically. "Making films for OTT is a temporary phenomenon," says this filmmaker whose heart beats to watch audience react real time to films inside cinema halls.
"Theatres will never fade away. Watching a movie in a cinema hall is a carnivalesque event for the Indian family," he says.
Theatres will be back, and so will the creative duo of Narayanan and Faasil, it seems.