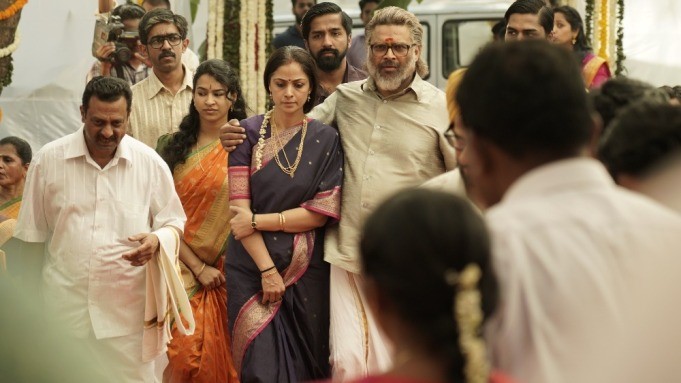 R Madhavan's Rocketry-The Nambi Effect is a commendable effort to tell the turbulent, emotional tale of an Indian patriot accused of being a spy, selling the country's secrets to Pakistan. It is a compelling story that needs to be told many times over and brought to the screen like films on the plight of Kashmiri Pandits. But, the film is not without its flaws.
Firstly, Rocketry… is too long at 157 minutes, with the first half teeming with a lot of scientific jargon (one wonders how our viewers fed on action entertainers like RRR and Vikram are going to absorb this), as ISRO's brightest scientist, Nambi Narayanan (played by a portly Madhavan, who had gained weight for the role), is intent on mastering liquid fuel propulsion technology at a time when Indian rocketry still relies on solid propellants. He also leads a team of 50 scientists to Vernon in France to acquire the Viking rocket technology from the French.
Also read: Akshay Kumar-starrer Prithviraj to stream on Prime Video
There are a lot of scientific discussions around the transfer which may go over the head of viewers. Though, Madhavan throws in a personal tragedy in this sequence, which is supposed to give an edge to the goings-on and also to drive home Narayanan's singular determination to obtain the engine technology from the French for India at all costs. The  attempts at fooling the French by making them believe that the Indian team doesn't speak French comes across as amateurish rather than fun.
Nambi's grand achievements
This French episode eventually leads to the development of indigenous rocket engine Vikas in India, which is done by Nambi Narayanan and his team. (Incidentally, that is no mean feat since the liquid-fuelled Vikas Engine is a mainstay of all Indian rockets and helped to propel India into the era of PSLV rockets). So, the first half of the film seems largely devoted to showcase Nambi Narayanan's grand achievements, which also includes a James Bond like chase in the snowy night landscapes of Siberia. That is the time, Nambi and his team escape with cryogenic engine parts they had bought from Russia on a Russian plane with the US army in hot pursuit.
Also read: Suriya is first Tamil actor invited to join Oscar committee
That's the film's second weakness. It tends to overplay the card about Narayanan's brilliance, putting all the other ISRO luminaries in the film in the shade. Be it Abdul Kalam (who comes across as someone unwilling to take risks) or Satish Dhawan, the former chairman of ISRO, who has to be convinced by an over-smart Nambi at all times.
Many a time, characters in the film say that without Nambi Narayanan's efforts, ISRO may well have been floundering in the dark ages. It comes across as if only he harboured the vision that India can reach a stage to compete with other international players in the satellite market. That is a bit of a overkill.
Maybe, it was done to show that an ISRO scientist, who had done so much for the country and could have easily taken up the NASA job he was offered and lived a cushy life abroad, ended up being treated so unfairly.
Turmoil captured
But, the film scores when it comes to capturing the turmoil and pain that Nambi Narayanan and his family underwent in Thiruvananthapuram, after he was accused in November 1994 of having met and slept with a Maldivian woman, Mariam Rasheeda, and sold designs of rockets and engines to her. In the film, Nambi defends himself saying that he was not even in Chennai at that time when he was supposed to have had the meeting with Mariam.
The scenes in which he is tortured in a guest house by the Kerala police and the Intelligence Bureau officials are chilling. Madhavan, who has directed and written the movie, gives it an ominous feel that make the viewer squirm. The film also shows how Nambi's children too face the brunt of public anger against a country's alleged traitor. His son gets bashed up, while his daughter has cow dung smeared on her face. His wife (essayed by Simran) is psychologically damaged by the sequence of events that turns the family's lives upside down. They are shunned by all and sundry.
Also read: Akshay Kumar-starrer Prithviraj to stream on Prime Video
In one scene, Nambi's daughter tells him that he has to clear his name if they have to continue to live in the country. Rocketry… is narrated in a flashback, as Madhavan as Nambi narrates his life-story to a sympathetic actor Suriya (playing himself), who is interviewing him for a TV show. (In the Hindi version it is Shah Rukh Khan)
After listening to Nambi's story, Suriya too gets teary-eyed. Nambi narrates how after he is let out on bail, an autorickshaw driver throws his sick wife and him out of the vehicle in heavy rain, and how stones are hurled into his home and his effigies burnt. People shun his family and him at weddings.
Befitting conclusion
In the end, when Nambi gets the news that the Supreme Court has cleared him, he hugs his wife who is crying with relief and begs her forgiveness for putting her through the hell. A bitter Nambi also conveys through the film that he clearly wanted the state to pay him monetary relief for all the pain he had gone through.
The film ends with the clip of the real Nambi Narayanan getting the Padma Bhushan from the President of India and indulgently watched by a smiling Prime Minister Narendra Modi. But, it also comes as a timely reminder of the serious harm a callous state can wreak on a person's life by arresting them on trumped up charges.
On the acting front, Madhavan tries very hard to be true to bring to life the story of a scientist who he obviously greatly admires. His team members – Unni (Sam Mohan, who shines in a small role), Param (Rajeev Ravindranathan) and Sartaj Singh (Bhawsheel Sahni), are all very good. So, is Kartik Kumar in a brief role as the calm and collected CBI official, who interrogates him and Mariam Rasheeda, and finds no truth in the allegations against them. There is a lively rendition of the Suprabatham in the beginning of the film, which is a nice touch.
Trade analysts believe that the film, like Kashmir Files, may attract crowds after the first week. Today, the morning show in a Bengaluru cinema hall had six people in the audience.