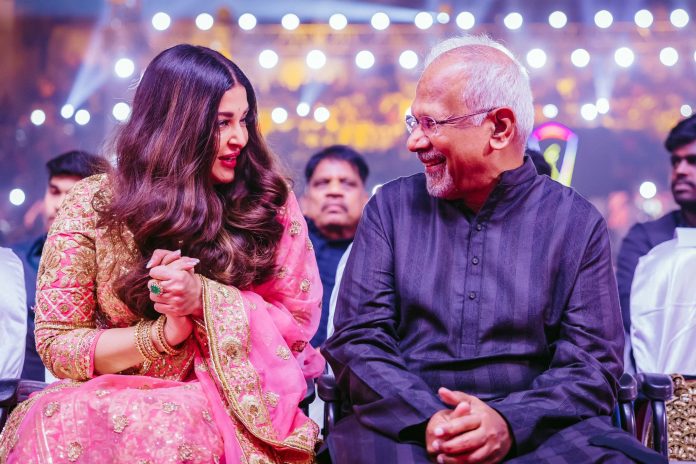 The trailer and audio of the much-anticipated Ponniyin Selvan–Part 2 (PS-2) were released in Chennai's Jawaharlal Nehru Indoor Stadium late on Wednesday (March 29).
The film is all set to hit the theatres on April 28.
Expectations are sky-high from the second and final instalment of Mani Ratnam's adaptation of Kalki's eponymous Tamil work. After a gripping first half, fans expect a riveting finale to the franchise that has all ingredients of a blockbuster.
The lead actors of Mani Ratnam's magnum opus — Vikram, Karthi, Jayam Ravi, Aishwarya Rai Bachchan, Trisha, and others — attended the event along with the director himself and music director AR Rahman.
Chief guests
Top star Kamal Haasan and actor Silambarasan were the chief guests at the event, and the stadium was packed with celebrities from the Tamil film industry, such as Revathy, Khushbu Sundar, and Shobana, filmmaker Bharathiraja, and Malayalam actor Joju George.
Subaskaran Allirajah, the producer of the franchise, released the trailer for PS-2.
Aishwarya Rai Bachchan, who looked resplendent in pink, thanked the audience for appreciating PS-1. "We thank the people here in Tamil Nadu, in our country, and in the world. We have received such enthusiasm for Ponniyin Selvan 2," she said at the event.
"I have collaborated on many movies with Mani Ratnam. I hope he continues to cast me in roles as great as Nandini," she added.
Also read: Kalki's Ponniyin Selvan: How nature's five elements act as characters
Kamal Haasan talks about 'beautiful friendship'
Praising Mani Ratnam for "doing the impossible", Kamal Haasan said, "I wish PS-2 will exceed the success of PS-1." The veteran actor said huge films like the PS franchise would put "directors into a more tense situation to show even the minutest of the details to make it believable".
"Many questioned Mani Ratnam's ability to adapt a brilliant literary masterpiece like Ponniyin Selvan into a movie. This grand event is proof of his success, as everybody is running short of words to compliment him. I knew Mani Ratnam even before we collaborated on Nayakan. I'm sure this beautiful friendship will continue this way, forever," said Haasan.
Silambarasan, whose Pathu Thala was released on Thursday, was not to be tricked by the anchor's query on whether he liked Kundavai or Nandini, played by Trisha and Aishwarya Rai, respectively. "Both eyes are important!" the actor quipped.
Sarath Kumar, who plays the character of Periya Pazhuvettaraiyar in the franchise, was also in a jovial mood. "I had a scene with Aishwarya Rai where I ask about a lost signet ring. Mani wasn't satisfied with the take and requested me to repeat it slowly. He cut the scene when I tried it again and exclaimed, 'Sarath, don't you know how to romance?' That, of all things, really hurt me," he chuckled. "I'm married twice, and both were love marriages!" he remarked.
Also read: Ponniyin Selvan: Tamil Nadu divided over mighty Chola king's religious identity
'Rahman outperforms himself every time'
Lead actor Vikram joked that just like his character Aditha Karikalan could not forget Nandini, he could not forget Aditha Karikalan. "This is one of my favourite roles. I adore Karikalan's strength, love, and compassion," said the actor. He had a special word of thanks to Rahman for the "beautiful" background score. "Every single time, he outperforms himself," he added.
Rahman, who has partnered with Mani Ratnam for every venture of the latter since debuting in Roja (1992), said the celebrated filmmaker had taken Indian cinema to the global level. "Mani Ratnam has given me work for more than 30 years…. With 40 years of involvement, he has elevated our cinema to a global level. In a sense, we are following his lead," said the Oscar-winning music director.
Jayam Ravi, who dons the role of Arulmozhi Varman (or Ponniyin Selvan), said he wouldn't have done the films without Karthi. "We discussed so many things on the sets," he added.
Karthi, who plays the fearless warrior Vallavaraiyan Vanthiyathevan, said he was grateful to Mani Ratnam for everything. "After acting in the scene where Vanthiyathevan and Kundavai first meet, I concluded that only Mani Ratnam is capable of conceptualizing a fantastic love scene."
Also read: How Ponniyin Selvan has broken a box-office jinx in Karnataka
He said for Paiyya (2010), he received love letters. "After the release of PS-1, I received a lot of DMs," the actor joked.
Trisha looking gorgeous in blue, too, said after PS-1, she received lots of posts from admirers who were dressed as Kundavai. "I could thank a few, but not the others," she joked, adding, "Thank you for popularising Kundavai."
'I couldn't have created this'
Bharathiraja shared that many years ago, MGR had suggested that he direct Ponniyin Selvan starring Kamal Haasan as Vanthiyathevan and Sridevi as Kundavai. "I'm glad it never happened because I could never have created what Mani Ratnam has done today," said the filmmaker.
Actor Parthiban joked that Kalki had predicted years ago that Mani Ratnam would turn his literary masterpiece into a film. "The name 'Mani' is mentioned 963 times in various contexts in the book. Similarly, Kalki wrote Parthiban Kanavu years ago, anticipating that I would play Chinna Pazhuvettaraiyar!" he laughed.
Also read: How Kalki Krishnamurthy became a cult before 'Ponniyin Selvan'
Silambarasan said Mani Ratnam was "just like a kid". "He is adamant about what he wants to accomplish, and that is the reason for his success," the actor added.
PS-1 ended with news of Arulmozhi Varman's death, and a mysterious female character shows up in the climax to up the suspense quotient. Fans will find out what happens next in another month or so.
(With agency inputs)