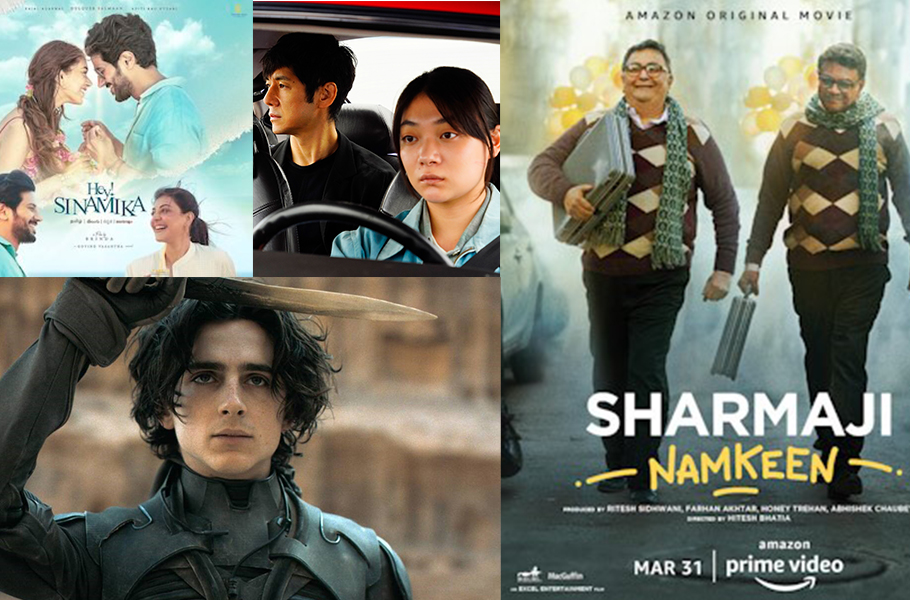 OTT: Taste of Oscars; a tedious love triangle & Rishi Kapoor's last film
Enough has been said on the Mr and Mrs Smith episode. Let us move onto blue blood cinema, which is what the Oscars is ostensibly about. While many questioned the choices of the Academy this year, not many demurred about the award that went for the Best International Feature film – Japanese director Ryusuke Hamaguchi's Drive My Car.
The film, which started streaming on MUBI, is indeed a beautiful movie, a captivating elegy on human frailties, on grappling with grief and unresolved pain and the compelling power of art. For cinephiles, it is a treat, and an escape from the steady diet of mediocre Bollywood films. It is, however, a three-hour-long film and needs to be savoured slowly. Otherwise, you will miss out on the rhythmic flow of the film that makes it so charming.
Drive My Car revolves around its protagonist, Yûsuke Kafuku, an actor and theatre director, who is tussling with the anguish caused by the death of his deeply loved wife, Oto. Before the titles roll, (which is nearly 40 minutes after the film has begun), we learn about the loving bond between Yusuke and Oto. They are wrapped up in their love, and have a sexually fulfilling life.
But, here's the nub: after they make love, Oto likes to narrate a story to Kafuku that came to her at the moment of climax. At that stage, she's in a trance-like state and later, the next day, she doesn't remember the story and needs him to remind her of what it is all about.
Drive My Car director, Ryusuke Hamaguchi, who is turning out to be a Japanese filmmaker to watch closely, in an interview admitted that he was inspired by the story of "Scheherazade" to bring in this thread in the film.
Oto also makes audiocassette recordings of the plays her husband is working on, which he listens to while driving his vintage red Saab. For him, being inside the car and listening to the lines of the play is one way of getting into the skin of the play. After Oto's sudden death, the film moves into the second portion of the film, which is two years after her death.
Kafuku, a quietly grieving widower, goes to Hiroshima to work on a production of Anton Chekhov's theatrical masterpiece, Uncle Vanya. Some of the lines in the play are close to what the protagonist is experiencing. He is assigned a driver who is a dour 23-year-old, who turns out to be a quiet but trustworthy companion on his car journeys back and forth from the theatre to where he stays. As Kafuku is haunted by the memories of his wife, her infidelities, his interactions with one of her lovers, he comes to slowly understand the "truth" about life and suffering and what moving on in life means.
The movie is based on a short story from Haruki Murakami's, Men Without Women, which is about a widowed actor who hires a twenty-something woman to be his chauffeur. Despite her reserved nature, the actor finds comfort in her stable presence, and a friendship blossoms between them as they confess their tortured past with each other. The short story is just 38 pages long.
Hamaguchi (who has co-authored the script) has stretched the story's central dynamic, and brought in the protagonist's relationship with his wife, another track of a young actor, who may have been his wife's lover and also gives a poignant back story to the director's young female driver Misaki, who plays a key role in his understanding of truth.
The empathy and understanding that develops between the director and Misaki, who has demons of her own, as she drives him around in his red Saab, continues to be a key part of the film. Another central plot is the Chekhov play, in which, the actors talk in Japanese, Korean and even use sign language.
The film has been praised by critics as being "emotionally overwhelming" and that it is a wonderful marriage of the two authors that shaped it: It has Murakami's feel for loneliness and alienation and Chekhov's compassion for human frailty. "It's a rare filmmaker who can take a theatrical stage or the inside of a car — and turn them both into spaces of profound human connection," said one reviewer.
Meanwhile, in an interview, the director confesses that one of the reasons he made the film was to feature Kafuku and Misaki, and depict the interactions between these two intriguing characters inside a car. To him, the conversations that are only born within that closed-off but moving space. Since it is a moving space, it's actually nowhere, said the director. And there are times when that place helps us discover aspects of ourselves that we've never shown to anyone, or crystallise thoughts that we couldn't put into words before. Isn't that true, we tend to get reflective in long car and train journeys?
Check out this film, which can also be viewed as an add-on subscription to Prime video channel MUBI.
Sprawling sci-fi film
The other Oscar film, Dune, too, is streaming on Amazon Prime. It took the director Dennis Villeneuve three and half years to make this movie based on the sci-fi novel, Dune, written by Frank Herbert. (the book first came out in 1965 and there are dedicated fan groups of this book).
It was a longstanding dream of Villeneuve to make the movie. However, after his successful direction of Arrival and Blade Runner 2049, Villeneuve became confident that he was experienced enough to tackle an ambitious project like Dune.
Opening with the words "Part One" and closing with a declaration that "this is just the beginning", Villeneuve's Dune sensibly tackles only one manageable section of the story. Timothée Chalamet (Call Me By Your Name) plays Paul Atreides, who is beset by dreams of Fremen girl Chani (Zendaya) on the planet Arrakis, also known as Dune.
Here, the houses of Atreides and Harkonnen vie for control of the "spice" trade, a magical dust considered by the desert-dwelling Fremen as "the sacred hallucinogen that prolongs life". But off-worlders view it as the highly prized key to navigate interstellar travel. This is a fascinating tale of wealthy overlords battling over mineral resources in a vast sandy dangerous but profitable region.
The film has received mixed reviews. Some have raved about it saying that it has a "literal and emotional largeness that overwhelms the senses." Others have called it an "immersive but incomplete experience". It takes off very slowly but drags you into the Dune world if you stay invested.
A love triangle we have seen a million times
Dulquer Salman's Hey Sinamika seems like a hodge-podge of Mani Ratnam and Gautam Menon movies. You stretch a theme to its maximum to wring out a love story and all you get is some pretty clichéd scenes and a boring climax. Directed by choreographer Brinda, this film, however, seems to drive home the message that it is quite the chill thing to do for men to be househusbands and wear their wife's clothes and carry her handbag around.
It also has some beautiful visuals, pleasing music, and Dulquer Salman and Aditi Rao Hydari. Kajal is miscast and has a poor role, where she comes out looking vengeful or weepy. The director could have tapped into that place in which relationships go awry if one person gets too clingy. Everyone needs space, be it wife or husband. Instead, Hey Sinamika is about a misguided, petulant woman who doesn't know what she wants. Well! what can we say?
The film opened to positive reviews, and eventually garnered momentum in a week's time, but did not make a significant dent at the box office. The Telugu dubbed version of this film underperformed at the box office and was taken off screens earlier than anticipated. But check it out for some light, mindless fare playing on Netflix and Jio Cinema.
Ode to retirement
Sharmaji Namkeen on Amazon Prime is being termed by reviewers as an ode to retired life. Being Rishi Kapoor's last film, viewers may want to catch it for sentimental reasons. Paresh Rawal, who took on Rishi Kapoor's role in the film after his death, says in a recent interview to IANS, that he wanted to make sure that he finishes the film without affecting Rishi's presence.
Rawal said that he loved the script so much that he found it challenging yet comforting. The film is about a single father Brij Gopal Sharma, who in his late fifties, is trying to embrace retirement and stay relevant. Finally, he taps his culinary talents and becomes a sought-after chef at ladies' kitty parties. The film has a message that people who retire do not have to bring out the shanti mala and chant in a corner. They can also want to have a life and that is not abnormal.
Watch it for some light-hearted comedy and for Rishi Kapoor's legendary intrinsic charm. Sharmaji Namkeen which also stars Juhi Chawla, Suhail Nayyar, Taaruk Raina, Satish Kaushik is streaming on Amazon Prime.