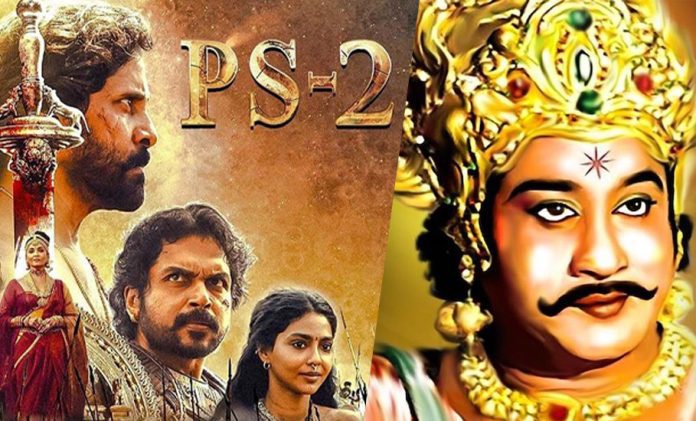 With  'Ponniyin Selvan'-2 hitting the theatres today (April 28), it is expected loyal fans of Kalki's magnum opus eponymous novel, will be satisfied with the way the filmmakers will bring the Chola dynasty's saga to an end on screen.
The filmmakers are hoping their efforts to do justice to the original work, will make the readers happy. Though, there is less publicity around 'Ponniyin Selvan-2', unlike the earlier franchise, it still retains a certain interest among the audiences and particularly for historical film enthusiasts.
It is true with the release of the 'Ponniyin Selvan' franchise, the Tamil film industry pushed the envelope and it proved that it could make a 'Baahubali'-like film with a gripping story in all its grandeur.
"I've said this before and I'm saying this again. I want to thank Rajamouli. If 'Baahubali' was not made and not made in two parts, 'Ponniyin Selvan' would not have been made. So we owe him a big thanks," stressed director Mani Ratnam in the film's promotional event at Hyderabad on April 23.
He further added: "I've called him, met him and told him this. And I want to say here that it created the path for me to be able to mount Ponniyin Selvan in two parts. It gave confidence to the entire industry to do historical (projects) and he opened a huge passage for a lot of Indian history to be converted into films".
As 'Ponniyin Selvan 2' releases in theatres, The Federal looks back at another historical epic on the Cholas, the Sivaji Ganesan starrer 'Raja Raja Cholan', the first cinemascope film in Tamil. Directed by the well-known AP Nagarajan, the film was released on March 31, 1973 and it is celebrating its golden jubilee this year.
Also read: Ponniyin Selvan lures all — from MGR to Kamal Haasan to Mani Ratnam
From stage drama to silver screen
Unlike modern historical epics, where the story is key, it appears director Nagarajan was not worried about a story for 'Raja Raja Cholan'. The film seems to be more focussed on giving a face to the historical figure Raja Raja Cholan (played by Sivaji Ganesan) through some incidents that had happened in the King's life.
The film opens with Raja Raja Cholan constructing the Peruvudaiyar temple in Thanjavur. The film ends with the marriage ceremony of his son Rajendra Chola, played by Sivakumar (who happens to be the father of Karthi, who essayed the character Vanthiya Devan in 'Ponniyin Selvan') and daughter Kundhavai (Lakshmi). In between, he consecrates the temple, helps to organise the religious texts in a particular order and thwarts a conspiracy to murder him.
The film was neither a biopic on Raja Raja Chola nor a film about the Chola dynasty. It is more a family drama. Strangely, the characters in this film have a different kind of relationship with each other. For example, Raja Raja Cholan was a father to Kundhavai in this film, while in Mani Ratnam's venture and Kalki's book, Raja Raja Cholan and Kundhavai are siblings.
Aditya Karikalan or Vanthiya Devan too are missing in 'Raja Raja Cholan'. Kundhavai, who displays strong skills for political strategy and diplomacy, too is shown here as a princess who throws seemingly laughable tantrums to wed her lover Vimalathithan (Muthuraman).
The story of Raja Raja Cholan was written by Aru Ramanathan. At first, Ramanathan wrote this story in 1945, when he was a college student, for a drama competition organised by TK Shanmugam and brothers, a popular drama troupe in the 40s. It had fetched him the first prize and the troupe staged thousand shows of the drama across the state.
Known as a successful writer, Ramanathan also penned a few historical fictions, including a popular title 'Veerapandiyan Manaivi', which is considered as antithetical to 'Ponniyin Selvan'. Writer Charu Nivedita called it the "first palimpsest novel in Tamil".
Also read: Karthi speaks on Viruman, Ponniyin Selvan, and why he could not do Vikram
A duo's love for historical films
The successful actor-director combo, Sivaji Ganesan-AP Nagarajan ruled Tamil cinema for a decade between 1962 and 1973. Though Nagarajan had worked earlier in Ganesan's film as a writer, he became his director from the film 'Vadivukku Valaikaappu' (1962).
Being a pious and god-fearing man, Nagarajan had an interest and excelled in making successful mythological films like 'Thiruvilaiyaadal' (1965), 'Saraswathi Sabatham' (1966), 'Kandan Karunai' (1967), 'Thiruvarutchelvar' (1967) and 'Thirumal Perumai' (1968). Nagarajan ensured that the protagonists in all these films were  memorable characters.
G Umapathy, owner of the erstwhile Anand Theatre, Chennai, had bankrolled 'Raja Raja Cholan' and even erected a massive Peruvudaiyar temple set, since the then Union government refused to give permission to shoot inside the temple. It was the first cinemascope film, meaning special lenses were used to compress a wide image into a standard frame and then expand it again during the projection. That shows an image wider and bigger.
But in those days, the theatres were not equipped to project such films. "So, when each print was sent to the theatres, the producer also sent along a cinemascope lens," narrated Ganesan in his autobiography 'Enadhu Suyasarithai' (2002).
The film got such an unprecedented reception on its release. The film's boxes containing the prints, were carried an elephant and in Trichy district, the actor's fans hired a helicopter to shower flower petals on the print boxes.
Also read: 'Ponniyin Selvan 1' advance booking sales cross ₹1 crore on first day
Despite such a rousing beginning, and though it boasted of a grand ensemble of stars, memorable songs composed by violin virtuoso Kunnakudi Vaidyanathan, the film did not get critical acclaim. This was largely because of a weak screenplay. However, the intense promotions and the Sivaji-Nagarajan combo did work and pushed the film to have a theatre run for more than a hundred days.
Talking about the film, Ganesan in his autobiography said that "it was not filmed well enough to bring out the ambience or the magnificence of the emperor's personality", and was filmed on the lines of a "family drama".
"The family drama could be suitable for drama. But would that be suitable for a film?" he asked in his book. "I am a Chola myself, because I am from Thanjavur. I had reprised the roles of my grandfathers and great-grandfathers. I am proud of doing 'Raja Raja Cholan'. Though it did not do commercially well, it has earned a good name for everyone who worked in the film," he added.
Controversies surrounding the Big Temple
In a way, 'Raja Raja Cholan' also unwittingly got embroiled in politics as it became a reason for a row between the Union government and the Tamil Nadu state government.
In 1976, the then DMK government decided to erect a statue of Raja Raja Chola  inside the Peruvudaiyar or Big Temple. But the Union government rejected it possibly because it comes under ASI purview. So, the then Chief Minister M Karunanidhi erected a bronze statue of the king, opposite the temple which still stands today.
There is a belief that the film did not do well because it began with the portrayal of the construction of the temple. On the political front, in 1976, after Raja Raja Chola's statue was set up, the DMK government was dismissed. Then MGR, another former Tamil Nadu chief minister fell ill when he attended the thousandth year of Raja Raja Chola's coronation celebrations.
Some even went to the extent of saying that former prime minister Indira Gandhi died after she decided to demonetise ₹1,000 bank notes that had the Big Temple's image.
In 1997, there was a fire accident in the temple in which about 50 people died. Then in 2010, DMK celebrated 1,000 years of the temple's construction. Eventually, some of the top leaders of the party were caught in a 2G scam. In 2020, the AIADMK government organised the consecration of the temple and operated the temple car after hundred years and now the party is divided.
While people think that because of these reasons the temple lost its sanctity, historian I Job Thomas, professor-emeritus, Art History and South Asian Studies, Davidson College, USA pointed out tgat the endowments given to the temples have lapsed.
"After building the temple, Raja Raja announced endowments to the temple to manage it. Every endowment has a life period not more than three generations. So after three generations, the endowment lapsed. Meanwhile, his son Rajendra built a temple in Gangaikonda Cholapuram in Ariyalur district, which is also known as Peruvudaiyar temple," he said.
And, the Chola's legacy and legends continue to live on kept alive by retelling their stories on celluloid.