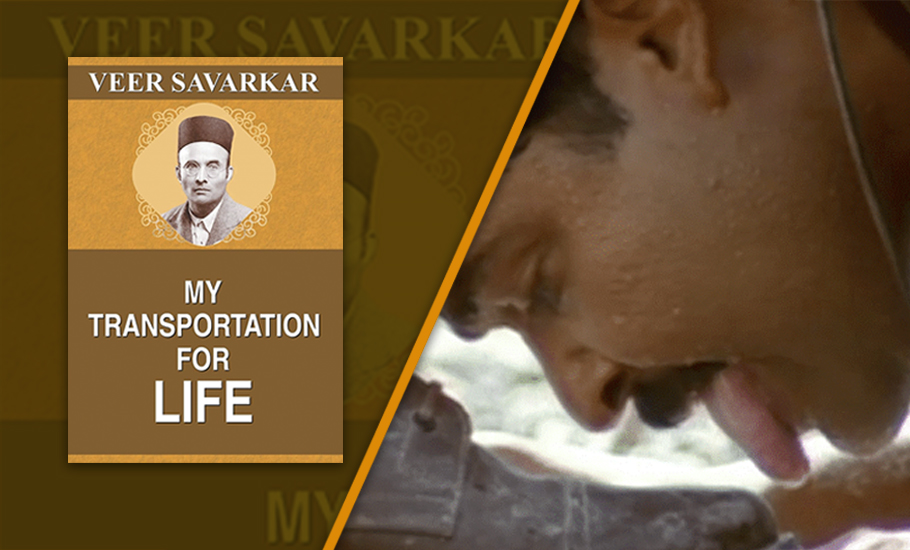 Mohanlal's Kaalapani: 1996 film on Savarkar in Andaman jail that escaped attention
The 1996 Malayalam film 'Kaalapani' begins with a claim rather than a disclaimer stating that it is based on historical events that took place in the Andaman Islands during the early part of this century. Some of the characters portrayed are real and many of the events depicted actually took place at the dreaded Cellular Jail, also known as 'Kala Pani' (Black Water) in Port Blair.
'Kaalapani's story is set in 1915 and follows the life of a fictional doctor, who is wrongfully convicted in a train bombing case that killed 55 people. Even though Dr Govardhan (played by Mohanlal) is a fictional character, the film revolves around the life and thoughts of Vinayak Damodar Savarkar (played by Annu Kapoor), a Hindu nationalist ideologue, who can be read as the 'father' of Hindutva, as a political ideology.
Bhai Paramanand (Govind Menon), a leader of Hindu Maha Sabha, David Berry (Alex Draper), an insanely cruel jailer in Cellular Jail between 1909 and 1931; and Mirza Khan (Amrish Puri), a Pathan jail warden, who was a nightmare for the prisoners also have been placed in the centre of the narrative as historical figures.
Today, even as Randeep Hooda's film on V D Savarkar has sparked off controversy due to alleged factual inaccuracies, it's worth revisiting Priyadarshan's 'Kaalapani' that portrayed the Hindu nationalist leader as a national hero and won several awards during the then-Congress regime.
Priyadarsan had described his film as 70 percent history and 30 percent fiction and he has never openly admitted that the film's script was largely based on Savarkar's autobiography, 'My Transportation for Life', first published in 1927.
Also read: Interview I Why Tovino Thomas did not want to do Malayalam blockbuster film 2018
This work is the English version of Savarkar's original biography in Marathi about his days in the Cellular-Silver-Jail of the Andamans. He was sentenced to 50 years imprisonment and transported to the Andamans, as a consequence of his alleged anti-British activities. However, he was released from prison after 10 years to complete his confinements in Ratnagiri and Yeravada jails.
The book, which is highly problematic as it demonstrates a proclivity to label both prisoners and jail wardens as Hindus or Muslims, seems typical of Savarkar's ideology.
Priyadarsan's film unapologetically adheres to this ideological path, which in hindsight, seems like outright Hindutva propaganda material.
Sreejith Divakaran, journalist and scriptwriter, says, 'Kaalapani', played an important role in legitimising Savarkar, who had been confined to the Sangh Parivar ideological sphere after Gandhi's assassination. This film gave Savarkar the face of a national hero, paving the way for his future idolisation. The most disheartening fact is that writers like T Damodaran and Madambu Kunhukuttan, who had been fellow travellers of the Left-wing politics, were not averse to endorsing these kinds of narratives."
Further, Divakaran observes, "Malayalam cinema of the early 90s was pampering the Hindutva ideology by building an anti-Muslim narrative and this film produced by Mohanlal was like the climax of a Hindutva celebration."
As a self-proclaimed, predominantly historical narrative, 'Kaalapani' fails the audience by looking at the problems faced by Hindu prisoners only, that too, by portraying the majority of Muslim characters as British stooges or traitors. The bias is evident in the sequences involving Ram Lakhan, a Brahman character who is forced to eat human excreta, and his janeu (sacred thread) being broken by the warder, the dreaded Mirza Khan. This bias comes directly from Savarkar's work, where he categorically terms Muslims as bigots and fanatics.
Also read: '2018': Film's success is lauded but critics slam absence of political, Muslim characters
In the book, Savarkar writes, 'The Pathans, as a rule, were bigoted Mohomedans, and were especially notorious for their fanatical hatred of the Hindus. The Officers had pampered them to serve their own ends. To persecute the Hindus was natural to them. The result was that they began to harass them all the more and justified their action by reporting fibs against their fellow-prisoners-the Hindu wardens'.
"It is interesting to note that the role or influence of Savarkar's work in the film was never discussed at the time, nor was Savarkar's divisive political stance or his repeated clemency petitions to the British emerged when this film was released," says PN Gopikrishnan, Malayalam poet and social commentator, who is working on a study on the history of Hindutva in India.
"There was a controversy when 'Kaalapani' failed to win the best film award by the Kerala government in 1996 (although, it had won 7 awards other than this coveted one) but the content of the film was never discussed in detail, recalls Gopikrishnan.
Even the secular politicians were not keen on delving deeper into the text of the film. Interestingly, the film starts with a dedication by the then Andaman and Nicobar Lieutenant Governor and Congress leader Vakkom Purushothaman, who appears on screen to state – 'I dedicate this film to the brave martyrs who fought the British empire and laid down their lives after enduring severe plight in the Andaman jail'.
Savarkar's book extensively covers the conversion of convicts to Islam and his efforts to reconvert them to Hinduism, a project he refers to as the 'Shuddhi' movement.
"There are no appointed persons to bring about conversion in jails, nor is there any organisation behind it. Every Muslim is trained from his very childhood to regard the conversion of a Kaffir to his own faith as his sacred duty. He is told that thereby he will be forgiven all his sins and abide in the heaven of Allah, with all its pleasure and ease to be his, from eternity to eternity. This is, in truth, the mainspring of conversion of Hindus to Islam throughout the prison-world of India," states Savarkar in his book, which the film follows by letter and spirit.
Kanaran alias Moosa (played by Sreenivasan), a character who represents the converted Hindus in the jail in the film, is a spy and stooge of Mirza Khan, who receives preferential treatment in the jail. He is the one who persuades other Hindu prisoners, including Gowardhan to convert into Islam. Later, Savarkar calls Govardhan and asks him not to succumb to Khan's coercion and to support his struggle for the Hindu prisoners, which the hero happily accepts.
In short, the film deals with the transformation of a moderate nationalist, Dr Govardhan, who did not believe in violence but turns into a macho nationalist, who is ready to avenge the British by killing them and embrace martyrdom for the cause of Hindu nationalism.
Given that Priyadarshan is a well-known adherent of the right-wing Hindutva ideology, it is not surprising that the short film about the controversial Sengol installed in the new parliament building, was directed by him.