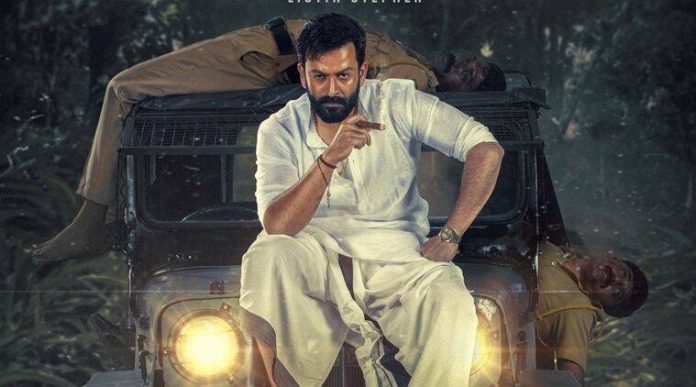 Growing up in Central Travancore, it was commonplace to hear the maxim: Do not get too cosy with the cops or the clergy – because they could make your life hell if you rubbed them the wrong way. Or you had to be someone with deep pockets and willpower, and an intractable Pala 'Achayan' to boot like Jose Kuruvinakunnel, aka Kuruvachan, on whom the movie Kaduva is based.
Having known Kuruvachan since childhood, Kaduva, however, turns out to be a damp squib for this reviewer, especially since Kuruvachan's real-life story had all the elements to make for a great thriller. That should explain why Kuruvachan went all the way to stop Kaduva from getting released, albeit unsuccessfully.
Back in 1998, when Shaji Kailas was shooting FIR with Suresh Gopi in the lead in and around Pala, he came to know about Kuruvachan from Renji Panicker and that is how the idea took shape. A couple of decades later, Prithviraj saw an opportunity to make a mass entertainer, like the ones you associate with Shaji Kailas from his golden run in the 90s. With a story dating back to that period, Kaduva was supposed to make commercial potboilers back in vogue in Mollywood. Alas, Kaduva turns out to be anything but.
Also Read: Money Heist's Korean adaptation on Netflix mints mixed results
Pre-release, Kaduva offered a lot of promise. And in Prithviraj you have someone hitting that sweet spot to tap into the mass-entertainer genre. But unlike an Ayyappanum Koshiyum, which was a through-and-through commercial film with the perfect emotional quotient, Kaduva fails to live up to its billing. Like the former, Kaduva is also a film about male egos and a power tussle between two individuals, with a fight to the finish.
Circa 1990. Kaduvakunnel Kuriachan (protagonist's name changed after the judicial intervention) is a traditionally rich planter in the rubber country of Pala. Joseph Chandy (modelled on Joseph Thomas IPS, also hails from the same locality of Edamattom (changed to Kudamattom in the film) and is among the youngest officers in the Inspector-General (IG) rank and a blue-eyed boy of then chief minister (modelled on K Karunakaran). At one point Kuriachan rubs Joseph Chandy the wrong way and an all-out tussle ensues making the former's life miserable as 22 criminal cases are thrust upon him. The rest of the film is about how Kuriachan wriggles out of them and his revenge, leading to a final showdown.
First things first, Jinu V Abraham's screenplay isn't up to scratch and things get extremely boring at one point that you want the film to end. For his rugged visage and the slow-motion action sequences, Prithviraj fails to get the audience to root for him. Shaji Kailas seems to be in a time warp that it is as though he is banking purely on nostalgia to make an impact. Of course, the screenplay lets them down and there was no way this script could have worked. And that's where you miss a writer like the late Sachy, whose Ayyappanum Koshiyum left you pining for more.
And unlike Shaji Kailas' blockbusters of the yore, there is no ensemble cast, making it a complete Prithviraj show, with his close-ups and cuts filling in the gaps. There is Vivek Oberoi, of course, as the antagonist, also getting ample screen space. As for the rest of the cast, Samyukta Menon doesn't have much to do apart from looking pretty and Seema makes a comeback in a convincing appearance as a Pala 'Achayathi'. Baiju, Arjun Ashokan, Alencier and Shajon make up the rest of the cast.
Jakes Bejoy's BGM is impressive and there are some great aerial shots but since the film itself is a letdown, it makes little difference. Shaji Kailas depicts the period well, and Prithviraj drives a white Mercedes-Benz W 123 which looks straight out of Kuruvachan's garage.
When Kuruvachan went all the way fighting to get the film stalled, this reviewer was among the many friends and relatives who advised him to let things be. Yet, true to his apprehensions, the film not only did not do justice to his real-life story worthy of re-telling, but also distorted many events that you would have to struggle to find the common elements.
Kaduva also takes many things to the extreme, even if you were to willingly suspend disbelief. By weaving in political bombshells that rocked Kerala needlessly into the narrative, Kaduva is fanciful and outlandish. The insult to injury is that in the real-life story there was a fair bit of Kerala Congress politics and Kuruvachan's run-ins with the clergy, a la Lelam where MG Soman's character is modelled on Manarcaud Pappan, to develop a logical narrative on.
From the very outset, action sequences have been inserted every few minutes into Kaduva leaving the viewer fatigued by the end. The film could still work for Prithviraj fans pining for commercial potboilers but it may not be everyone's cup of tea.
Also Read: The Amal Neerad interview: On Mammootty, Bheeshma Parvam and Bilal