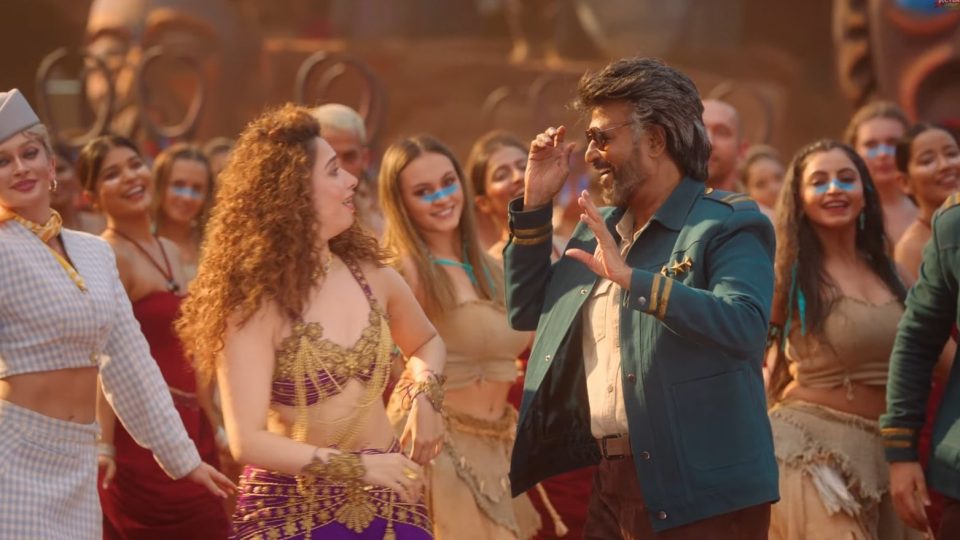 Kaavaalaa: Viral song from Jailer latest to try mish-mash of languages
The latest chartbuster 'Kaavalaa' sung by Shilpa Rao from Rajnikanth's 'Jailer' has people of all ages grooving to the steps of this foot-tapping, vibrant song set against a tribal background. The song is everywhere and reels are being furiously churned out, as people are desperately trying to imitate Tamanaah's hook step in the song, while others are making more tongue-in-cheek rip-offs.
This frenzy seems similar to what 'Oo Antava', 'Arabic Kuthu', 'Saami Saami' or even for that matter the Oscar winning 'Naatu Naatu' whipped up in the country.
But, what stands out about these viral dance numbers are the lyrics. Usually, the songs are often sung in a mish-mash of languages leaving the listener foxed. What do these lyrics really mean? A question to which there is no answer.
'Kaavalaa' happens to be composed with a mix of Telugu and Tamil lyrics, while 'Arabic Kuthu' from Vijay's 'Beast', had Arabic words stitched together with Tamil and English lyrics. While Sivakarthikeyan's 'Don' boasts of a Tamil dance number, which is innovatively called 'Jalabulajangu'. Sung by Anirudh, it has a Hindi stanza that suddenly pops up:
Aavo Bhai Dosta Aayega Aayega
Aayega
Bad Vibeu Jaldi Jaayega Jaayega
Hey Jaayega
Amuku Dumuku Amaal Dumaal
Also read: Rajinikanth's Jailer set for Aug 10 release: Why it's such a big film for Tamil superstar
But, the hero Sivakarthikeyan is clearly having fun and no one is listening to the lyrics set to a thundering, fun beat. 'Jalabulajangu' also deploys a kind of English, which for some unfathomable reason has words ending with a 'u'. The lyrics talk about a 'Thug life la kingu, Don Settingu, Hey Jinukunaa Jingu, Our age yo youngu…' Sure to get an English linguist in a twist.
Blend of languages
Meanwhile, there is 'Arabic Kuthu', the lyrics of which are penned by none other than actor/lyricist SivaKarthikeyan, and sung by Anirudh Ravichander and Jonita Gandhi. It is a blend of Arabic, Tamil and English words. So, besides the liberal sprinkling of the common Arabic word, Habibi (love, my dear one), it has alliterative stanzas like 'Holi Holi Pakathula Sirikkum Rangoli, Jolly Jolly Vekkathula Mayangura Doli' (Holi holi, near me a laughing rangoli, jolly shy melting doll) and rounds up with an English-Tamil stanza which goes like this: 'Oh Cutie Nee Sweetie, Un Beauty Adhil Mati, Na Mellamma Mellamma Gali'.
So, what can be the muse for these lyrics? Lyricist Arun Kamaraja explained in an interview that he had stumbled upon the word Kaavaalaa from a Telugu song and found the word catchy enough to title his dance number in 'Jailer'.
So, 'Kaavaalaa' which is also known as 'Vaa Nu Kavalaiya Nu' has a sprinkling of English words besides Telugu and Tamil, goes like this: Ra Yeb Ravellam 'Long' Avudhey, 'Robbery' ku Ra Ve Ra Ve, Ra Nee Pathaley Thee Avudhey, Thee Pidikka Ravaiya Ve. (Come my love, let's stay long till morning, We're like a robbery, come, my love, come, my love. When I see you I become fire, shall I ignite the fire my love?)
Also read: Rajinikanth, Tamannaah Bhatia wrap filming of Jailer
In the 2012 Tamil movie 'Nanban', (a remake of the super hit '3 Idiots'), in the song 'Asku Laska', the chorus featured the word love from multiple foreign languages and they were all just strung together in a stanza! Asku is love in Turkish, Laska is love in Slovakia, and then there's Aii in Chinese, cinth cintha in Malay, meile in Lithunian, premam in Malayalam and ishatam in Telugu and they all featured in the song. Talk about one world and that's our Tamil dance numbers!
'Ramaiya Vastavaiya', the pioneer
Weaving in different languages in songs is not a new trend in Indian cinema. It goes back to the time 'Ramaiya Vastavaiya' was sung in the Hindi film, Raj Kapoor's 'Shree 420' back in 1955. In the pan-Indian filmmaker Mani Ratnam's Hindi movie 'Dil Se', he famously weaved in Malayalam lyrics in his popular hit number, 'Jiya Jale'.
The Malayalam lyrics went like this: 'Punjirithanji konjikko, Munthiri muththoli chindhikko, Vanjani varna chundhari vaavae,Thaanginnakkath thakadhimiyaadum thanganilaavae hoi' (Give me a beautiful smile, Steal sweet kisses from me, Oh my beautiful girl,
Oh the dancing moonlight, Give me a beautiful smile)
In 'English Vinglish', the song 'Navrai Majhi' has a happy mix of Marathi, Hindi and English. The song starts with the line 'Navrai majhi ladachi ladachi ga' which means 'My bride, dance joyfully'. So, 'Kaavaalaa' is not dancing to any new tune, it seems. It is just driving home the point that our film songs merrily see no borders.