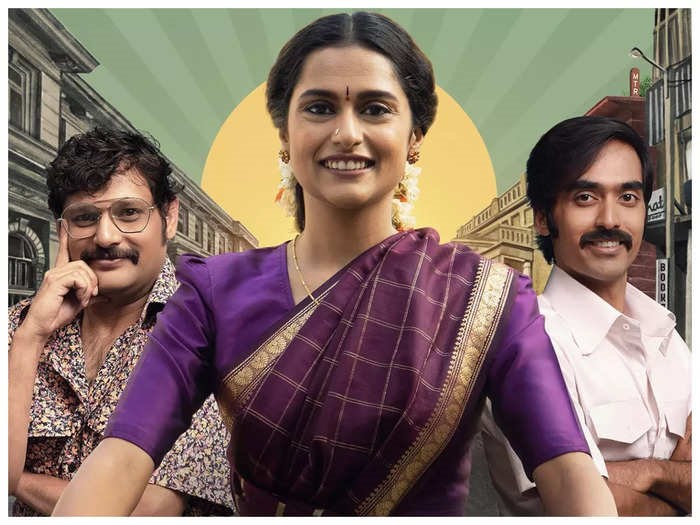 How Kannada film Achar & Co weaves modern problems into a 1960s milieu
Kannada films have changed significantly in recent years, with directors challenging old rules and telling stories that break new ground. Sindhu Srinivasa Murthy, the director of Achar & Co stands out in this sea of change.
The director has done a good job with the story that takes place in the 1960s and touches on themes like domestic abuse, patriarchy, and societal expectations. "The story's themes are what give it depth," Srinivasa Murthy tells The Federal, speakign about her debut directorial.
"A story cannot be simple for me. It has to talk about bigger problems and give its opinion. And the characters, plot, and scenes come from these ideas," she adds. In her film, Srinivasa Murthy brings forth a realistic depiction of the 1960s era, avoiding excessive dramatisation. In the broader scheme of things, Achar & Co can be the harbinger of change in Kannada cinema because it is a perfect crossover between commercial and art house movies.
The movie's tone is based on the realistic and robust nature of people in the 1960s, says the director. "Even though they were going through hard times, this sense of togetherness and group spirit helped them wade through one crisis after another. That is why Achar & Co does not have dramatisation that goes too far. We wanted to show what that time was really like."
Also read: Hostel Hudugaru Bekagiddare: It all feels surreal, say Nithin Krishnamurthy, Arvind Kashyap
Characters in the film
However, the film's reception hasn't been all praise; critics have questioned some of Srinivasa Murthy's narrative choices. A few flaws in the movie came up during the conversation, especially the conspicuous absence of the eldest son, who is missing from most parts of the movie after he leaves home for another city.
The director explains, "Tales from our families and friends inspired us. Some people cannot handle the stresses of society or their families, so they leave and never look back. It was a time when people rarely showed their feelings, which made relationships even harder."
This led to a more conversation on the movie's characters. The movie focuses on how different people react to pressures from society. "The movie showed how sexism can affect different people in different ways. It comes down to decisions, responses, and results," she says.
Suma, the sister (played by Srinivasa Murthy), standing up for herself is one of the most talked-about parts of the movie. As the movie progresses, one finds that the regular order of power is turned upside down, and the director's ability to navigate through a sensitive phase of the movie comes to the fore and how creatively she thinks about gender roles.
Career choices
The director's unusual choices are rooted in her formative years. She recalls, "Science and maths were never my thing. And the tug-of-war with parents over career choices is a story every Indian can connect to."
Even though science was a clear choice, she talked her parents into letting her take the commerce stream instead. "Everyone was surprised that I did well. I was the head of the class. It was a big surprise. I realised I could do great things if I could figure out how I process knowledge and if my interests aligned with my classes.
She was busy with schoolwork, but the stage was calling her from the shadows. "I started with school shows," she says. "Then I saw an audition notice for a production in Bangalore that caught my eye. I could not decide what to do. So, I picked Mark Anthony's speech from Julius Caesar to get a part in the production. Fortunately, I got the lead part," she adds. Her love for acting grew as she got more involved in it.
"I have had the chance to play different parts. Every role has been a journey of self-discovery, from a teen coming to terms with her sexuality to acting in a play which features cab drivers talking about their problems," she says.
 Bigger issues
Describing how she and her team put together the movie, she points out, "When we wrote Achar & Co, we wanted to talk about modern problems in a setting from the 1960s. I tried to find a good mix between being important to society and being interested in films. It is about taking big ideas like sexism, religion, or domestic violence and putting them in a way that is easy to understand but still powerful."
In one scene, a character who cannot get a job because he is from a minority group is presented in a way that makes the audience think it is a real-life event, but it turns out to be a play within the movie.This subtly conveyed certain beliefs are what the director holds close to her heart.
Srinivasa Murthy was heavily inspired by plays from the 1960s that pushed social messages about religion, the caste system, and nationalistic views. "My point is that even though this movie is set in the 1960s, there are still a lot of things that are relevant today, like how someone just got shot the day before yesterday," she says, pointing out that social problems tend to come back around.
Her attitude is refreshing in a field where business pressures are the norm. "I will not do work I do not think is necessary. I am lucky to have backers who care more about the story's truth more than anything else," she adds.
She says that her producer Ashwini Puneeth Rajkumar has always been there for her. "Having a helpful team like PRK Productions that knows the ins and outs of making movies is very important," she stresses.
Even though the movie takes place in the 1960s, it was shot in Mysuru because it was a better choice. "We needed locations which could recreate that era," says the director. "Basavangudi and Jayanagar in Bangalore are places where you might find such houses, but the place surrounding it is anything but the old world."
To stay true to the time, the production team had to pay close attention to everything, from the light bulbs to the roads and trees and to their credit, they have succeeded to a large extent.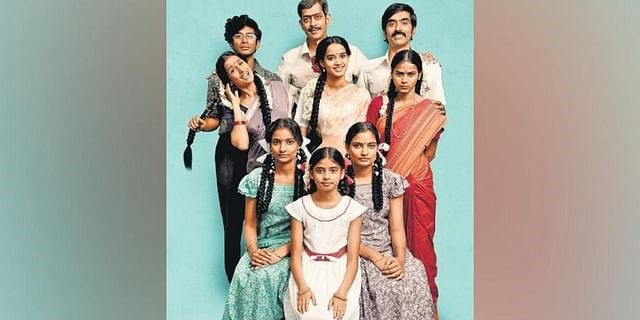 Choosing the actors
Srinivasa Murthy discusses how she chose the actors for her movie: In an industry where star power often dictates narrative arcs, she took the riskier route of banking on fresh, albeit theatre-experienced faces. This decision has undeniably lent the film authenticity.
"We did not want to pick popular and known faces for our movie but made an exception while casting the role of parents. Veterans, Ashok sir and Sudha Belawadi madam, were the perfect choice. But we chose new faces while casting for the rest of the family, ideally ones with theatre experience," she reveals.
Sindhu's focused approach and knowledge of what the film needed helped each person bring their respective skills to the table. For example, Bindu Malini was hired as the music director because she has a strong background in classical music, a critical need for the movie.
Sindhu explains, "I did not want to do some commercial music that would kill the movie." The 'Pickle Song,' which Bindu made for the movie, is a unique song with kitchen utensils doubling up as musical instruments based on an idea her family came up with in the 1960s and 1980s.
Sindhu says, "So, it is not on purpose," when quizzed on whether the fact that most of the cast and the technical team were made up of women rather than men was on purpose. She says she has been lucky to get the right people to join the project. It did not matter what gender they were; what mattered was how good they were.
Sindhu said that while being an actor in the movie was more manageable as she has been one for the last 16 years, donning the director's hat was quite challenging. She said that while the process involved "a lot of work," she enjoyed it. While she knew that actors who double up as directors sometimes tend to be in every frame, she was careful not to over-indulge herself.
Also read: Kannada cinema flounders in first half of 2023; just 5 of 118 new films break even
Bringing in the comic relief
Collaborations, too, play a significant role in shaping a film. Using Karan Gill, a stand-up comedian, for script assistance is an inspired choice. Comedy in films, especially those with profound themes, provides respite, allowing audiences to breathe before plunging into intense narratives. Gill's touch is evident in those light-hearted moments that pepper the film, providing a balance to its intense themes.
Srinivasa Murthy talks about how the successes and failures of movies impact the industry: "When a film succeeds, the whole industry succeeds. 'Kantara' and 'KGF' have made us well-known. These pictures determine how OTTs buy our movies," she says.
She also says it is important to celebrate each other's wins because it helps the industry as a whole. "So we should consider it a win for the whole industry if the movie does well. I recently watched 'Daredevil Mustafa' and thought it was an excellent movie. I am a big fan of the book on which the movie is based, written by Poornachandra Tejasvi."
Heart in the right place
Srinivasa Murthy's directorial debut gets most things right in the movie as its heart is in the right place, yet, the film's overly optimistic conclusion somewhat dilutes the effectiveness of this commentary.
Despite these criticisms, Srinivasa Murthy's talent as a storyteller is undeniable. A former theatre artist, she uses her experience to bring depth to her characters and drive the narrative. However, a discerning eye can see the theatrical influences in her direction. While theatre demands a certain amount of exaggeration for distant audiences, even while taking care of not being over dramatic, cinema is intimate. The close-ups, the whispers, the silent moments – they all demand subtlety.
With more experience, Srinivasa Murthy will evolve her style to suit the cinematic medium better. The future holds promise for this director as she is already working on her next film—the idea of her helming a film featuring children as protagonists sounds intriguing.
Achar & Co truly signifies a shifting paradigm in Kannada cinema. She has taken the first bold step, and if she continues to challenge norms and refine her craft, there's no doubt she will leave a significant mark on Kannada cinema.