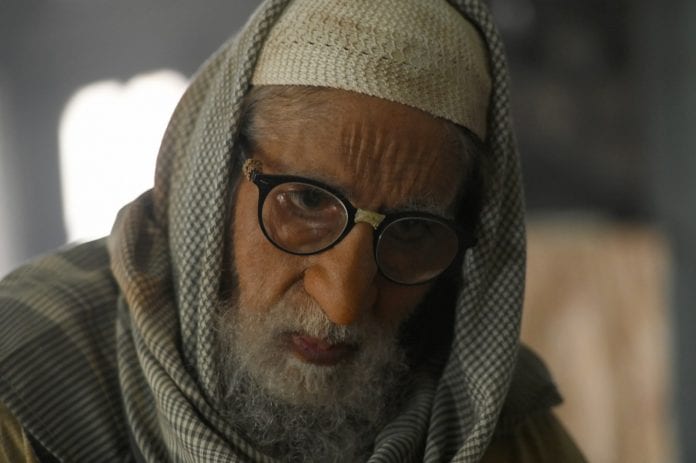 Spoiler alert!
'Gulabo Sitabo,' the first Hindi film to release since the pandemic-induced lockdown began, is a tragedy in close-ups. A set of people bickering and brawling over an archaic mansion in Lucknow, end up losing everything they'd been scrambling for.
But it's a comedy when seen from a distance. The characters — their shallowness, greed and gaffes — evoke a sense of familiarity. They make for the jokes we like to crack at our living room gatherings and the fables we tell our children. These qualities are thoroughly human and omnipresent, but in Gulabo Sitabo, no one makes an effort to hide them.
Director Shoojit Sircar and writer Juhi Chaturvedi imagine Fatima Mahal, the mansion, as an organism — unique and old, dead on its edges. It's a palace and barn at once. Its owner, Fatima Begum (Farrukh Jaffar), a nonagenarian woman from a royal family, occupies its best portion. Goats and rickety cycles occupy its ground floor corridor. Its ornate balcony railings are broken, and the walls haven't seen a fresh coat of paint in years. Mirza (Amitabh Bachchan), the 78-year-old notional owner of the building, and the tenants, namely, Bankey (Ayushmann Khurana), a flour mill owner Mirza is at loggerheads with, believe that they own a piece of its surviving parts.
If the contrast between the personalities of Piku and Bhaskor Banerjee was the axis of a lot of jokes in Piku, here, it is the resemblances between the two men. Baankey and Mirza, who are from two generations, share more commonalities than they imagine. They are second fiddles to the women in their lives. They don't have the necessary skills to be scheming sinners. Their greatest talent is in yelling out inventive expletives at each other. And, when they aren't fighting, they cut a sad, lonely figure. A majority of the film is shouldered by their squabbles. Chaturvedi and Sircar offset the risk of the narrative turning monotonous by giving plenty of texture to it.
Avik Mukhopadhyay's cinematography has the quality of a time-worn photograph. It captures the Lucknow neighbourhood and the universe inside the haveli as a palette of vivid colours and life, stuck in time. The film's biggest strength is its portrayal of the space.
Chaturvedi, who grew up in Lucknow, puts to great use the cultural and linguistic peculiarities of the city. The title of the film comes from glove puppetry, Lucknow's favourite art form. Like Gulabo and Sitabo, two puppets, Mirza and Baankey bicker and unwittingly play into someone else's plot.
Humour is cruder than how it was in Piku, but it arises from little things. Although, a lot of it is killed by the overuse of Shantanu Moitra's background score that implies humour.
The film opens to a lovely sequence where you see Mirza stealing bulbs from Baankey's corridor and selling it for little money to a local shopkeeper. Next, he parks himself beside a puppeteer and slyly collects pennies from the crowd. One can almost 'see' how Chaturvedi writes this scene, in affection and amusement for the character's refusal to be embarrassed by his pettiness.
It's with the same affection she writes a later scene, where Mirza waits at the haveli's gate to catch a glimpse of Begum riding away in a luxury car, decked up in gold and pearls. We have seen enough of him to conclude that he hasn't learned a lesson and become a better human being. But we have grown to love him to notice the exhaustion and disappointment in him. Mirza, probably, believed that the world ended on the contours of his neighbourhood. A plush showroom that sells old furniture for thousands of dollars? He might frown in disbelief.
There are several smaller delightful moments and sub-characters, like Guddo (Srishti Srivastava), Bankey's sister, who tries to untangle the mess using her sexuality, and a scene where the townspeople and media gather to watch the archaeology department digging for gold upon a godman's prediction. The slices of life Chaturvedi and Sircar create aren't always polished or photogenic, but insolubly chaotic.
Home has come to be a recurring focal point in Juhi Chaturvedi's screenplays. Piku was built around an old man's yearning for home — the house he grew up in, the sweet smell of kochuri wafting through the alleys of Kolkata, the music of his youth. Here, Begum, the only person who saw the haveli as home, ends up losing it too. But there is no sign of grief in her. She effortlessly moves on to another phase in life, unlike the men who let themselves be trapped in their frivolousness and lack of ambition.
The film also makes a quiet and melancholic commentary on how we fail to save our past. Raaz's government officer recognises the value of the haveli, but the eventual beneficiaries of his efforts are people who come from the outside who collect the ancient and label them as 'exotic,' barring access to people like Baankey and Mirza forever.
The cast delivers a fine performance. Ayushmann Khurana and Amitabh Bachchan deliver fine performances, masking their starriness using not just the prosthetics and make-up but a fantastic body language. Khuranna smoothly underplays Baankey's frustrations and timidity, while Bachchan makes you see the glimmer of naiveté in Mirza's villainy. Farrukh Jaffar, who has an arresting screen presence, is an inspired casting choice. She brings to fore the sharp humour as well as the will power of Begum who does things that shatter the plans of the men around.
The parts are more impressive than the whole in Gulabo Sitabo. The final scene, for one, where the two men sit together under the moody skies of Lucknow in sullen silence is mightier than the 'story' or the 'message.' The bickering has ended, and although you don't remember much of it, you miss it and the world that contained it.
(The author is a Kerala-based freelance writer and film critic).