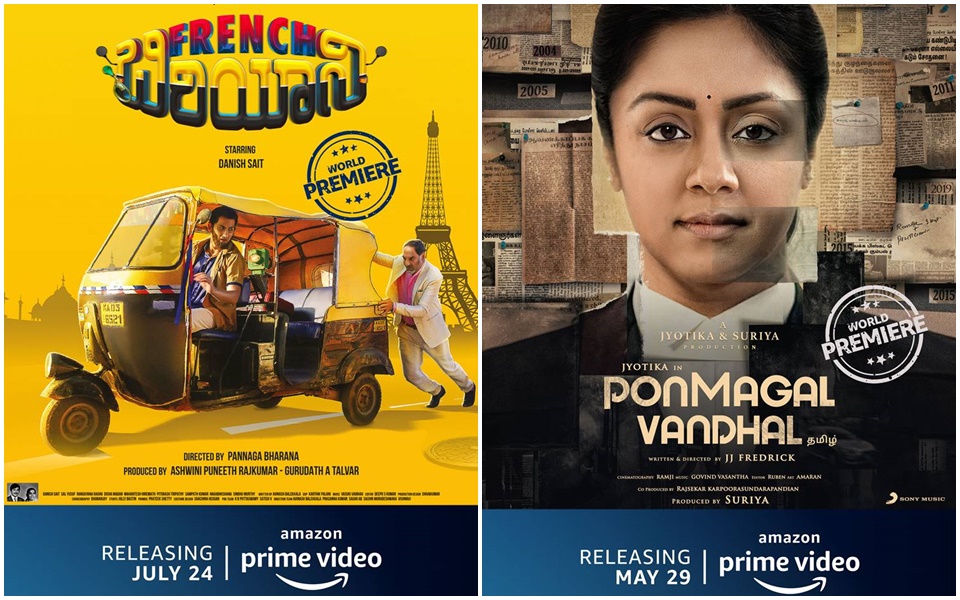 From Ponmagal Vandhal to French Biryani: Can magic of movies move to OTT?
Newbie writer-director J J Frederick never expected his first Tamil film to create celluloid history of a different kind. Ponmagal Vandhal, his tense courtroom drama with Jyotika as a fiery lawyer, will go down in the annals of Indian cinema as the first ever mainstream film to release on an OTT platform – Amazon Prime Video – on May 29.
It is any filmmaker's dream to watch his debut film weave movie magic on a 90 ft mega-screen. But, the director has made peace with the inevitability of it all.
Talking to The Federal, J J Frederick says, "In this unusual situation, the priority is for the film to reach people. This is not a threat to cinema as an art form because movies are celebrated in India, and people will continue to flock to the theatres to clap, whistle and cheer their stars."
In Karnataka, Pannaga Bharana, actor-director too had his hopes pinned on a multiplex release for his very urban Kannada film—French Biryani. Produced by Kannada actor Puneeth Rajkumar, it stars comedian Danish Sait as a Shivaji Nagar auto driver and is a fun caper revolving around his encounter with a French expat.
"We were waiting for a good opportunity to get a viable time-slot in the multiplex. If you don't have big names, theatres will most likely give you a 11 am or a 4 pm filler slot," says Pannaga Bharana wryly.
French Biryani and Ponmagal Vandhal happen to be part of the first bouquet of films to skip the theatre route and directly open on Amazon Prime Video, causing a lot of heartburn and anxiety among distributors and theatre owners in the country.
In a press statement, terming the practice as "alarming and disconcerting", INOX Cinemas has said they will be constrained to take "retributive" measures against these "fair-weather friends." R Paneerselvan, general secretary of Tamil Nadu Theatre Owners Association too is upset.
" We are suffering too. We are also incurring huge expenses maintaining theatres in this pandemic. We have to pay interest on our loans too. It is not fair that they have let us down and looked after their own interests," says Paneerselvan. Henceforth, the Association will not be "interested" in films by 2D Entertainment, owned by actor Suriya, which produced Ponmagal Vandhal since they were the first to break the chain, he adds.
Pannaga Bharana feels that theatre owners should not feel threatened. "OTTs are just another platform. This is the way of the future. In India, movies are a religion, people will never stop going to theatres," affirms Pannaga Bharana, who admits to however being sad that French Biryani will never make it to the silver screen.
"Watching a comedy alone is no fun. But, I also realize that the producers have struck a win-win deal with Amazon Prime Video. Getting a worldwide release, without the hassle of negotiating deals with foreign exhibitors, is also a big relief," he points out.
In the past few weeks, the Indian film industry which was at the crossroads, caught in Hamlet's dilemma of 'to stream or not to stream', has finally caved in. After all, as film-makers say, the world has changed as we know it and producers have bowed down to what makes economic sense to them.
"It is purely a business call," says S R Prabhu of the Tamil Film Producer's Council. "In a lockdown scenario, producers need to get their investment back. Theatres feel threatened and are reacting emotionally but it is going to require a lot of effort to bring audiences back. We are trying to get a percentage of the returns from a one or two-week theatrical run," says Prabhu, who believes that entertainment formats like VCRs, DVDs, home entertainment have entered the fray and disappeared without impacting theatres.
OTT will be the "new normal" of cinema for some years till a newer technology will take over, feel industry old-timers. "It is just a question of exploring new platforms – it is not an alternative to cinema theatres," adds S Raja of 2D Entertainment.
"We are keen to make films only for the silver screen. Currently, eight films are under production. How do I pay my interest component and salaries? We have ten Assistant Directors for each production. It is a question of survival," he points out.
Taking a practical stance on the situation, veteran-actor K Bhagyaraj says that in this extremely difficult situation, producers who cannot hold on to their films will sell it to OTT platforms. "There is no right or wrong here, if you have to blame anyone, blame it on the epidemic," he adds. "Big films will also end up in OTT platforms if this situation continues for a few more months," warns Bhagyaraj.
RELATED NEWS: From common man to bigwigs, Firework takes video-sharing app world by storm
Currently, Amazon Prime Video has bought films that fall under the "niche", and small budget category. Besides the fact that you cannot watch a Wonder Women or a Thailavar film on a small screen, big films may be unaffordable for subscription model driven platforms, say a few industry sources.
However, they reveal that Netflix was willing to offer more than ₹ 140 crores for a Bollywood film. "OTT platforms in India are testing the waters and just want to increase their base for now. They are willing to pay even more than ₹100 crores to bring in the big star films," says a Warner Bros-India source.
Meanwhile, OTT platforms are offering an alternative for acclaimed, award-winning films languishing in the woodworks. Prashant Nair, is a film-maker whose movies have picked up a slew of international awards: his Umrika, (a film about an Indian village obsessed with America, which never got a theatre release in India but is available on Netflix) won a Sundance award, while his anthology feature, Tryst with Destiny, was recently awarded the Best Screenplay by the Tribeca Film Festival 2020. He does not believe a film is compromised if it has a pure OTT release.
"I've watched movies that have changed my life on VHS. It is most important that the film reaches as many people as it can and manages to generate some discussion and reflection. OTT platforms allow for a wider range of content than the pure theatrical model," he points out.
"I do love the European system where state support allows unique movies to get made and shown in cinemas but in India this doesn't exist yet. Recently, many films that would've just disappeared are now earning recognition on OTT platforms. All this is great for the industry and filmmakers," says Nair, who directed two episodes of Amazon Prime Video's popular series, Made in Heaven.
It is true that the late Rishi Kapoor's Mulk, Kaamyaab and Malayalam film Trance etc., are all picking up traction after landing on OTT platforms. In his Tryst with Destiny, Nair, who claims he is conflicted about the future of the country and the growing inequality across the board, interestingly revisits Jawarharlal Nehru's speech and cleverly uses three stories to explore how far India has come from the goals outlined in that speech. It is still unclear if this film will ever get a theatrical release or release on an OTT platform. Incidentally, Nair is also working on a web series on the Uphaar cinema tragedy for a major international OTT platform.
RELATED NEWS: Covid, death warrant for some; lifeline for others in Kannada filmdom
"Theatre audiences do not easily line up to watch award-winning films," says Elahe Hiptoola, producer of Nagesh Kukunoor's acclaimed films such as Hyderabad Blues, Iqbal and Dor.
"You can pick up a Tribeca award or win a Berlin Film Festival award like we did for Dhanak. But, you have to drag people to the theatres to watch these films. So, OTT is a saviour in many ways," adds Hiptoola, whose Dhanak, about a young girl who journeys across Rajasthan to meet Shah Rukh Khan to cure her blind brother, ran in theatres for two weeks and is now in Netflix and people are loving it.
Though, OTT platforms are the flavour of the season right now, the industry has played safe releasing only the small films on OTT. It will be interesting to see how OTT platforms who have tasted success in the first round take this forward.