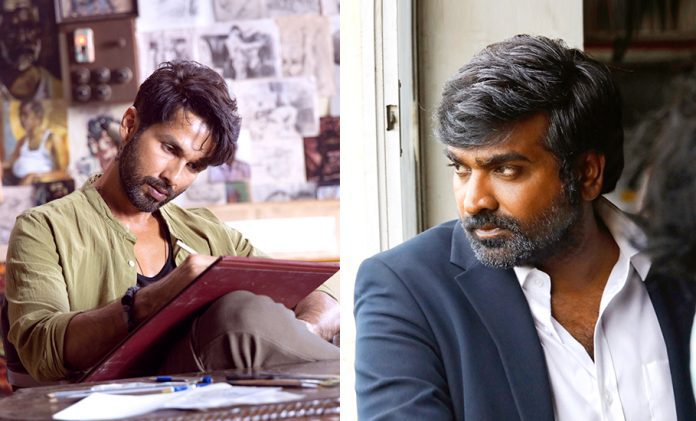 The face-off between Shahid Kapoor and Vijay Sethupathi is expected to be the big draw in 'Farzi' streaming on Amazon Prime Video from Friday (February 10)
The Family Man directors Raj Nidimoru and Krishna DK's second major outing on OTT, Farzi (meaning fake), which is an immersive dive into the murky world of counterfeit money, keeps you hooked despite the flaws.
This thriller series, streaming on Amazon Prime Video from Friday (February 10), is a slow burner, as the pace takes time to pick up. What's interesting, however, is that after you are dunked into this giddy whirlpool of fake currency, you can emerge at the end of the ride doubting the authenticity of the ₹500 note sitting snugly in your wallet.
That's because the creators of the show go into a lot of detail explaining the intricate process of how fake bills are crafted (from the special kind of paper used to make a fake ₹500 note to copying the Gandhi portrait, the design and watermarks of which require an artist's touch) to how the bills are printed in foreign countries in big presses, smuggled into India and stealthily distributed in the market with none the wiser.
As one critical character in Farzi says at the outset: "It is a faceless crime and that's why nobody takes it seriously". Well, if Raj and DK had released this series before demonetisation, the Narendra Modi government may have just embraced the series and given their blessing.
Besides this telling expose on the operations of the counterfeit money network in India, the eight-episode series (each episode is nearly 50 minutes to one hour long) also takes its time to become an edgy thriller because it tends to laboriously draw up the environment inhabited by the key characters – Sunny (Shahid Kapoor), a talented roadside artist, and his close buddy, Firoz (Bhuvan Arora). Through flashbacks, we learn life has dealt a cruel hand to Sunny from his childhood. He nurses a wound that refuses to heal, while his close buddy Firoz, who he had befriended in a railway station as a child, allows himself to be led down any torturous path that Sunny chooses.
There's a grandfather (Amol Palekar) who Sunny loves and he will do anything to prevent his old man's printing press from closing down. The press prints the 'Kranti' magazine, which aims to revolutionise the country, but which in reality has no buyers. Sunny has a rich girlfriend who shies away from being seen with him in public. Well, because he is poor. All this pent-up frustration is enough to push him to manufacturing counterfeit cash.
Also read: 'Magic of cinema happens without planning': 'Pathaan' writer Sridhar Raghavan
Farzi is set in the aftermath of the demonetisation of November 2016, when the Mahatma Gandhi bill series was launched with brand new security features. Even as Firoz and Sunny are busy successfully designing their fake bills down to the minutiae micro lettering in Gandhiji's collar, there's super cop Michael Vedanayagam (Vijay Sethupathi), in hot pursuit of big-time counterfeiter Mansoor Dalal (Kay Kay Menon). Michael's operation to nab Mansoor in Nepal fails, but that just spurs him to start a special unit to stop counterfeit money.
Michael manages to convince the minister (played by Zakir Hussain) to allow him to set up his own special task force. And, how he does this comes across as cringey and over-the-top. But, each time, he twists the minister's arms to get what he wants for the special task force. Unfortunately, their interactions are not funny, if it is meant to be. As Sunny gets sucked into making counterfeit money for different clients, coming to be known in this parallel dubious world as 'The Artist', he gets hired by Kingpin Mansoor.
Meanwhile, there's Megha Vyas (Rashii Khanna), working in the RBI, who has a morbid fascination for fake currency. She convinces Michael to take her into his team and the enterprising woman storms into printing presses, after by accident she gets hold of one counterfeit note created by Sunny. She's convinced it's a matter of time before counterfeiters are nabbed because they cannot resist showing off and end up putting their personal signature on fake bills.
There's a personal angle which plays out in The Family Man that is so much in sync with the tumultuous life of intelligence officer, Srikant Tiwari (Manoj Bajpayee), as he races around to save the country from terrorists. That is so intrinsic to the success of The Family Man, as much as the droll humour.
That's frankly missing here. We do have Michael in Farzi grappling with a drinking problem (because of some past failure in his job) and trying to save his marriage and steal time with his little son. But, somehow, one is not invested enough in his personal life, as we were with Tiwari's. Maybe, we don't know enough of his dynamics with his wife Rekha (Regina Cassandra). She just wades in and out in the series, anxiously asking for a divorce, prompting Michael to ask, 'why are you so keen on the divorce?' We want to know too.
Also read: 'Thankam' review: A peep into Kerala's shimmering gold trade
The series has been written by Raj and DK, along with their longtime writing associate, a former journalist, Sita Menon, and Suman Kumar. Sometimes, the dialogues fall flat, sample this: "After prostitution, counterfeiting is the second oldest profession, so why the shame?" Or, this one, "If you have a secretary who can answer the phone in English, no one will question your money source" (Tell that to the ED!). Sunny's backstory of his childhood also fails to evoke any sympathy and even appears jarring at some level.
On the acting front, Shahid Kapoor in his OTT debut keeps it effortless and on an even keel. It is not his fault if his character leaves you cold, and you don't feel for this guy (although no one is the good guy here, as Michael too acts shady at times). Bhuvan Arora is brilliant as the perfect foil to Sunny and seems like another Vicky Kaushal in the making. A stellar actor like Vijay Sethupathi manages to hold his own and covers up his awkwardness with Hindi by slipping into Tamil during intense emotional scenes with his wife and son. That's the best part of this series that DK and Raj manage to carry off with aplomb – the multi-regional flavour.
The cinematography by Pankaj Kumar is stunning, especially the top shot of tons of money streaming from the trunk of a fast-moving vehicle being chased by the police. The background score is effective, the number 'Sab Farzi' especially is peppy.
Kay Kay Menon as the antagonist fumbles along and seems reduced to a caricature. It does not help that Kubra Sait walks in, threatening him about the mysterious 'high command's' displeasure with the way he is handling the multi-crore counterfeit business. Rashii Khanna plays her role with the right amount of conviction. Also, do watch out for characters from The Family Man – here comes the DKR universe now!
The final episode is the best as Sunny is now pitted against Michael and the chase gets edgy (if only there were more scenes of them together, they hardly share screen space). Some needless violence in the end (they did that too in The Family Man 2) and the series ends in a way that teases a Farzi 2.
Farzi is the big Bollywood release on OTT this weekend, with the carrot at the end of the stick, being the face-off between Shahid Kapoor and Vijay Sethupathi. But, that does not happen in a big way and the series is let down by the lack of a strong plot but to give them their due, the most sought after director/writer duo, DK and Raj manage to get the momentum of the series going whenever it starts to sag. Maybe, with a romance thrown in.
Farzi does not create the same magic that The Family Man did. But, did you know that Wesley Weber, Art Williams and Stephen Jory were world-renowned counterfeiters, who convincingly made copies of their country's currencies? They all got caught, as the Rashii Khanna character in Farzi tell us. Also, Bollywood has been making movies based on the theme of counterfeit money since the 60s. The movie is the Dev Anand-Madhubala starrer, Jaali Note (Fake note) based on a zealous cop on the trail of counterfeiters!