Dhanush's bilingual film, Vaathi (Sir in Telugu), directed by Venky Atluri focuses on the protagonist's fight against the exploitation of students by private schools. Dhanush plays a math teacher, who is against privatising government schools, and the story is based on real-life incidents that occurred in the 1990s.
Films featuring teachers have worked well in different languages in the South Indian film industry. We compile a list (in no specific order) of the most remarkable teachers in South cinema, whose travails, triumphs and love stories left an indelible mark on celluloid.
TAMIL
Nootrukku Nooru, 1971
This Tamil psychological thriller, written and directed by K Balachander, centers on a college professor who is accused of sexual harassment by three girls just before his marriage.
Also read | Vaathi review: Dhanush's one-man show, with an important message
Jai Shankar played the professor Prakash, who is engaged to Lakshmi. Released on March 19, 1971, it was later remade in 1974 with Vinod Khanna as 'Imtihan' in Hindi.
Dharmathin Thalaivan, 1988
Rajinikanth plays two characters in this one, which was directed by SP Muthuraman. The first is a forgetful, noble Tamil professor, who shuns violence and the second is a local thug. 'Kasme Vaade', a 1978 Hindi film that introduced Khushbu to Tamil cinema, was remade as 'Dharmathin Thalaivan'
Nammavar, 1994
One of Kamal Haasan's memorable films, 'Nammavar', is directed by KS Sethumadhavan and features Gautami, Srividya, Nagesh, and Karan in pivotal roles. The narrative focuses on the life of this history professor Selvam, which Kamal Haasan essayed and the efforts he makes to reform the troubled college. The screenplay and story were written by Haasan, and the dialogues were penned by Kanmani Subbu. English movies such as To Sir, with Love, Class of 1984, and The Principal served as inspiration for 'Nammavar'. The film was a Deepavali release in 1994 and won three National Awards.
 Kadalora Kavithaigal, 1986
A thug with a criminal history (played by Sathyaraj) falls in love with Jennifer teacher (Rekha). The movie, which was largely filmed in Kanyakumari, describes how his life changes after that. 'Kadalora Kavithaigal', directed by Bharathiraja, was remade in Kannada as 'Kaurava 'and as 'Aradhana' in Telugu. Notably, this one marked the debut of south Indian actress Rekha in Tamil movies.
Mundhanai Mudichu, 1983
Written and directed by Bhagyaraj, the film featured him in the lead role, as a single teacher and parent. The plot centers on a mischievous girl (Urvashi), who develops feelings for him. Ostensibly, Bhagyaraj penned the scenes of 'Mundhani Mudichu', based on a true story. The film ran in theatres for more than 25 weeks and was remade in Telugu, Hindi, and Kannada.
Pattalam, 2009
The Rohan Krishna directorial centers on the life of a school correspondent, Daisy (Nadiya Moidu), who is close to eight teenagers. They are free to enjoy their youth without being burdened by commitments. The film was released and garnered mixed reviews.
Ramanaa, 2002
The story of a professor Ramanaa, who seeks to fully eradicate corruption, with the aid of his former students working in various government agencies, is told in the film; written and directed by AR Murugadoss. 'Ramanaa' with Vijaykanth essaying the titular character fetched favourable reviews from both the press and the audience and it was dubbed in Hindi and released as 'Mar Mitenge 3'.
Also read | World Radio Day: The old-world charm of radio persists
Vasool Raja MBBS, 2004
Film buffs still recall the role of the hospital dean that Prakash Raj played in Kamal Haasan's Vasool Raja MBBS, directed by Saran. The release was delayed because of a petition filed by KR Balasubramanian, the head of the Tamil Nadu Medical Council at that time, alleging that the title denigrated doctors, and damaged the reputation of the medical community. Later, the Madras high court, permitted the release, without changing the title.  This one is the Tamil remake of Rajkumar Hirani's hit film, 'Munna Bhai MBBS'.
Haridas, 2013
The film, which was written and directed by GNR Kumaravelan, centers on the perspective of an eight-year-old boy on life and his father. Every father is the first hero in a child's life and this is the script's fundamental knot. Sneha plays a teacher for special children.
Peranmai, 2009
The late SP Jananathan's directorial is around Dhuruvan, a tribal forest ranger, who promotes awareness among his people and works for their welfare. The Dawns Here Are Quiet, a 1972 Russian film, served as the inspiration for Peranmai's plot.  Jayam Ravi plays a trainer at an NCC camp for women cadets.
Other significant teacher characters in Tamil films:
Bhoominathan (SJ Suryah, Don)
Chokkulingam (Jayaprakash, Pasanga)
Virumandi Santhanam (Sathyaraj, Nanban)
Geetha (Priya Anand, Ethir Neechal)
Veluthambi (Vemal, Vaagai Sooda Vaa)
Dayalan (Samuthirakani, Saattai & Adutha Saattai)
Ranganathan (Samuthirakani, Amma Kanakku)
Venba Thamizh Nadan (Amala Paul, Pasanga 2)
Geetha Rani (Jyotika, Raatchasi)
Merlin (Radhika Prasidhha, Kuttram Kadithal)
John Durairaj aka JD (Vijay, Master)
Shiva (Ajith, Aegan)
Anbu (Sivakarthikeyan, Prince)
Balamurugan (Dhanush, Vaathi)
KANNADA
Nagarahavu, 1972
In Kannada cinema, Meshtru (which translates to teacher in Kannada) has been a sought after character to portray for actors. One of the most prominent and cherished teacher characters is Chamayya Meshtru from the film 'Nagarahavu', starring the late Dr Vishnuvardhan.
Chamayya Meshtru, played by the legendary actor KS Aswath, tries his best to bring the rebellious student Ramachari (played by Dr Vishnuvardhan) on the right path, through love and patience. And, this teacher-student relationship has lived on in the hearts of Kannadigas even five decades after the film's release.
Eradu Kanasu, 1974
Dr Rajkumar played the role of a college professor in two blockbuster films, 'Eradu Kanasu' and 'Daari Thappida Maga', back in 1974 and 1975. Based on the novel of the same name by Vani, 'Eradu Kanasu' follows Rajkumar, as he grapples with his emotional turmoil over letting go of his memories of Lalitha (Manjula), while being married to Gowri ( Kalpana). In 'Daari Thappida Maga,' Rajkumar takes on a dual role.
Halli Meshtru, 1992
Halli Meshtru, (Village Teacher) starring Ravichandran, was one of the biggest blockbusters in the crazy star's career. The film, a remake of the hit Tamil film 'Mundanai Mudichu', is set in a rural background and revolves around the protagonist, a widower and father, who gets appointed as a teacher in a village school. A village girl falls in love with him and falsely accuses him of molesting her. But, later she has to win his heart.
Kaalidasa Kannada Meshtru, 2019
In recent years, many films have been made in Kannada to create awareness about the importance of learning the Kannada language in schools. One such film is 'Kaalidasa Kannada Meshtru', starring Jaggesh. The protagonist plays the role of a Kannada teacher, who tries hard to drive home the message to his students and their parents the importance of learning Kannada, even as English is given more prominence in schools.
Guru Shishyaru, 2022
'Guru Shishyaru', starring Sharan in the lead role, revolves around the bond that develops between students and their coach. (Chak de! India anyone?) Sharan is a national Kho-Kho champion, who joins a village school as a PT teacher for the sake of an experience certificate and becomes the coach of an existing Kho Kho team in the school.
In the first half, he shares a great camaraderie with the students and takes them out on trips for fake competitions at the cost of the poor villagers. However, things take a drastic turn when the antagonist in the village throws a challenge and the fate of the villagers depends on the results of a Kho Kho match. While the movie's climax follows a predictable  path, for a change, the spotlight is on a rural game.
MALAYALAM
Manikyakkallu, 2011
This heartwarming film tracks the story of a young teacher, brilliantly played by Prithviraj, arriving at a dilapidated village school with a concrete plan to transform the school, which is on the brink of shutting down. But, at every stage, there are hurdles and how he overcomes them forms the crux of the plot. Directed by M Mohanan, the film, starring Prithviraj and Samvrutha Sunil, is loosely based on a real-life incident in Kerala's Kannur district.
Doore Doore Oru Koodu Koottam, 1986
This satire-drama, with Mohanlal in the lead, throws light on the education system prevalent in the 80s. The film shows how some schools in villages are struggling to stay alive even in a progressive state like Kerala. It also talks about the lack of quality teachers, fake degrees and the deep-rooted corruption in the field of education. Directed by Sibi Malayil and written by Sreenivasan, the film took home National Award for Best Film on Social Issues.
TELUGU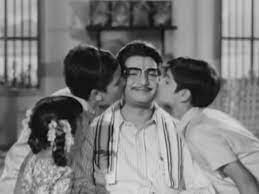 Badi Panthulu, 1972
The title of the film, directed by P Chandrasekhara Reddy, literally means school teacher. A remake of the Kannada film, 'School Master', it stars NT Rama Rao and Anjali Devi in lead roles. NT Rama Rao plays the role of a noble teacher in a government school. The film was a big commercial success.
Sundarkanda, 1992
Venkatesh plays the role of an upright Telugu lecturer, who is pursued by a student who has a crush on him. This is a remake of the K Bhagyaraj's Tamil movie, 'Sundara Kandam', which was a hit at the box-office.
Master, 1997 
The movie stars Chiranjeevi in a role of college professor Rajkumar, who wins over his students becoming one like them. Directed by Suresh Krissna and produced by Allu Aravind, this film was a commercial hit.
Mirapakay, 2011
An action drama, Ravi Teja, an IB official, joins a college as a Hindi lecturer, as part of his undercover operations. Here, he falls in love with his student (Richa Gangopadhyay). The film has been dubbed in Hindi as 'Khallas' and in Tamil as 'Murattu Singam'.
Geetha Govindam, 2018
Vijay Deverakonda dons the role of a lecturer role in 'Geetha Govindam', in which he is paired opposite Rashmika Mandanna. The student-teacher scene in the classroom is one of the most popular scenes in Tollywood. As the student goes down the wrong path, the teacher counsels the student to adopt the right way.
(With inputs from Shreyas Raghuraman and Jinka Nagaraju)