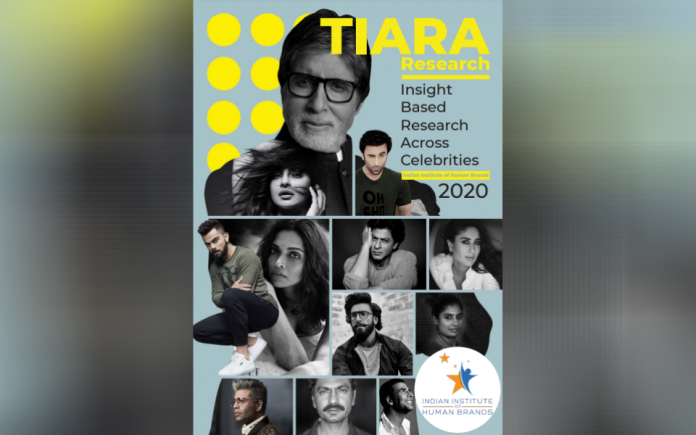 Big B, as actor Amitabh Bachchan (78) is popularly known, emerged as India's Most Trusted, Most Respected, and Most Intelligent celebrity, among other titles, according to the TIARA (Trust, Identify, Attractive, Respect, Appeal) report on celebrities compiled by the Indian Institute of Human Brands (IIHB).
Other prominent names that came up as winners included actors Ranvir Singh, Deepika Padukone, Alia Bhatt, Akshay Kumar, Anushka Sharma, and sportspersons Virat Kohli and MS Dhoni.
The IIHB, headed by Dr Sandeep Goyal, compiled the TIARA report by analysing over 180 celebrities, with the survey being conducted across 23 cities and seeing more than 60,000 participants.
The report was released on Dussehra by coach Ravi Shastri and Dr Sandeep Goyal.
The celebrities were awarded their titles based on 64 attributes including personality, image, and other human factors, with the survey being split across four categories: Bollywood, Television, Sports, and Power Couples.
The survey had winners for each title in all four categories, as well as overall toppers.
Check out the full report here: TIARA research report headed by Dr. Sandeep Goyal
Amitabh Bachchan, who is well-known for his role in the film Sholay, also topped India's Most Rich, Most Honest, Most Prestigious, and ranked the highest for other titles in the Bollywood male category.
After Amitabh, who got a score of 88 for the 'India's Most Trusted' title, actors Akshay Kumar and Deepika Padukone ranked the highest in the Bollywood category, with scores of 86.8 and 82.8 respectively. Kapil Sharma and Kajol ranked the highest in the Television segment for the same title. Virat Kohli and Anushka Sharma are the Most Trusted Power Couple, while MS Dhoni and Mithali Raj are the Most Trusted in their field.
On the other hand, Amitabh's co-star in the Hindi film Gulabo Sitaro, Ayushmann Khurrana has been voted the celebrity Indians identify with the most, scoring 88.5. He is followed by Vicky Kaushal and Kareena Kapoor in the Bollywood category.
Of course, looks and appearance too have a special mention in the TIARA report. Alia Bhatt has been named India's Most Attractive, with a smashing score of 90.7. She is followed by Hrithik Roshan and Kareena Kapoor in their industry. Virat Kohli and Sania Mirza are considered the most attractive among sportspersons, while Virat Kolhi and Anushka Sharma have been ranked the Most Attractive Power Couple.
Ranbir Kapoor and Alia Bhatt have also been named the Most Appealing Power Couple.
Virat Kohli has also earned several other titles including India's Most Trendy, Most Handsome, Most Stylish, Most Fearless, Most Charming, while also bagging several other titles under the Power Couple category with Anushka Sharma.
The fun does not end here. The TIARA report also includes a topper for India's Most Controversial, and guess who bagged that one?
Hardik Pandya.
Salman Khan and Kangana Ranaut have won the same title from the Bollywood industry, while Karan Johar and Malika Arora have earned it in the Television category.
Deepika Padukone has been voted India's Most Beautiful, and India's Most Glamourous, while bagging numerous titles in her industry and in the Power Couple category with Ranveer Singh.
Meanwhile, cricket player MS Dhoni, who is popularly known as 'Captain Cool', won the title of India's Most Down-To-Earth, Most Innovative, Most Friendly, Most Authentic, while also ranking first in other titles under the Sports category.
Furthermore, Sachin Tendulkar has been voted the celebrity with the Most Good Value, while Saina Nehwal is considered India's Most Reliable.
The TIARA report is the first extensively done, data-driven research report on Indian celebrities.