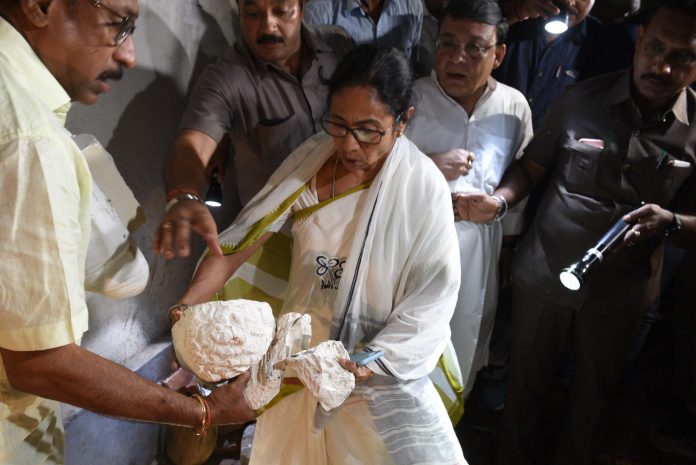 A day after a statue of social reformer Ishwar Chandra Vidyasagar was smashed to smithereens in clashes during BJP president Amit Shah's roadshow in Kolkata, the incident has unleashed a new level of political vitriol. Both the BJP and the TMC blamed each other and bombarded the media with photographs and video clips.
Whodunit
The Trinamool Congress on Wednesday (May 15) released a video to claim that "BJP goons" damaged the statue of Ishwar Chandra Vidyasagar during violence in Kolkata and said it will submit them to the Election Commission. The reaction from the TMC came close on the heels of BJP president Amit Shah, accusing the West Bengal's ruling party of indulging in violence in the state and alleged that the Election Commission has been a "mute spectator".
At a press conference here, TMC leader Derek O'Brien said, "The video not only clearly establishes what the BJP did, but proves that its chief Amit Shah is a liar." "The streets of Kolkata tinged with shock and anger. What happened yesterday hurt Bengali pride," he said, adding the TMC will take the videos it has to the poll panel and is authenticating them on record.
#WATCH Derek O Brien,TMC: Anybody can come and do a procession, but what were the outsiders…..Who is this fellow Tejinder Bagga? Who is he? He was arrested, is he not the same guy who slapped somebody in Delhi? You have taken in your outsider goons pic.twitter.com/0JDca4y6G1

— ANI (@ANI) May 15, 2019
The party also showed a video and WhatsApp message that asked people to come to Amit Shah's roadshow with rods and arms to fight the TMC and police. "We are trying to obtain and authenticate audio of slogans like 'Vidyasagar finished, where is the Josh' raised during the violence," O'Brien said.
Earlier, Amit Shah held a press conference in New Delhi and said Trinamool activists attacked his roadshow and it was Mamata Banerjee, who had the Vidyasagar bust broken as part of a "conspiracy" to blame the BJP ahead of the last round of voting for the national election. The statue was broken at the Vidyasagar College, which was on the route of the BJP president's rally.
ईश्वर चंद्र विद्यासागर जी की प्रतीमा को TMC ने तोड़ा है।

जहाँ प्रतिमा रखी थी वो जगह कमरों के अंदर है। कॉलेज बंद हो चुका था, सब लॉक था, फिर कमरे किसने खोले?

अपनी गंदी राजनीति के लिए TMC ने महान शिक्षाशास्त्री की प्रतिमा का तोड़ा है।

ममता बनर्जी की उल्टी गिनती शुरू हो गई। pic.twitter.com/yBYPuO9eVI

— Chowkidar Amit Shah (@AmitShah) May 15, 2019
"The gates were shut, our roadshow was outside, our workers were outside, the bust was inside a room, which would have presumably been locked. The keys must have been with the college management. How can we break the statue," Amit Shah questioned at a press conference in Delhi, displaying photographs.
Bagga in Bengal
Meanwhile, controversial Delhi BJP spokesperson Tajinder Singh Bagga was among the scores of BJP workers detained by the West Bengal police following yesterday's violence. A picture has been released on social media showing Bagga sitting inside a police station in the Bengal capital.
During his press conference, O' Brien said that BJP brought their outsiders goons to vandalise Vidyasagar's statue and create violence. Mentioning BJP spokesperson Tajinder Bagga's name, Brien told ANI, "anybody can come and do a procession, but what were the outsiders… Who is this fellow Tajinder Bagga? Who is he? He was arrested, is he not the same guy who slapped somebody in Delhi? You have taken in your outsider goons".
Bagga shot back saying, "Nobody takes Derek O Brien seriously. I challenge him if he can prove that I was within 500 metre of the spot where violence broke out. I will leave politics if I am proved wrong or else he should leave politics if he fails to prove the charge."
Whisper campaign to 'vote for BJP'
Derek O'Brien and the TMC has also alleged that Central forces in West Bengal have started a "whisper campaign" asking people to vote for the BJP. The TMC has also accused Deputy Election Commissioner Sudeep Jain of giving orders to the police not to intervene in BJP issues in state.
BJP and TMC supporters on May 14 fought pitched battles on the streets of Kolkata during a massive road show by Amit Shah, who escaped unhurt but was forced to cut short the jamboree and had to be escorted to safety by the police. Parts of the city plunged into a welter of violence as his convoy was attacked with stones by alleged TMC supporters from inside the hostel of Vidyasagar College, triggering a clash between supporters of the two parties. Furious BJP supporters retaliated and were seen exchanging blows with their TMC rivals outside the college entrance.