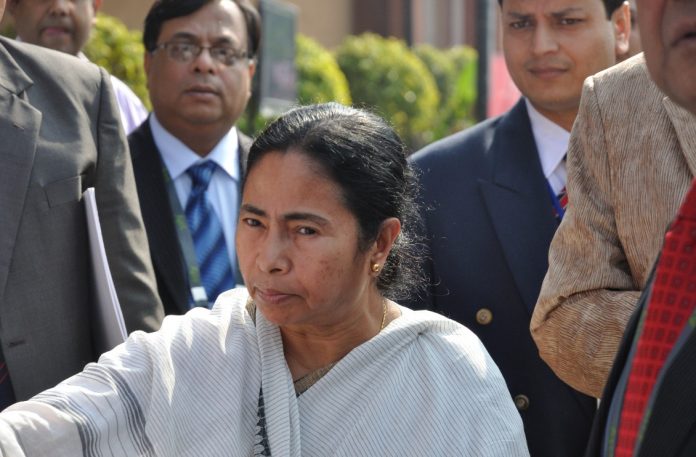 In her trademark colloquial Hindi, Trinamool Congress (TMC)  chief, Mamata Banerjee at an election rally in Kolkata dared Prime Minister Narendra Modi and BJP president Amit Shah to compete with her in chanting Sanskrit mantras.
"Kehthe hai Mamata Didi puja nahi hone deti. Tum log puja karta hai? Khali tilak karne se puja nahi hote. Puja ka mantra ka competition ho toh Modi babu and Amit babu aajo. Kiske andaar kitna Sanskrit mantra hai dekhate hai (They say Mamata Banerjee doesn't follow Hindu gods… obeisance to God is not just about applying tilak on forehead. I dare Modi babu and Amit babu to come and compete with me in chanting Sanskrit mantras)," the West Bengal chief minister challenged.
Her Sanskrit challenge was not an off-the-cuff retort, any one following her recent speeches would realise. It was part of a well- thought-out strategy of competitive Hindutva her party has charted of late to shed its pro-minority image that the BJP has been aggressively using to woo Hindus, who constitute 70.54% of the state's population.
Advertisement
In the same rally, she also took a potshot at the BJP for not constructing the promised Ram temple in Ayodhya, while pointing out that her government without much fanfare built an impressive temple at Sagar island, a place of Hindu pilgrimage in the South 24 Parganas district of the state.
According to Probir Pramanik, a senior journalist of the state, the ruling TMC has been proactively peddling soft-Hindutva since January last year, when it felicitated more than 800 Hindu priests at a "Brahmin convention" at Bolpur town in Birbhum district, ahead of the panchayat elections.
Soon after, for the first time, the TMC organised rallies on Ram Navami in various parts of the state to outdo the BJP in showing their devotion to Lord Ram. The TMC's new-found love for the Hindu pantheon was apparently evoked by the success of such sword- and trident-wielding rallies organised on the occasion by Bajrang Dal and other saffron outfits in the state in the last couple of years.
Last year also saw state government giving an unprecedented donation of ₹10,000 to at least 28,000 Durga Puja organisers across West Bengal. The government also waived off all sorts of licence fees for the puja pandals.
The biggest Hindutva push of the TMC, however, came when a senior party leader and Asansol mayor, Jitendra Kumar Tiwari, announced in November last year the municipal corporation's decision to mobilise funds for the construction of 10 sun temples in the area that had overwhelmingly voted for the BJP in 2014.
The party also planned to build two sun temples in Durgapur with funds received under the Bengal government's green city mission and the MLA's local area development fund, said Chandrasekhar Banerjee, a TMC leader and a borough chairman of the Durgapur Municipal Corporation.
At a rally in Kolkata's Dharmatala area on 21 July last year Mamata Banerjee was even heard expressing displeasure over azan (Muslim prayer call) being blared out from a nearby mosque while she was speaking.
There are many more such instances of TMC's attempts on image makeover.  In almost every election rallies, Banerjee now asserts her Hindu identity. Even in North Dinajpur that has 49.92% Muslim population, the TMC chief told a rally this month how every morning she worships goddess Durga, Kali, Chandi and chant Sanskrit mantras.
She even made women supporters to give 'Ulu Dhwani' (Ululation), a ritual performed by Bengali Hindu women during pujas and auspicious occasions.
"The TMC has been all along feeding minority fundamentalism. Now it's trying to beat the BJP in its own game of Hindutva," CPM MLA Sujan Chakrabarty said.
Many CPI (M) and Congress leaders also point out how in this election Banerjee burqa-clad photo has disappeared from the party's posters and hoardings. The BJP had used the photo in the 2014 general elections to dub her anti-Hindu.
Decoding Mamata's brand of Hindutva
The TMC's brand of Hindutuva, however, has a distinct twist. In her speeches, Banerjee tries to position herself as a "good Hindu," more attracted towards the spiritual aspect of the religion that emphasizes more on internal spiritual practices such as chanting mantras rather than demonstrative outward rituals like putting tilaks.  But at the same time her government and the party are taking visible steps to affirm their Hindu outreach.
She randomly refers to Upanishads and quotes Ramakrishna Paramahansa and Swami Vivekananda to essentially explain non-duality of God or for that matter religion. "Jata math, tata path (there are many ways to find one ultimate truth)," she told a gathering at Dinajpur, quoting Ramakrishna. In another meeting at Kolkata she said Hinduism symbolises sacrifice and that it never subscribes religious discord.
By making a pitch for a diverse and inclusive Hinduism, the TMC is hoping to appeal to the conscience of Hindu voters without antagonizing her minority supporters.
Minorities not amused by TMC's image recast
Many of the TMC's conservative Muslim allies are not happy with its sudden Hindutva overtures. Taha Siddiqui, Pirzada of Furf¬ura Sharif, Hooghly—an influential Muslim cleric—warned Banerjee not to take Muslim voters for granted.
With the CPI (M) and the Congress losing their influences, the community has no much option as of now but to support the TMC.
"Despite being angry against the state government over various issues including several riots that took place in the state, the minorities will vote for the TMC in the state to ensure their safety and security," Mohammed Kamruzzaman, general secretary of All Bengal Minority Youth Federation recently told a news agency, aptly summing up the dilemma of the community.
As for the majority community, Banerjee's Hindu posturing appears to be making connect with her audience. But will that be enough, to halt a saffron surge in the state, can be known on May 23, when votes will be counted.