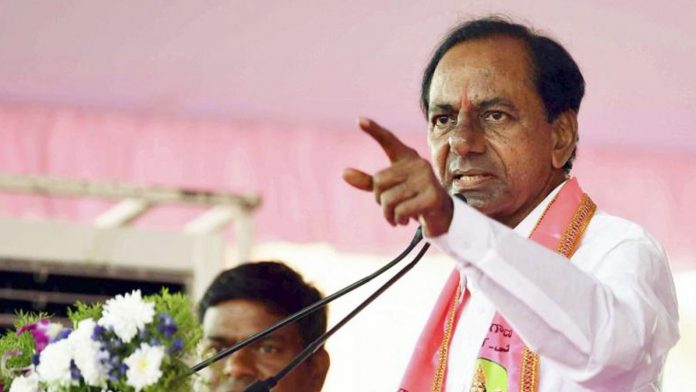 Telangana Rashtra Samithi (TRS) chief K Chandrashekhar Rao may prefer to sail with Congress in case he couldn't achieve his objective of a non-BJP, non-Congress government at the Centre.
The developments of the last one week indicate that he may not be averse to be partnering with Congress as he did not past, in the event of neutral regional players failing to get a sizeable number to lead the government.
With less than a week to go for counting of votes, KCR, as Rao is popularly known, keeping his fingers crossed.
TRS, like other regional parties, consider hung Parliament an ideal situation as they can play the role of kingmaker and extract their pound of flesh for extending support to the government.
With both BJP-led National Democratic Alliance (NDA) and Congress-led United Progressive Alliance (UPA) likely to fall short of majority, they will be looking at the regional players for support and among them TRS and YSR Congress Party are expected to emerge crucial with 35-37 seats between them.
In the event of a fractured verdict, KCR's first priority will definitely be to push for his proposed Federal Front to form non-BJP non-Congress government.
It was in March last year that KCR mooted the idea of Federal Front and he since held series of talks with leaders like Mamata Banerjee, Deve Gowda, Naveen Patnaik, Akhilesh Yadav. Though his idea  did not get much traction, he succeeded in creating a buzz for an alternative with the slogan of more powers to states.
Resuming his efforts to cobble up the alliance a few days ago, he called on Kerala Chief Minister Pinarayi Vijayan and DMK leader MK Stalin. Unlike in the past when KCR spoke to media after his meetings with leaders of various parties, he left without briefing on what transpired between them.
An astute politician and master strategist he is, KCR is known to play his cards close to his chest. The meeting with Stalin, a Congress ally, and his telephonic conversation with Karnataka Chief Minister HD Kumaraswamy, who is sharing power with Congress, triggered speculations.
These meetings appear to be part of his efforts for his plan 'B'. He seems to be sending feelers to Congress that he is ready to work with it for non-BJP government but is apparently keen on a hard bargain for the regional parties. During the meeting with Stalin, he is learnt to have stressed the need for the regional parties to seek greater pie in the central government.
Also read: CMs of Telugu states jostling for kingmaker role post-elections
Since parties like YSR Congress, Biju Janata Dal, Trinamool Congress, Bahujan Samaj Party, Samajwadi Party are not with either the NDA or the UPA, KCR's first preference will be to push for a non-BJP and non-Congress government. He may open to the idea of taking Congress support for a government with a consensus candidate from one the constituents of Federal Front as the prime minister.
TRS spokesman Abid Rasool Khan has already gone on record that if Congress comes forward to extend the support, the Federal Front may consider it. He, however, insists that the Front should be in the driver's seat.
'Soft towards BJP'
Ever since he floated the idea of Federal Front, KCR faced the allegations of trying to help BJP in the name of a new alliance. The Congress leaders and Telugu Desam Party (TDP) chief N. Chandrababu Naidu accused him of working to benefit Narendra Modi.
They pointed out how KCR supported Modi over demonetization, Goods and Services Tax (GST) and supported NDA candidates for the posts of President and Vice President and abstain from voting on  no-confidence motion brought by TDP in Lok Sabha last year.
TRS, however, denied any secret understanding with BJP but defended its moves saying irrespective of the party in power it had to do business with the Centre to safeguard the state's interests.
Despite the perceived soft stand towards BJP, the TRS government did not get much support from the Centre. TRS leaders including KCR's son and party working president K. T. Rama Rao on many occasions accused BJP of being biased towards Telangana. None of the flagship programmes of Telangana, received financial support from NDA government.
KCR did not spare Modi during the campaign both for Assembly elections in December and the recent Lok Sabha polls. He targeted BJP for dividing people in the name of religion and for its temple politices. Claiming that he is a real Hindu, KCR termed BJP leaders as 'political Hindus'.
Ground Realities
Going by his commitment to secularism and an ideology different from that of BJP and its affiliates, KCR may not find easy to support BJP-led government. The ground realities in the state too indicate that he will prefer not to sail with the BJP.
TRS, floated by KCR in 2001 to revive the movement for Telangana state, always laid emphasis on communal harmony. Working with the single point agenda of achieving Telangana state, he met leaders of all parties including BJP to get their support but did not have any formal understanding with that party.
Also read: Federal Front ready to take Cong support, but won't give driver's seat: TRS

Ever since forming first government in Telangana in 2014, KCR's emphasis had been on social and communal harmony. He not only promised that the reservation for Muslims in jobs and education will be increased from 4 per cent to 12 per cent but also passed a resolution and sent it to the Centre for its nod.
Referring to reports of various committees which studied socio-economic conditions of Muslims, KCR stressed the need for doing justice to the community.
KCR government also ensured good law and order situation and no major communal incidents occurred during its rule.
He also has had friendly relations with All India Majlis-e-Ittehadul Muslimeen (AIMIM), a key political force in the old city of Hyderabad. The ties helped TRS to get the support of Muslims in other parts of the state capital and districts and retain power with a landslide victory in December. The party hopes to repeat the same performance in Lok Sabha winning 16 of 17 seats, leaving Hyderabad for AIMIM.
By joining hands with BJP, he may not take risk of distancing minorities. Such a move may also help the saffron to get a foothold in the state.
AIMIM chief Asaduddin Owaisi believes that it is out of their arrogance that some parties are accusing KCR of trying to help BJP through Federal Front. He said KCR was giving a befitting reply to those who were questioning his secular credentials.
"Who defeated BJP in Telangana in Assembly elections with that party's number of MLAs coming down from 5 to just one. In Lok Sabha elections too BJP will lose the single seat it had," said Owaisi.
 "KCR's idea is to bring regional parties together so that the states get their due rights and their due share in central funds. He also wants to safeguard the Constitution and the secularism and ensure that minorities, Dalits and backward get their due share and there is no discrimination with any section," said Abid Rasool Khan.
Also read: Stalin asks KCR to support Congress; AIADMK says rival ready to jump ship