The naxal attack in Gadchiroli on Thursday (May 1) in which 16 policemen died comes even as the parliamentary constituency, on April 11, saw a record increase of 14 percentage points in voter turnout compared to 2014.
This stands in contrast to the rest of Maharashtra in which polling percentage remained nearly the same as last time. There has been a trend of increase in voter turnout percentage in other constituencies with significant Maoist presence, too.
More CRPF camps
Over the years, governments across India have been focusing on uprooting Maoists from naxal-affected areas including Chhattisgarh, Jharkhand, and West Bengal. "To control their activities, the government has set up CRPF camps in these areas, which has slowed down the movement of naxals," Sanjay Verma, editor-in-chief of Taaza Khabar, told The Federal.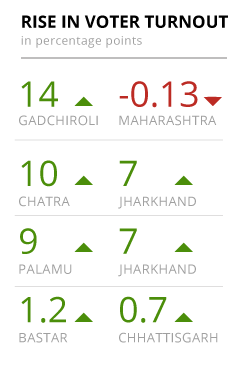 Verma said the move made people more secure and, in turn, the voter turnout in Maoist areas in Jharkhand such as Chatra and Palamu had risen by 10 and 9 percentage points respectively.
Maoist tactic
The May 1 attack in Gadchiroli may well have been a Maoist attempt to demonstrate that they remain a potent force.
Gadchiroli, a district along the eastern Maharashtra-Chhattisgarh border, has a history woven around gun battles between naxals and the police.
Since the start of the Lok Sabha elections in April, Gadchiroli has seen four naxal attacks. A day before polling in this constituency, a Central Reserve Police Force (CRPF) man was critically injured in an improvised explosive device (IED) blast in Gadchiroli.
There was another IED blast near a polling booth in Gadchiroli on April 11, during the first phase of the general elections. No one was injured. Amid such frequent attacks, the voter turnout in the area has gone up by 14 percentage points compared to the 2014 general elections. Such rise turnout in Maoist-hit areas is unusual. In Chhattisgarh, for instance, as Adivasi Rights activist Xavier Dias recalls, Maoists used to threaten people with dire consequences. They induced fear and threatened people by saying that they would chop off people's limbs if they ventured out to vote. As a result, fewer people from Maoist-hit areas turned up at the polling stations.
The increased CRPF deployment in Gadchiroli could be one reason for the increased turnout. "The forests are filled armed personnel," V Raghunath of the Civil Liberties Committee told The Federal. He said the situation in Gadchiroli was like 'undeclared emergency.'
More to be done
The government was looking at Gadchiroli only through the law and order prism, Raghunath said, adding that the place urgently needed primary healthcare and education infrastructure in place.
In Chhattisgarh too, there has been a marginal rise (over 1 percentage point) in voter turnout in Bastar and Dantewada mainly due to increased road connectivity within villages over the past five to 10 years.