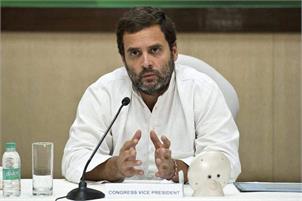 More trouble is brewing for Congress president Rahul Gandhi on his home turf Amethi. Even as the rising popularity of BJP contestant Smriti Irani is a niggling worry for the party, the recent defection of party loyalist Haji Haroon Rasheed who has decided to fight as an independent candidate against Gandhi, threatens the Congress' future in the constituency.
The Statesman reported that Rasheed, son of Congress loyalist Haji Sultan Khan decided to break away from the party and contest independently from the constituency after he felt sidelined in the Congress.
The family has been supporting the Gandhis for the last four decades and Rasheed, who claims to have the allegiance of about 6.5 lakh Muslim voters in the constituency, is confident of securing all their votes against Rahul.
Rasheed said the local leadership of Congress has been neglecting the community for a long time, which in turn has affected the development in the area.
Haji Sultan Khan signed as the proposer on the nomination forms of former Prime Minister Rajiv Gandhi and Sonia Gandhi when they contested from Amethi. Rasheed's father Khan proposed the names of Sanjay Gandhi (1980), Rajiv Gandhi (in 1981, 1984, 1989 and 1991) and Sonia Gandhi (1999) when they contested from the Uttar Pradesh constituency.
Sonia Gandhi left the seat in 2004 and moved to contesting from Rae Bareli, and since then Rahul has been the sitting MP from Amethi.
Amethi goes to polls on May 6. Amid confusions of fielding Rahul from a second seat in either Kerala or Karnataka, Rasheed's revolt has added to Congress' woes.