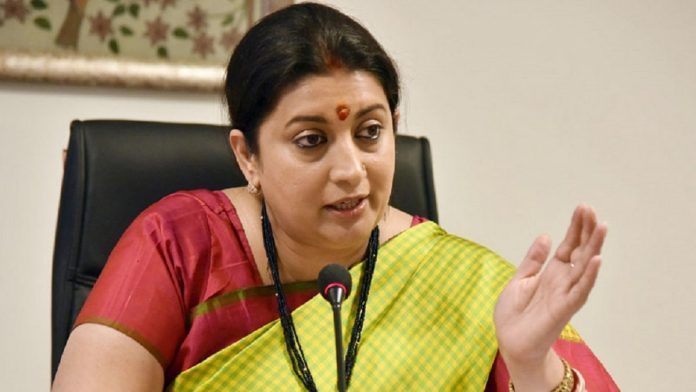 Smriti Irani has come a full circle. The Union minister courted fresh controversy after an affidavit submitted by her to the Election Commission mentioned that she did not complete her graduation from Delhi University.
The statement is contrary to Irani's earlier claims that she had a Bachelor degree and a degree from Yale University
And, here it is @smritiirani finally admits she is not a graduate pic.twitter.com/hco3csdAo6

— Swati Chaturvedi (@bainjal) April 11, 2019
Controversial claims
Irani, in her 2004 Chandni Chowk nomination affidavit, claimed to have completed Bachelor of Arts from Delhi University in 1996. However, in 2014 – and again in 2019 – said that she had not completed a three-year Bachelor of Commerce degree from University of Delhi's School of Open learning.
In response to a question, Smriti Irani, in 2014, claimed to possess a degree from Yale University. She said even though people thought her to be illiterate, she has a degree from Yale which she could bring out and show "how Yale celebrated her leadership qualities."
For some strange reason, @smritiirani did not mention this degree from Yale in her nomination today. pic.twitter.com/81oFfxq11V

— Pratik Sinha (@free_thinker) April 11, 2019
Later, she said the degree was, in fact, a certificate given to Members of Parliament for attending a six-day course.
After being mocked on Twitter and drawing the ire of the Opposition, Irani said she was misunderstood
Fodder for trolls
While people tore into Irani on social media, the Opposition condemned her for her inconsistency.
Smriti Irani may or may not be a graduate. But being inconsistent with facts while disclosing educational qualifications is infelicitous.

— Sanjay Jha (@JhaSanjay) April 11, 2019
Congress spokesperson Priyanka Chaturvedi slammed Irani, saying "a new serial called "Kyunki Mantri Bhi Kabhi Graduate Thi", and proceeded to sing a few lines of a song she had composed.
#WATCH Congress' Priyanka Chaturdevi: A new serial is going to come, 'Kyunki Mantri Bhi Kabhi Graduate Thi'; Its opening line will be 'Qualifications ke bhi roop badalte hain, naye-naye sanche mein dhalte hain, ek degree aati hai, ek degree jaati hai, bante affidavit naye hain. pic.twitter.com/o8My3RX9JR

— ANI (@ANI) April 12, 2019
Irani had played a key role in the serial 'Kyunki Saas Bhi Kabhi Bahu Thi' which aired from 2000 to 2008.
Trolls meanwhile, had a field day on social media, especially Twitter, dragging Irani for going back and forth on her educational qualifications.
In 2014, Smriti Irani was a graduate. In 2019, she became an intermediate. That's what 5 yrs of Modi sarkar also did to India.

— Punster® (@Pun_Starr) April 12, 2019
Chowkidar @smritiirani, show us your Yale degree please.

Let us feel proud that you have a degree at least. https://t.co/KagrtblLkT

— Bishnu (@Bishnu467) April 11, 2019
Ms. HRD minister has double PhD from Yale University.. One in fekular biology and another is Jumla technology. Anyone doubting that will considered as anti national. #SmritiIrani

— Rahul Gandhi (@RahulGa70304683) April 12, 2019
Finally discovered the YALE degree #SmritiIrani pic.twitter.com/2CvonKWjNu

— Ajay Kumar Yadav (@ajykmr123) April 12, 2019
Irani is contesting against Rahul Gandhi in Amethi, Uttar Pradesh this Lok Sabha election.