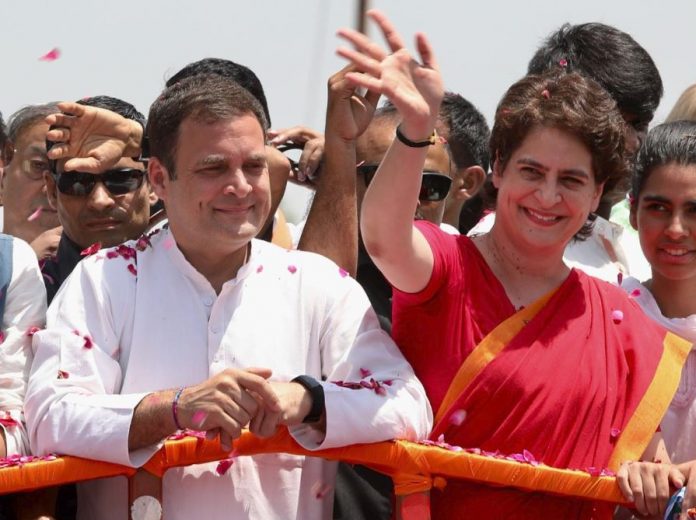 Here are the latest election-related updates from various states across the country:
Uttar Pradesh
Amethi EC officer ordered the postponement of Rahul Gandhi's nomination paper scrutiny to April 22. Ravi Prakash, lawyer of independent MP candidate from Amethi, Dhruv Lal who raised objections on Rahul Gandhi's nomination papers, said: "On basis of certificate of incorporation of a company registered in UK, he declared himself a UK citizen. A non-citizen can't contest polls here."
Samajwadi Party fields Rajendra Singh Patel as Lok Sabha elections candidate from Allahabad Lok Sabha constituency.
Gujarat
Gujarat Minister Ganpat Vasava said: "When PM Modi stands, it looks like the lion of Gujarat is standing. When Rahul Gandhi stands, it looks like a puppy is wagging its tail. If Pakistan offers it a roti, it'll go there and if China offers it roti, it'll go there as well."
Ahmed Patel, Congress, said: "We are not only hopeful but also very confident that the BJP will lose. We will get good results in Gujarat too, we will cross double digits. On May 23, when the election results come, BJP will no longer be in the government."
Kerala
Priyanka Gandhi Vadra in Wayanad: "I stand here on behalf of a man who I've known from the day I was born. He'll be your candidate in this election and over the past 10 years he has faced massive personal attacks from his opponents. They've sought to portray a character of his which is very far from truth."
S Krishna Kumar, former Congress MP from Kollam, on joining BJP, said: "My motive for rest of my life is to strengthen the hands of PM Modi who I think the people of India should give a mandate not only for 5 years, but for another 10. By this time, he'll modernise the nation and take it to the forefront."
BJP President Amit Shah held a roadshow in Pathanamthitta as part of the campaigning process.
Delhi
Sam Pitroda, Indian Overseas Congress Chief, said: "Few weeks ago I said something about Balakot, immediately PM started tweeting, head of BJP party went wild, called a press conference. Congress leaders started calling me why did you say that? I said what did I say? I said the truth."
Election Commission to Eros Now: "It was brought to our notice that five episodes of a web series called 'Modi-Journey of a Common Man' is available on your platform. You're directed to stop forthwith the online streaming and remove all connected content of the series till further orders."
Update on late UP and Uttarakhand CM ND Tiwari's son Rohit Shekhar Tiwari's death case: Delhi crime branch questioned his wife.
Madhya Pradesh
A notice has been issued to Pragya Singh Thakur by District Election Officer and Collector under model code of conduct seeking an explanation from her for her comment on late Hemant Karkare within a day.
Congress' Jyotiraditya Scindia filed nomination from Guna constituency in Madhya Pradesh
Karnataka
Karnataka minister BZ Zameer Ahmed Khan said: "Shivakumar Udasi is a two-time BJP MP. He's going around saying 'don't vote looking at my face, look at Modi's face and cast your vote.' You must talk about your achievements but instead if you say look at Modi's face and vote, is it possible?"
Former Karnataka CM and Congress leader Siddaramaiah said: "He (Modi) is a fool. Taking political advantage of surgical strikes is a big mistake. Our armed forces carried out the surgical strike. Did he (Modi) carry a gun to do a surgical strike? Why is he claiming credit for it?"
BS Yeddyurappa said: "Despite all the divisive tactics by Congress party, the BJP emerged as the single largest party in Assembly polls. In this elections too we are 100% confident that we'll not only win Shivamogga LS seat with a huge margin but also win more than 22 seats in Karnataka."