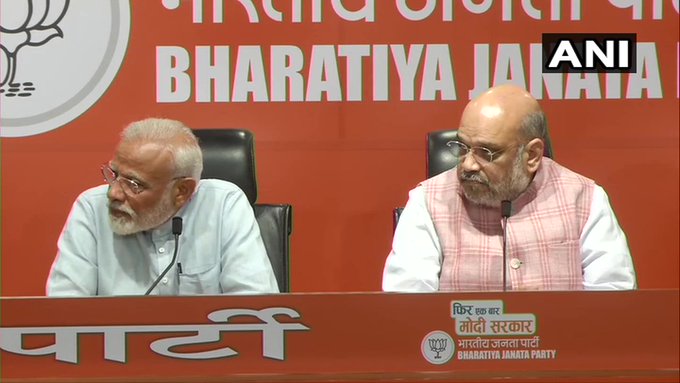 Narendra Modi on May 17 addressed his first-ever press conference as prime minister at the BJP headquarters in Delhi, only to direct all questions from the press to BJP president Amit Shah.
As the PM began addressing reporters, he first started with a statement summarising how his government has introduced a new culture of governance – "last mile delivery". He said the BJP will come to power with absolute majority for the second time.
"In the last two elections, even IPL couldn't be held," Modi said. "When government is strong, IPL, Ramzan, school exams and others take place peacefully." He also said that it is when there is a natural calamity in the country or election time that journalists become very active.
However, the prime minister didn't take any direct questions and directed them towards Shah, saying party chief is "supreme" [authority]. To the very first question posed to him, the prime minister said: "I am a disciplined soldier, party president is everything for me."
When a reporter insisted Modi answer a question, Shah said, "I am answering. It is not necessary that the prime minister answer every question as the question is baseless."
To a question whether the BJP will welcome or take action against Sadhvi Pragya [for calling Nathuram Godse a patriot] if she wins, Shah said, "Once she sends her reply, the party's disciplinary committee will see and decide on it."
"Don't regret candidature. Her candidature is answer to Congress's vote bank politics against Hindu terror. They slapped a fake case and everyone who was accused is out… They compromised with security. The Congress president should seek apology for discrediting Hinduism across the world," Shah said.
Meanwhile, Congress chief Rahul Gandhi also held a presser at the same time as the Modi-Shah press meet. Gandhi said the prime minister helped the Congress in closing at least 10 per cent doors on the BJP. "We went state by state. I am proud to say that we have closed 99 per cent of the doors [on the BJP]. He helped us by closing 10 per cent doors by being abusive to us. The Congress has done a tremendous job. This fight is protection for the Supreme Court, the Reserve Bank of India and the Enforcement Directorate," he said.
The Congress president also said: "Now that the prime minister is doing a live press conference, I want to ask him why didn't he debate with me on Rafale?"
"I had challenged you for a debate, tell the press why didn't you debate?" Gandhi added.