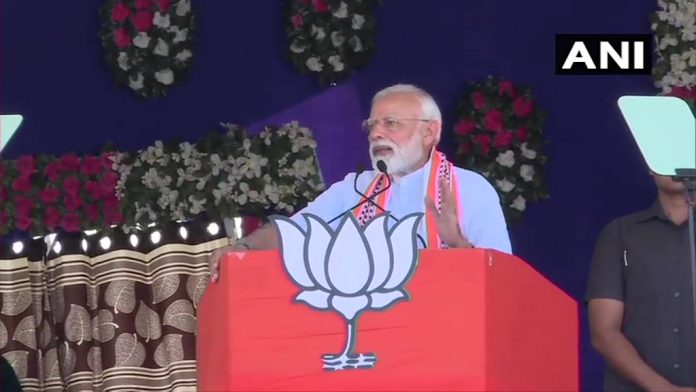 Prime Minister Narendra Modi on Wednesday accused the Congress of snatching away food from poor children and filling the stomach of its own leaders. Addressing a poll rally at Gujarat's Junagadh, Modi accused the Congress of turning Madhya Pradesh into an ATM. "In the past three-four days you would've seen sacks full of cash of Congress leaders being found," he said. "It has not been even six months of government in MP. The Congress had first turned Karnataka into their ATM, now they've turned MP into ATM. Fate of Rajasthan and Chhattisgarh won't be any different."
Speaking in both Hindi and Gujarati, the PM said the BJP has fought unemployment and poverty. "What has Congress done? It has only done scam after scam."
He said the Nehru-Gandhi family's hatred towards Gujarat is well-known. "They made people forget Sardar Vallabhbhai Patel. The truth is Junagadh wouldn't have been there if Sardar Patel hasn't been there. Sardar Patel made Junagadh a vital part of India, but Congress wants to separate J&K from India. It wants separate PMs for India and J&K. Do you want two different PMs? Can you imagine different PMs for each state?" he asked.
Accusing the Congress of "fixing" Sadar patel and pulling down Moraji Desai's government, he said: "Now the Congress is hassled over the fact that it couldn't remove Narendra Modi, another son of Gujarat."
Questioning the opposition's integrity towards the nation and respect for the armed forces, the prime minister said the recent IAF airstrike was against Pakistan, but it affected the Congress in India.
"Those [Congress] who doubt the integrity and intention of the Indian Army and asks for proof, are now showing their double standards. They have used all kinds of abuses against your son, your chowkidar," he said.
Further taking a dig at the Congress, he said: "The BJP has a track record. Congress has tape record. The BJP has a track record of fighting against terrorism, working for development, taking everyone along. But Congress's tape recorder has just one song playing, Modi hatao, Modi hatao (get rid of Modi)."
The prime minister also made an appeal to the youths, especially the first-time voters to cast their votes for the future of the country. "Please dedicate the first vote to the country, to build a strong country. Choose a government that can fight corruption and secure the nation. Your votes shouldn't be based on caste and any other considerations."