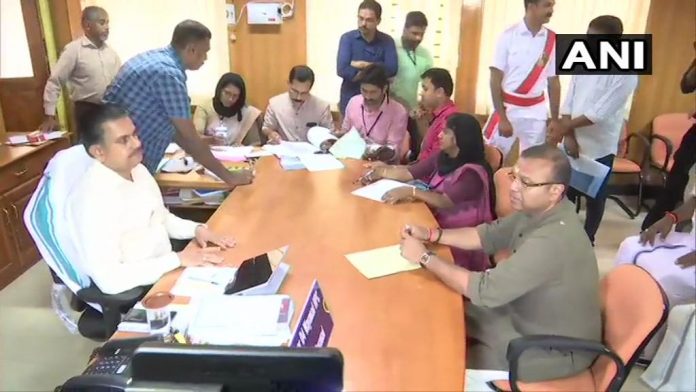 Prime Minister Narendra Modi continued his pre-election rallies, in West Bengal and Arunachal Pradesh on April 3. More candidates filed their nominations. Here are the latest developments related to the upcoming elections from various states:
Jammu and Kashmir
People's Democratic Party president and former J&K CM Mehbooba Mufti filed her nomination from Anantnag parliamentary constituency for the upcoming Lok Sabha elections.
Amit Shah said in Sunderbani: "If you choose Narendra Modi govt, in next five years we'll oust every single infiltrator from the country. Infiltrators are eating our country like termites. They want to change demography of Jammu. As long as there's BJP govt, we won't let this happen."
West Bengal
As part of his pre-election rally, PM Narendra Modi was in Kolkata. He said: "Today some people, in their hate for Modi, have started speaking against India. Who raised doubts on airstrike? Who demoralised the armed forces? Who had asked for count of bodies of terrorists?" He attacked Chief Minister Mamata Banerjee as well.
The Congress released a list of four candidates from Bengal.
Punjab
Navjot Kaur Sidhu, who had applied for the Chandigarh Congress ticket, said she will work for Pawan Bansal's victory from Chandigarh. "Pawan Bansal ji is a senior leader. I respect the party's decision and we will work towards his win. My vision was to work for the benefit of the youth in the area. Unfortunately, it could not take off."
Arunachal Pradesh
Even as the Prime Minister addressed an election rally in Pasighat on April 3, a 'Cash for vote' scandal was exposed, where authorities found ₹1.8 crore in the convoy of BJP CM Pema Khandu and BJP Arunachal Pradesh President Tapir Gao.
Kerala
President of Bharat Dharma Jana Sena and NDA candidate from Wayanad, Thushar Vellappally, filed his nomination on April 3.
Andhra Pradesh
Telugu Desam Party complained to Election Commission against Nellore MLA & YSRCP's Nellore candidate Anil Kumar Yadav over a speech he delivered on April 2. The party mentioned 'it was intended to terrorise public who are not supporters of YSRCP.'
Uttar Pradesh
BJP released the 16th list of six candidates in Maharashtra and Uttar Pradesh for the Lok Sabha Elections. Dinesh Lal Yadav 'Nirhua' will contest from Azamgarh against SP's Akhilesh Yadav.
Maharashtra
According to BJP's latest list, Manoj Kotak will contest from Mumbai North East (where Kirit Somaiya is the sitting MP).
Actor Vivek Oberoi, commenting on the furore around the movie 'PM Narendra Modi', said, "We are not projecting Modi ji as larger than life, he already is larger than life. We are not projecting him as a hero, he already is a hero; not only for me but for crores of people in India and abroad. Its an inspirational story which we brought to the screen."
Karnataka
Retired IAS officer and former Karnataka chief secretary Rathna Prabha joined the BJP "as the PM has been striving to develop the country in a unique manner. I wanted to do service to the nation and I felt this was one party apt for me to fulfill my desires to work for the people."