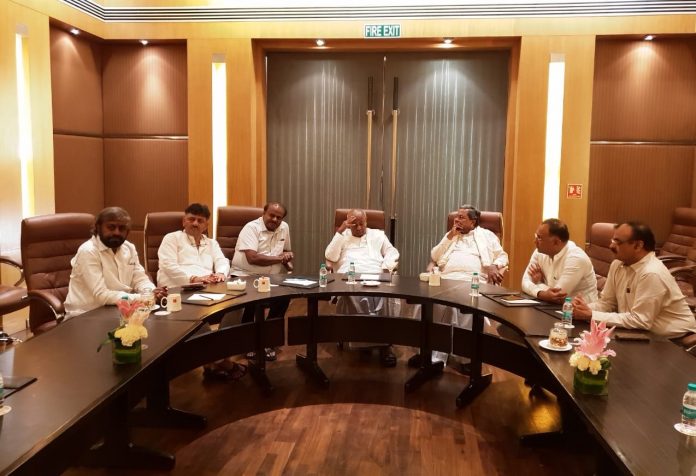 All is not well with the ruling coalition partners — Janata Dal (Secular) and Congress — in Karnataka. Even as the JD(S) is yet to finalise candidate list for the upcoming general election, there's brewing tension among Congress workers in many constituencies where its coalition partner will field its candidates.
Though both the parties agreed to work together and fight against the Bharatiya Janata Party (BJP), workers worry at the grassroots level. Many Congress workers believe the seat sharing agreement, where JD(S) contests in eight constituencies, will impact the party's chances in the subsequent assembly elections in the state, if they were to compromise and work together. Many find it embarrassing to support their arch rivals.
Both JD(S) and the Congress fought each other, particularly in the Vokkaliga-dominated old Mysuru region. While Congress workers revolted in five of the eight Lok Sabha seats —Mandya, Tumakuru, Bengaluru North, Udupi-Chikmagalur and Hassan — given to JD(S), the latter faces an existential crisis in the remaining three seats — Uttara Kannada, Shivamogga and Bijapur. All the three seats are BJP stronghold and are held by them for at least three terms in a row, until now.
Differences in ideology 
In Mandya, while the Congress had the upper hand with Sumalatha's (wife of late actor-turned-politician MH Ambareesh) entry into politics, it could not field her as it ceded the seat to its coalition partner. Sumalatha will now contest as an independent candidate against Chief Minister HD Kumaraswamy's son, Nikhil Kumaraswamy.
Some of the Congress workers, close associates of Ambareesh, went on to campaign for Sumalatha, and were ready to face action by the party. It was the same party cadres who went against the high command's orders to defeat its own candidate, Ramya, in 2014 general election. Youth congress leaders in the constituency have threatened to resign en masse over the seat allocation to Nikhil.
Worried over the development, Chief Minister HD Kumaraswamy has urged Congress leaders to issue strictures to workers not abiding the 'coalition dharma'.
In Tumakuru, a seat held by deputy chief minister G Parameshwara, Congress members are unhappy with the party ceding ticket to the JD(S). The Congress had gone on record to request JD(S) to rethink and return the seat. Former prime minister Deve Gowda has announced to contest from there and the incumbent Congress MP Muddahanumegowda has turned a rebellion. Now, despite the seat being ceded to JD(S), Muddahanumegowda has threatened to file nomination on Monday, breaking the high command's decision.
"We fought the elections against each other on ideological grounds and we criticised their policies and functioning. Now, coming together will be difficult. We will abide by the party high command's decision, but it will be a tough battle," said DC Gowrishankar, JD(S) MLA from Tumakuru rural.
Seat sharing problems
In Udupi-Chikmagalur, Congress workers' main contention was since JD(S) had no elected representatives at the panchayat level, and was not active at booth level, it should let the Congress candidate contest.Now, JD(S) has finalised Congress leader Pramod Madhwaraj to contest as a coalition candidate.
In Bengaluru North, JD(S) does not command enough support from Congress, as Bangalore Development Authority chairperson ST Somashekar, MLA Byrathi Basavaraj and MLA Akhanda Srinivas Murthy, all loyalists of former chief minister Siddaramaiah, are against the coalition partner. In fact, JD(S) is now looking to field a Congress candidate here.
In Hassan, where Deve Gowda vacated the Lok Sabha seat to make way for his grandson Prajawal Revanna, party workers are yet to accept Revanna as a leader and want Gowda to contest from their constituency. In Uttara Kannada, Congress leaders Margaret Alva and RV Deshpande both wanted to field their sons. But with Congress ceding this seat, their future looks bleak.
Easing worries
Party leaders have agreed to sort out differences and convince the rebel workers to cooperate so as to not split the secular votes. Worried over the growing discontent, both parties held a joint press conference on March 19 and called on party workers to join hands to keep BJP at bay.
"We were successful in winning the Bellary and Ramanagara assembly seats with our joint effort last year, and we will continue the same for the upcoming Lok Sabha election," former chief minister Siddaramaiah said.
JD(S) and Congress will hold a joint public rally in the state on March 31 with top leaders from both parties attending the event. "The party high command is aware of the differences at the local level. We will sort these soon after discussing with JD(S) leaders and will work together to defeat BJP," said Eshwar Khandre, working president of Karnataka Pradesh Congress Committee.