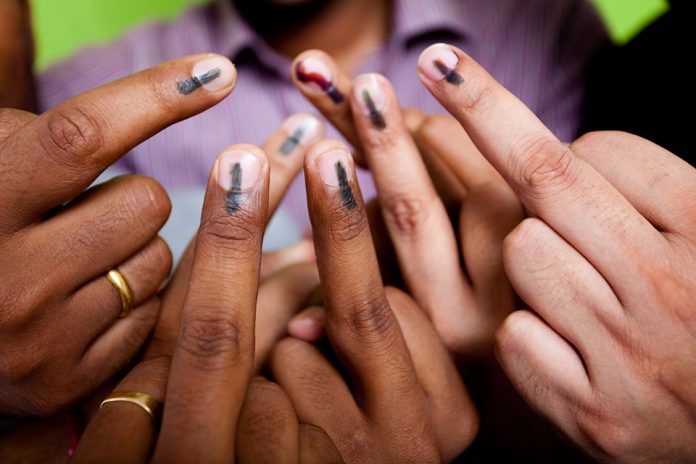 Tamil Nadu
In Tamil Nadu, tentatively 61.52% of the votes were polled till 5.45 pm. Due to malfunctioning of EVMs and VVPATs, polling was delayed at various places across the state. As many as 384 EVMs and 692 VVPATs were replaced as they did not function. Sporadic incidents of violence reported in Chidambaram, Tiruchy Lok Sabha constituencies and Gudiyatham Assembly constituency. Police used mild force to disperse the crowd in these places, apart from open fire in the air in Arakonam assembly constituency.
Nearly, six elderly people died in the polling stations. As the polling was delayed in Puducherry due to the technical glitch, poll timing was extended till 7 pm. In Vellore district, AIADMK cadres pelted stone over the AMMK cadres and broke the car windshield of AMMK candidate Balasubramaniam. Later in the evening, in Kanyakumari constituency, clash broke out between BJP and AMMK cadres in which five BJP cadres sustained injuries. In Tirunelvelli, Manikandan who was set to cast his vote, came to know that his vote was already cast, fought with the poll officials and managed to cast his vote using the rule 49P of the conduct of election rules , 1961.
Karnataka
"The Returning Officer who was sitting in the booth asked everyone to press button number 2," Syed Zahir a resident of Bengaluru's Benson Town alleged. Button number 2 in the constituency – Bengaluru Central – referred to BJP candidate PC Mohan, and the voter alleged that the election official was coercing citizens at the booth.
A 53-year-old polling official, who was deployed for election duty in Karnataka's Chamarajanagar, died after suffering cardiac arrest.
Assam
Malfunctioning in Electronic Voting Machines (EVMs) at several polling stations across Dima Hasao district of Assam resulted in late start of voting on April 18. Polling began an hour later from the scheduled time of 7 am several booths in Haflong.
The Autonomous district Lok Sabha constituency, which includes Karbi Anglong, West Karbi Anglong and Dima Hasao districts, went to polls in second phase on April. The four other Lok Sabha constituenices were Silchar, Karimganj, Mangoldoi and Nagaon.
Meanwhile, a 36-hour shutdown call given by the newly floated insurgent outfit, Dimasa National Liberation Army (DNLA), affected normal life and voter turnout in Haflong along with other parts of Dima Hasao district. Karbi Anglong, West Karbi Anglong and Dima Hasao districts. A day earlier, there were also reports of a grenade being hurled at a trunk that was parked at Bakalia in Karbi Anglong district.
Manipur
Re-polling in 19 polling stations of Outer Manipur parliamentary constituency was held on April 18. The re-poll was necessitated after the returning officer for the Outer Manipur parliamentary constituency recommended for the same following day-long scrutiny of the polling stations in the constituency. Outer Manipur Lok Sabha constituency is one of the two Lok Sabha (parliamentary) constituencies in Manipur. The first phase for Outer Manipur was held on April 11 while the second phase election for Inner Manipur parliamentary constituency was held today, April 18.
Bengal
The Ministry of Home Affairs has asked Bangladeshi actor Ghazi Abdul Noor to leave India immediately for taking part in a poll rally in West Bengal, reported PTI. Earlier, the ministry had cancelled the business visa granted to another Bangladeshi actor Ferdous Ahmed who campaigned in West Bengal for ruling Trinamool Congress. Ahmed was also asked to leave India and was blacklisted.
Bihar
Deputy chief minister and BJP leader Sushil Kumar Modi has filed a defamation suit against Congress president Rahul Gandhi for his remark against people with "Modi surname", news agency reported. The matter will come up for hearing on April 22. The deputy CM earlier said he was deeply hurt by Rahul Gandhi's statement wherein he remarked that "all those chors [thieves] share the Modi surname".
Odisha
Voting in some polling booths in Odisha got delayed on April 18 following technical glitches in the EVMs, reported OdishaTV. The second phase of polling is being held for five Lok Sabha and 35 Assembly seats in the state.
Meanwhile, a day after an IAS officer in Odisha was suspended by the Election Commission (EC) for allegedly checking Prime Minister Narendra Modi's chopper in Sambalpur and "violating protocol", the Congress leaders criticsed the poll body.
He asked, "The question is simple. If SPG protectees of the Congress party can be subjected to inspection why is the same not applicable to the BJP?"
According to the poll body, Mohammed Mohsin, a 1996-batch Karnataka cadre IAS officer didn't follow protocol for checking Special Protection Group (SPG) protectees. As per EC guidelines, SPG protectees are exempted from such inspections.
Uttar Pradesh
Villagers of Mangoli Kala in Fatehpur Sikri boycott elections over lack of irrigation facilities in the village, reports ANI. A polling official says not a single person had cast their vote at booth number 41.