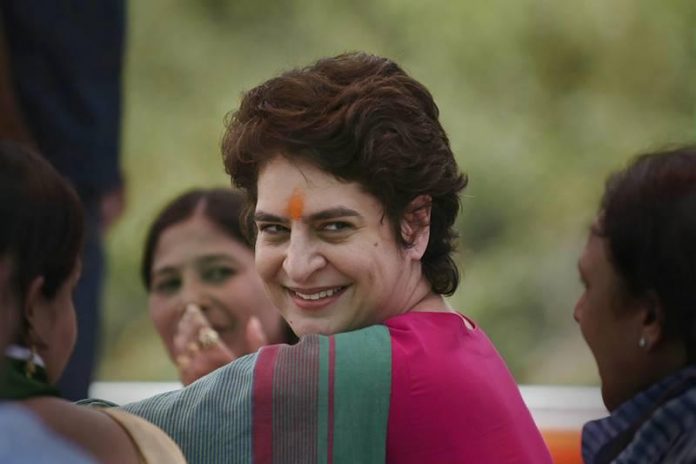 Once again, Priyanka Gandhi Vadra, has expressed willingness to contest from Varanasi seat against Prime Minister Narendra Modi. She simply put the ball in the court of her brother Rahul Gandhi. "If the Congress president asks me to contest, I will be happy to contest," Priyanka Gandhi said in Wayanad, the Kerala constituency from where Rahul Gandhi filed his second nomination. And this, she has reiterated at least three times from public forum. Is she and the Congress party indeed serious about this or is it pure political posturing?
The Prime Minister, Narendra Modi, is filing his nomination on April 26th after a roadshow. The nominations close on April 29 and therefore there are only six days left for the Congress to take a final decision.
Let us, for once, believe that she throws her hat in from Varanasi and then what equations emerge? And if this is indeed to happen, this would be the most-awaited and watched election battle. Her earlier visit to Varanasi and the rousing reception she got there, could be something to worry for the Bhartiya Janata Party (BJP).
The 2014 equations
In the last general elections in Varanasi, Prime Minister Narendra Modi polled 5.81 lakh votes. His closest rival Delhi chief minister Arvind Kejriwal got 2.09 lakh votes while Ajay Rai of the Congress got 75,614 votes, Vijay Prakash Jaiswal of the Bahujan Samaj Party got 60,579 votes and Kailash Chaurasiya of the Samajwadi Party got 45,291 votes. The total votes polled by the four opposition candidates count to 3.90 lakh votes which are still less by 1.90 lakh as compared to those polled for Modi.
But that was 2014 and it was a very strong Modi wave sweeping across the country then. At the moment, there seems to be no wave in favour of anyone and elections across the country are being contested by the BJP in the name of Modi and only Modi, whereas the opposition candidates are whipping up mainly local issues and are playing on anti-incumbency.
The current caste math in Varanasi
The seat has over 15 lakh voters in five assembly seats, two of which are rural and three are urban. It is estimated that Muslims form the largest block of voters with around three lakh voters. Brahmins account for 2.5 lakh, kurmis 1.5 lakh, yadavs 1.5 lakh, kayasthas 65,000, vaish two lakh, chaurasias 80,000, bhumihars at 1.5 lakh, and dalits 80,000.
The Congress has played its caste cards well this time. By giving two Lok Sabha seats of Gonda and Pilibhit to Apna Dal (K) of Krishna Patel, wife of the late Kurmi leader Sone Lal Patel, it has tried to woo the Kurmis of the seat.
The brahmins of this seat seem to be somewhat displeased with the BJP with the introduction of the SC/ST Act and demolition for the Kashi Vishwanath Mandir Corridor where a majority of houses of brahmins were bulldozed. This included over 250 houses and shops in Lahori Tola which were demolished.
Plus, the seat has gone into the kitty of the Samajwadi Party in its alliance with the Bahujan Samaj Party (BSP) of Mayawati. Thus, the three-lakh strong Muslim vote and the 1.5 lakh yadav vote are two big chunks that could vote for the opposition candidate. Akhilesh Yadav has not announced his candidate for this seat and it is said that he is waiting for a nod from Mayawati in this regard.
One challenger to Modi opts out 
Even Bhim Army chief Chandrashekhar Azad Ravan, who held a road show in Varanasi earlier this month and said that he would be contesting against Prime Minister Narendra Modi from this seat, has backed out, giving ample signals that there is a backdoor talk within the opposition for a united and strong candidate to be pitted against PM Modi.
Nominations for Varanasi Lok Sabha constituency are open and the seat will go to vote on May 19 in the seventh and last phase of general elections.
Though all, present in or outside Varanasi, firmly believe that it will not be an easy task to challenge PM Modi from this seat, it is for sure that it could be an electoral battle to watch keenly, it at all Priyanka Gandhi Varda enters the fray in Varanasi.
(The writer is Senior Editor – Politics with Business India Television – BTVI)