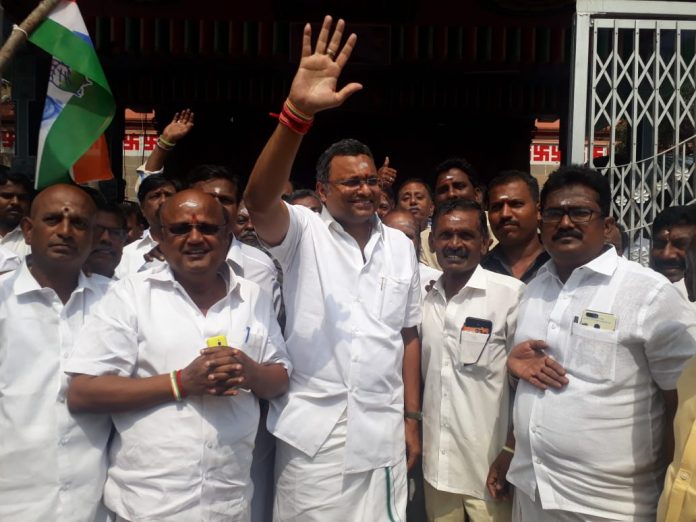 Parachute punditry is a professional hazard of journalists covering elections. The reporter parachutes to a constituency, talks to the staff of the hotel he is staying, has a long chat with his cab driver, meets with a few people at random, crunches a few caste numbers with local pundits, and pronounces his or her judgment on who will win. In a country where even opinion polls done with some scientific rigour on sampling go wrong, such impressionistic accounts can be highly dubious. But I am going to do just that. I venture to say that Karti Chidambaram is going to win the Sivaganga parliamentary seat.
Karti's opponent, H Raja of the BJP, harps on Modi and has made the election in Sivaganga a referendum about the prime minister. He attacks Karti's father, P Chidambaram, for not delivering development to Sivaganga and promises that he, Raja, will. There is little of the polarizing rhetoric he is known for on Twitter and television interviews.
Karti, too, hasn't made it a Congress vs BJP election of national significance although he does attack Modi's initiatives while reminding people of what Congress did when it was in power. Other than that, the election undercurrents in Sivaganga are largely about state politics.
In Tamil Nadu, caste is seemingly a decisive factor but only as long as it plays into the overall trend. And that trend is always about larger issues. The party or the leader who is riding the winning trend seems to get the caste arithmetic right. Not the other way around. And in Sivaganga, it appears Karti has got the caste equations more favourable to him rather than against him. This is because the AIADMK is seen as a greatly weakened force after the passing of Jayalalithaa. And, in Tamil Nadu, voters tend to favour the alternative Dravidian party in case one is down. For Tamil Nadu voters, 2019 is time for the DMK-led front that has the national player Congress in it.
Will TN slip into more and more caste politics?
Many observers including politicians fear that Tamil Nadu is going down the slippery slope of purely caste-based politics. If Dravidian parties weaken, then caste-based parties would dominate, it is feared.
On the evening of April 12, at a teashop outside Sivaganga town, that fear was echoed. A group of villagers was discussing the upcoming election. One muttered the campaign was lacklustre and recalled the glory days. Another said it was going to be a tough fight. The oldest among them wanted to speak on behalf of them and said Karti was going to win. He said in the 2014 elections he had voted for the AIADMK – it was Amma's election in 2014 and she won in a landslide bucking the Modi trend. Where is the AIADMK now? he asked.
His view was echoed by three others. One said he is a traditional Congress voter and this time too he would vote for the Congress. A man sitting opposite him said he would vote for TTV Dhinakaran's candidate.
There is much talk in Sivaganga that Therbogi Pandian of the AMMK is the dark horse. He may push H Raja to third place since TTV's AMMK is the real AIADMK, say some. And what TTV has going for him is an unanimous opinion among the mukkalathors – a triad of clans consisting of the maravars, kallars, and agamudiars – that since the party has been captured by the gounder caste group they must throw their entire weight behind him, it is said.
But the TTV man in the group said he was a konar – the Yadav equivalent in Tamil Nadu. His reason for supporting the AMMK was not caste but that it was the real AIADMK. Caste seemed to be wearing thin at least in this group. The man who said he was a traditional Congress voter moved away from the discussion saying he was a maravar.
The older man who sought to represent the group said nearly everyone sitting in the teashop was konar. And at that moment the entire group talked about how konars had been given the short shrift.
The TTV supporter felt Karti would win because Raja Kannappan, a former AIADMK leader and konar, had declared his support for Karti. Kannappan had almost defeated father Chidambaram in 2009 in a close call. The returning officer had apparently declared Kannappan the winner but later revised it saying not all EVMs had been accounted for. Kannappan's petition against the verdict is still pending in the courts.
Kannappan had fallen out with Jayalalithaa and tried to float a konar party but didn't go very far. Yet the TTV man said, "Mark my words. It is going to be caste politics in future. And we konars will also have to do it."
The group representative said the konars should get the Manamadurai seat declared non-reserved and capture that seat as a springboard. But, for now, it is Karti, he said, even though his father, P Chidambaram, had done little for the constituency.
So, have the mukkulathors ganged up against Karti? Not at the Kannangudi area where the writ of Congress leader KR Ramaswamy still runs.
Ramaswamy represents the old Congress bigwigs style politics that survives in Sivaganga. As feudal landlords from the kallar community, he and his father won the legislative elections in this area 11 out of 15 times Assembly polls have been held here since Independence.
Their longevity is largely explained by the fact that Ramaswamy comes in a feudal family ruling a 'nadu,' a cluster of villages. Ramaswamy has lost some of his power since his own constituency was split during the 2008 delimitation. But his word still carries much weight.
Not just at Kannangudi, nowhere in Sivaganga did this writer hear an emphatic declaration that TTV's man would win or even Raja would. Many said they would vote for Raja or AMMK but winning was another matter, they said.
On April 11, Karti spent the afternoon visiting the mukkulathor villages around Sivaganga town. He was aware they were trending TTV and was doing his best to convince them. "I will win because the alliance is so strong," he said. And he is right.