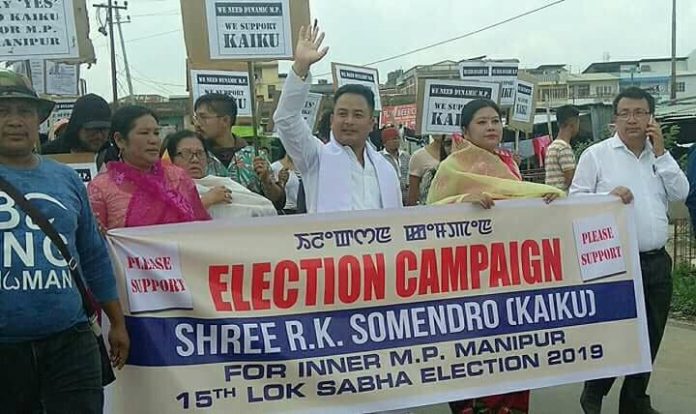 What is common between actor-turned-politician Hema Malini and RK Somendro of Manipur? Almost everything and nothing. Like Hema Malini, who is in the race for the Lok Sabha seat in UP's Mathura, Manipuri 'superstar' Somendro, is contesting the Lok Sabha elections from Inner Manipur — one of the two parliamentary seats in the state. But all comparisons end there.
Somendro, more famous as Kaiku (his pet name) among the cine-lovers of Manipur, has acted in nearly 400 movies. Yet when he decided to join the poll fray, money seemed to be a big constraint. "I can't even dream of flying into a rally like Hema Malini ji. Our film industry is very small and we don't make big money. But yes, I have a huge support base. People have come out voluntarily to campaign for me. This is really heartening," 40-year-old Kaiku tells The Federal, adding that Manipur needs leaders who are rooted to the ground and not parachuted into a constituency.
"Our people need a representative who is one among them. Our issues are very local and we need someone who can take them to Parliament. I have played a reel life hero so many times, now I hope to be a real life hero."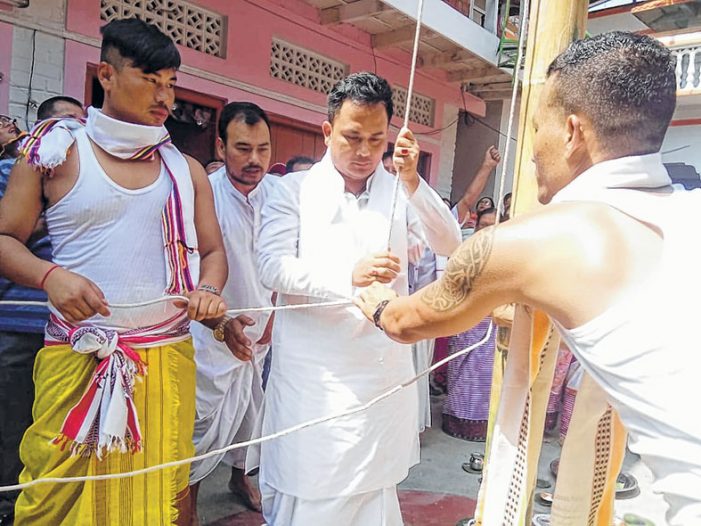 What makes Kaiku's fight even more difficult, he claims, is the fact that he is not backed by any national or local political outfit. "I'm an independent candidate. So I don't have any party resources or veteran leaders to campaign for me. My campaign is entirely dependent on the general public and their response," he says.
And response is what Kaiku got from his fans — an overwhelming reaction. At a recent event where Kaiku unfurled a flag with his election symbol — a ship — thousands of fans turned up voluntarily. "Flag-hoisting ceremony by different candidates is a common practice in Manipur politics. But while other candidates send out invitations for their ceremony, people — young and old — turned up in thousands for Kaiku's event voluntarily," says 25-year-old Banashree, a resident of Imphal.
But is it just the celebrity factor that is steering Kaiku's ship in Inner Manipur? "Absolutely not," argues Jiban Wairokpam, a fan of the actor. "Kaiku knows what he is up to. He understands the politics of Manipur and the burning issues that needs to be resolved, adds Wairokpam.
Talking about the "burning issues", Kaiku says the first thing that he would take up, if he wins the election, is Manipur's border issues related to pillars installed to demarcate the India-Myanmar border. Last year in June, a huge uproar broke out over the alleged shifting of a border pillar, No. 81, in Manipur's Tengnoupal district. The furore arose after Tengnoupal deputy commissioner claimed that pillar 81 had been shifted 3 km inside the Indian territory as a result of which Manipur risked losing land to Myanmar. Following his claims, several civil society organisations and opposition political parties raised the issue. The ministry of external affairs, however, had claimed that the allegation was "baseless and unsubstantiated".
Apart from the border issue, it's the Citizenship Amendment Bill that's weighing heavy on Kaiku's mind. "This bill will rip apart the social fabric of the Northeast. "The influx of refugees from Bangladesh poses a big threat to the indigenous people of the Northeastern states. We in Manipur fear that the bill, if passed, would reduce the population of indigenous people. This is not acceptable. I also think the bill is communal in nature," he says.
According to Kaiku Manipur has been a home to many different cultures with different ethnic and minority communities. The Citizenship Amendment Bill proposes to grant Indian citizenship to only non-Muslims who fled religious persecution from Bangladesh, Pakistan and Afghanistan and entered India before December 31, 2014. "This will create further rift among various communities. There is a considerable Hindu population in Manipur. I too follow Hinduism but aggressive Hinduism or Hindutva is not acceptable in a secular country," says Kaiku, who believes Manipur is already "flooded with problems. It doesn't need an additional headache like citizenship amendment bill". "The youths of Manipur need good education and jobs. Where are the jobs and employment opportunities? There is a lot that needs to be done to improve infrastructure and roads, government education institutes, healthcare."
In his manifesto, Kaiku promises to solve the border issue, fight AFSPA, demand for Special Status category, scrapping of Citizenship Amendment Bill, ST status demand and security and growth of the indigenous population. The manifesto also promises to create jobs and livelihood opportunities for the youths.
Kaiku is up against 10 more candidates contesting for the coveted Inner Manipur parliamentary seat. The other candidates are former registrar of Manipur University and BJP candidate RK Ranjan, O Nabakishore of Congress, Moirangthem Nara Singh of CPI, G Tonsana of Manipur Democratic People's Front, S Nandeshore of Rashtriya Janhit Sangarsh Party, RK Anand of North East India Development Party (NEIDP), O Jugindro of Manipur People's Party, independents M Tomtomsana, W Pobitro Singh and Md Iliyash Khan. In 2014, the seat was won by Congress candidate Th Meinya by beating CPI candidate M Nara.
However, it's CPI's Moirangthem Nara Singh and Kaiku who have emerged as the frontrunners this time around. "The Congress and BJP candidates have been emroiled in corruption in the past. So, people, especially the youths, are looking for a fresh and clean candidate and not crorepati netas," says a BA second-year student of Manipur University, who didn't wish to be named. Among the 11 candidates, however, there is only one crorepati in Inner Manipur—BJP's RK Ranjan.
According to the Manipur University student, Kaiku is not just a film star or face of the youth. Even the elderly and women see them as a possible change-maker. "During Kaiku's flag-hosting ceremony, so many women turned up with 'Athenpot' (gifts with rice, fruits, flowers and vegetables in steel plates) to offer as obeisance. This is a traditional Manipuri practice."
"However, I agree that it is Manipuri cinema what made Kaiku our hero," he smiles.
Tale of Manipuri cinema
The Manipuri film industry is known for its small-budget digital movies. Back in 2000, insurgent groups from Manipur banned screening of Hindi movies in theatres. As a result of the ban, the state saw a boom in local movies. With more and movies being made, Manipuri films switched from celluloid to the digital format for financial reasons. "A Manipuri movie takes as little as Rs 5-10 lakh to make, including production and actor fees," says Kaiku, whose earns around Rs 60,000 per movie.
Dhanajit Singh, who calls himself a hardcore Kaiku fan, says, "The last Bollywood film to be screened in Imphal was Shah Rukh Khan's Kuch Kuch Hota Hai in 1998. But here nobody misses Hindi movies much. They can watch it at home and on DVDs. That's allowed."
Apart from Manipuri films, Dhanajit tells The Federal, youths are glued to Hollywood movies and Korean. "But there are a lot of people who are in love with Tamil, Telugu and Kannada movies," he says, adding that his personal favourite is actor-activist Prakash Raj.
Talking about his love for films, Kaiku, who started his career in Manipuri cinema in 2003, says, "Films are my first love but they are not very different from real life stories. I know how it feels when politicians make promises and don't fulfil. I have been a voter, too."
Polling for the Inner Manipur constituency will be held on April 18.