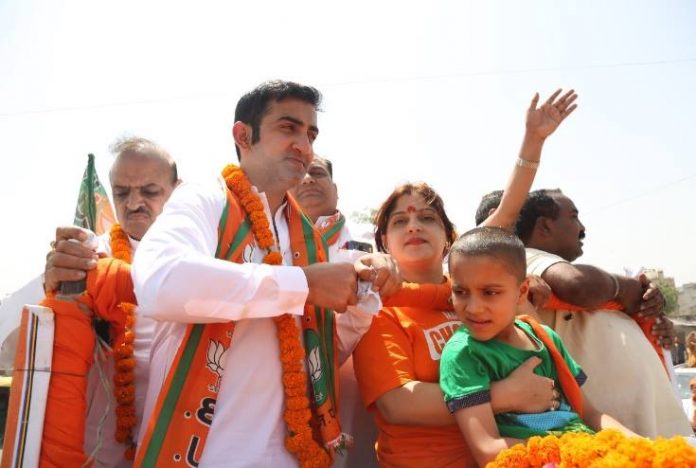 The latest election updates from various states across the country:
Maharashtra
Maharashtra CM & BJP leader Devendra Fadnavis campaigned for party's Mumbai North Central candidate Poonam Mahajan. Priya Dutt is the Congress MP candidate from North Central Mumbai.
Shiv Sena appointed Priyanka Chaturvedi as the 'Upneta' of the party.
Jammu and Kashmir
BJP General Secretary Ram Madhav in J&K: "We are confident of winning more than three parliamentary seats. BJP has become the main stream party of the Kashmir Valley today. We will work for peace and development in the region."
Bihar
A case was registered against the Congress president Rahul Gandhi for repeatedly asking the crowd to chant chowkidar chor hai in a rally in Samastipur where RJD leader Tejashwi Yadav was also present. The case was registered in Ara Civil Court by an advocate against both the leaders.
A Patna court summoned Gandhi to appear before it on May 20, in connection with defamation suit against him by Bihar Deputy Chief Minister and BJP leader Sushil Modi.
Shatrughan Sinha, Congress candidate from Bihar's Patna Sahib on his statement, "from Mahatma Gandhi to Muhammad Ali Jinnah, all part of Congress Parivar": "Whatever I said yesterday was slip of tongue. I wanted to say Maulana Azad but uttered Muhammad Ali Jinnah."
Rashtriya Janata Dal's Tejashwi Yadav said: "We're fighting against BJP on all 40 seats. Tanveer Sahab (RJD Begusarai Lok Sabha candidate) is going to win and by a huge margin. Whatever environment one creates, we aren't bothered, because public has made up its mind."
Madhya Pradesh
Madhya Pradesh CM Kamal Nath: "Prime Minister should tell the nation who bears the expenses of his plane rides. He should reply from where did he get the money to construct a ₹700 crore office of BJP in Delhi. Then only he should ask me questions."
Retired Assistant Commissioner of Police, Riyaz Deshmukh, who filed his nomination from Bhopal LS seat as an independent candidate, said: "When she (Sadhvi Pragya Singh Thakur) called Hemant Karkare 'deshdrohi', at that moment I decided I'll contest against her. Karkare sahab was my guru. One one hand, the party (BJP) asks for vote in the name of martyrs, on the other hand, their LS candidate insults a martyr. Public knows it all. The BJP has failed on all their promises."
Delhi
Election Commission directed East Delhi Returning Officer to file an FIR against Gautam Gambhir, BJP's candidate from East Delhi parliamentary constituency, for "holding a rally in East Delhi without permission."
Seven veteran officers joined BJP in presence of Defence Minister Nirmala Sitharaman. Lt Gen JBS Yadav, Lt Gen R N Singh, Lt Gen SK Patyal, Lt Gen Sunit Kumar, Lt Gen Nitin Kohli, Colonel RK Tripathi, and WG Cdr Navneet Magon joined the party at the BJP HQ.
Delhi's Rouse Avenue Court issued summon against Congress' Shashi Tharoor as an accused over his 'scorpion' remark on the PM Narendra Modi. Court asked Tharoor to appear before it on June 7.
Makers of biopic 'PM Narendra Modi' wrote to the EC seeking clarification on its decision staying its release. The letter states, "We seek clarification in this regard from your office as we intend to promote film in areas which are no more affected by MCC after end of polling on 29.4.19."
Rajasthan
Sunny Deol held his first roadshow after joining BJP, and campaigned for BJP LS candidate from Barmer, Kailash Choudhary. The dialogue from the movie 'Gadar', "Hindustan zindabad tha, zindabad hai, zindabad rahega" was heard in the background. Manvendra Singh is the Congress candidate for the Barmer LS constituency.
Odisha
BJP wrote to CEO, Bhubaneswar demanding deployment of adequate central forces for the guarding of strong rooms across Odisha and immediate ouster of political functionaries, party workers and non-voters of BJD from Kendrapara during 48 hours of silence period ahead of polls.
Biju Janata Dal also wrote to the CEO, alleging "distribution of cash among voters" by four associates of Baijayant Panda, BJP's Lok Sabha candidate from Kendrapara.
Uttar Pradesh
Rahul Gandhi in Raebareli: "Narendra Modi has lied to the nation for the past five years. In his speech, he doesn't speak about employment, farmers or ₹15 lakh. He speaks by looking at the teleprompter and his speech is controlled by a controller from behind. Time is about to change."
Punjab
Kavita Khanna, wife of late actor Vinod Khanna, on being denied a ticket by BJP from Gurdaspur: "It is my decision that I'm not going to make this a personal issue and make a personal sacrifice and put my entire might and support with Prime Minister Narendra Modi." Actor Sunny Deol was given the seat instead.