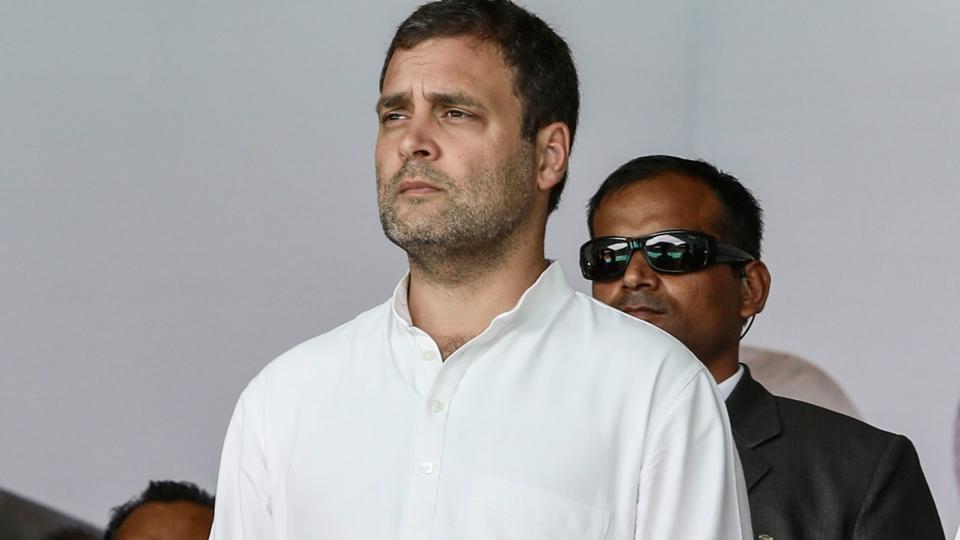 The saffron surge in the 2019 Lok Sabha elections has brought along the fall of several 'naamdaars' (dynasts). BJP leaders had made dynasts a campaign theme in their attacks on the Congress. The fall begins with a jolt to the Congress with the party president Rahul Gandhi losing his pocket borough of Amethi in Uttar Pradesh, which he had represented for the last three terms.
His safe bet, however, was his second candidature from Kerala's Wayanad, where he won by a huge margin. The defeat in Amethi, a long-time Congress fortress, wasn't unprecedented and at the same time, not expected. The Congress president conceded defeat to BJP candidate Smriti Irani.
Addressing a press conference after the elections results were out, Rahul asserted that it was a fight between two ideologies. "I would like to tell Congress candidates not to get scared and that we will fight together and ensure our ideology wins," he said. He also congratulated Smriti Irani while asserting that he accepts the people's mandate.
The prestige battle in Mandya turned out expensive for the Janata Dal (Secular) as Karnataka chief minister HD Kumaraswamy's son and former prime minister HD Deve Gowda's grandson Nikhil Kumaraswamy lost to independent candidate Sumalatha, wife of late actor and Congress MP Ambareesh. This is expected to widen the crack between the JD(S)-Congress coalition in the state as the JD(S) had insisted on Nikhil's candidature from Mandya constituency despite Congress' wish of backing Sumalatha.
However, another grandson of Deve Gowda, Prajwal Revanna, has won in Hassan constituency, which was represented earlier by his grandfather. His victory marks his debut in electoral politics.
Another chief minister kin who tasted defeat this poll season was K Kavitha, daughter of Telangana CM K Chandrashekar Rao. She conceded defeat to BJP candidate Dharmapuri Arvind as BJP successfully made its way further into South India after making its presence felt in Karnataka.
Rajasthan chief minister Ashok Gehlot's son Vaibhav Gehlot lost the elections in his father's hometurf Jodhpur in his electoral debut against BJP's Gajendra Singh Shekhawat. Adding to this victory list was Harsimrat Kaur Badal, daughter-in-law of former Punjab chief minister Parkash Singh Badal, who managed a close victory in Bathinda.
In Tamil Nadu, the scene was a bit different, even though BJP president Tamilisai Soundararajan, daughter of Congress leader Kumari Ananthan, lost in Thoothukudi and PMK's Anbumani Ramadoss, son of S Ramadoss, lost against DMK's Senthil Kumar in Dharmapuri. Congress leader P Chidambaram's son Karti emerged victorious against BJP leader H Raja in Sivaganga constituency. Despite being embroiled in a money laundering case, Karti managed to take the lost seat back from the AIADMK.
Former chief minister Karunanidhi's daughter and DMK's Rajya Sabha leader MK Kanimozhi too managed to defeat her opposition BJP candidate Tamilisai in Thoothukudi. Tamil Nadu deputy chief minister O Panneerselvam's son P Ravindranathkumar was the only AIADMK candidate to win in the state. He contested from the Theni Lok Sabha constituency.
Chennai witnessed DMK's victory in all its three constituencies. Dayanidhi Maran, son of late DMK leader Murasoli Maran, emerged victorious in Chennai Central. In Chennai North, Kalanidhi Veeraswamy, son of DMK leader Arcot Veeraswamy, managed an easy win while in Chennai South, Tamizhachi Thangapandian, daughter of DMK leader V Thangapandian, too emerged victorious.
Also, in Maharashtra's Maval constituency, NCP chief Sharad Pawar's nephew Parth Ajit Pawar conceded defeat to the Shiv Sena candidate. However, Pawar's daughter Supriya Sule managed a victory in the Baramati constituency. Former Bihar chief minister Lalu Prasad Yadav's daughter Misa Bharati lost from the Pataliputra seat.