Of the many descriptions about Guwahati — as the gateway to the Northeast — the one account that never found a place in government tourism site and travelogues is that the city is often referred to as 'Gela (rotten) Hati by its own residents. Reason: the maze of dusty, congested lanes teeming with problems like artificial flooding, water scarcity, traffic snarls, crimes and a nonchalant political establishment.
The Gauhati Lok Sabha seat (which still goes by the British-era spelling of the city), where voting takes place on the third and last phase in Assam on April 23, is one of the most prestigious of Assam's 14 Lok Sabha seats. The constituency covers 10 assembly segments – Dudhnai (ST), Boko (SC), Chaygaon, Palasbari, Jalukbari, Dispur, Guwahati East, Guwahati West, Hajo and Barkhetry. Earlier, it was considered a bellwether for the rest of the 13 Lok Sabha seats in the state. But things have changed and so has the voters' perception.
One day ahead of the elections, ask the voters what they feel about this particular battle and this is what they have to say.
"It's difficult to choose the best among a bunch of weak candidates. Elections in the constituency has been reduced to non-issues with everyone more interested in tracking the personal lives of the two prominent candidates (of BJP and the Congress) and not the problems of the people," says septuagenarian Neelima Das, a resident of Ulubari.
The two top contenders for the seat are Congress leader Bobbeeta Sharma and Queen Ojha of the BJP. Sharma, a former college lecturer, is a well-known actor and TV personality as well as a former 'Miss Northeast'. Her BJP rival Ojha happens to be a former Asom Gana Parishad (AGP) and Rajya Sabha member who recently walked over to the BJP. Ojha belongs to a high-profile business family of the state.
While the seat has been with the BJP since 2009, represented by former Union minister Bijoya Chakraborty, both Sharma, 52, and Queen Ojha, 67, are contesting the Lok Sabha elections for the first time. There are a total of 17 contestants.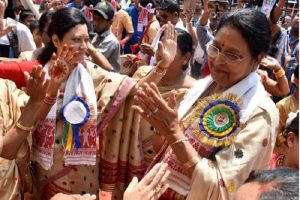 In Guwahati city, ask the youngsters and they are at a loss for words about what to expect from their parliamentarian, apart from some vague thoughts about Citizenship (Amendment) Bill.
"We need an MP who can speak in Parliament. I'll vote for a candidate who can articulate his/her thoughts better and understand our problems," says Bidyut Deka, a 23-year-old post-graduate, who has recently moved back to his hometown from Bangalore.
But what are the actual problems faced by Guwahati? Deka adds somewhat vaguely. "There are so many problems… and citizenship bill is a big issue. We have seen how the entire region was rocked by protests a few months back. The BJP government's insistence on making the bill a reality is a big problem."
And what about floods, employment opportunities? "Yes, those are also important," he rushes in to add. But it's not just Deka but even the top contestants look equally unsure.
Apart from sporadic talks about development and solving the water crisis "immediately", Bobbeeta Sharma's campaign blitz saw her raising the issue of failed promises by PM Modi and futility of "Achhe Din" besides the "threat posed" by the Citizenship Amendment Bill.
Ojha, on the other hand, it seemed is yet to overcome her mayoral hangover. She was recently heard promising that her first priority would be to address the issue of water scarcity in the city.
She, however, effectively sprinkled her speeches with a healthy dose of 'Akou ebar Modi sarkar' (One more time, Modi government). "Everybody knows what Modiji did for India's development, Assam's development and the Northeast's development. This can only be done by Modiji, and no one else," Oja was often heard telling mediapersons during her campaign rallies.
On citizenship bill, Ojha insists that "people will show whether they want CAB or not, whether they want development or not".
But most Guwahatians feel her talks about development are half-hearted.
"It's a shame that she is talking about water scarcity now. What was she doing when she was Guwahati mayor. Also, the controversy over her educational qualification has left a very bad impression on people," says Bithika Boro, a resident of Birubari.
Ojha while filing her nomination claimed to have cleared Class 12, but later "corrected" her affidavit saying she did not. Interestingly, a 2018 law brought by the Sarbananda Sonowal government for contesting the panchayat election says the minimum qualification of a candidate must be Class 12 (for general category candidates and Class 10 for backward communities) or equivalent.
"So why does the BJP want panchayat candidates to be Class 12 pass and not the MP? Isn't this total hypocrisy," wonders Boro, who is preparing for bank PO exams.
"Queen Ojha says if you want Modiji to win, then do vote for me. Bobbeeta Sharma says Achhe Din never came during Modiji's rule. They both haven't been able to make a mark in this poll season as someone who can lead the state on their own in Parliament. Bobbeeta mostly talks like a Congress spokesperson. There is no depth even when she talks about CAB," says Rubi Narzary of BK Kakoti Road.
Narzary's friend Munmi Deori though thinks there is a third candidate who she feels has a better understanding of major issues plaguing the state — former Supreme Court lawyer Upamanyu Hazarika, who is contesting as an independent candidate. The Supreme Court lawyer also heads the Prabajan Virodhi Manch that fights for the rights of the indigenous people of Assam.
Hazarika, who earlier headed the Supreme Court-appointed one-man fact-finding commission on the status of illegal migrants from Bangladesh into Assam, has centred his campaign around the slogan of 'Khilonjiya First' (Assamese for indigenous people). He seems to have managed to strike a chord among a section of the voters in a state where illegal immigration has been an age-old electoral issue.
"But he also seems to know and talks about problems like flood, artificial water scarcity, which is surprising given that we have one of the largest rivers running through the heart of the city," says Anil Nagar resident Rajiv Singh. Anil Nagar is one of the worst-effected areas by artificial flooding that hits the city several times in a year.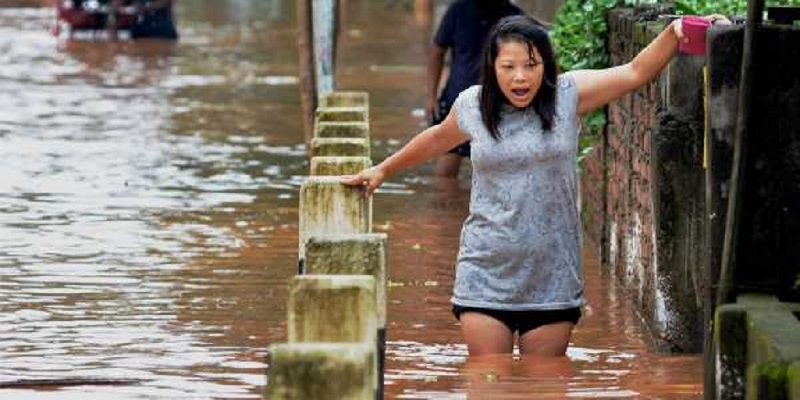 "Guwahati city is suffering from a major water crisis. Most areas not have access to municipal water supply [the Guwahati Municipal Corporation comes under the Gauhati Lok Sabha constituency]. With groundwater depleting and borewells drying up, we are forced to buy water at exorbitant rates," complains Rupnagar resident Geetanajli Pathak, who is angry that no one talks about water and flood problems the way they are concerned about the citizenship bill.
"Of course, the citizenship bill is an important issue but there are more immediate issues like the water scarcity and floods. We can protect our identity only when we don't get drowned in the floods. Somehow no one is bothered about these immediate issues," she says.
Echoing Pathak, her 67-year-old neighbour Beenapani says, "There is artificial flooding every year during summers. For days, this city remains submerged. You can see people getting evacuated in motor boats. Yet once the water subsides, the anger also vanishes. Youngsters get busy thronging malls and losing themselves in the 'PVR culture', drinking and dancing."
For old-timers like Pathak, one section of the city lives in nostalgia while the other is blinded by glitz and glamour.
"Guwahati has all big and small retail chains of clothes and food outlets. But there has been no real development in terms of education, health and basic civic amenities. Even today youngsters in hordes go to other cities like Delhi, Bangalore to study and work. Every time somebody is diagnosed with a major ailment, they have to run to Kolkata, Delhi and Vellore despite spending so much money in hospitals here," says Jiten Rabha, who lives at Borjhar near Guwahati international airport.
"The apathy of the political class and the listlessness of the public never stop to amaze me. We are cooped up in a hole that brightens up every night in with loud music from bars and pubs, momentarily giving a feeling to youngsters that Guwahati is cool. By morning, we all are back to 'Gelahati'," adds Rubi Narzary.