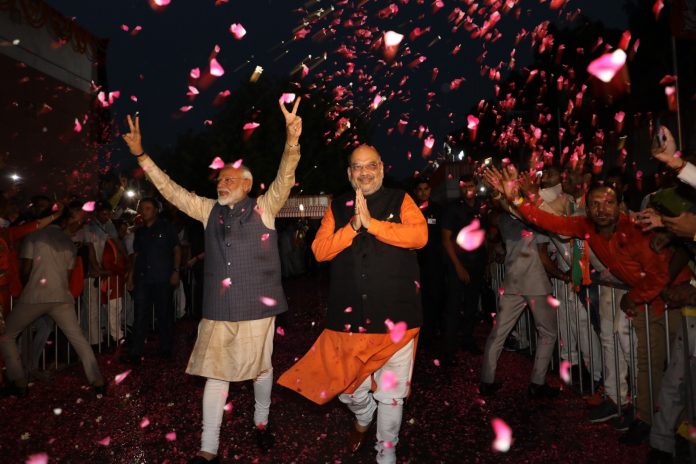 A day after the BJP's massive victory, all eyes are set on government formation with Prime Minister Narendra Modi set to meet his cabinet today evening (May 24).
While there is no official word on the exact date of PM Modi's second oath-taking, various reports suggested it will take place between May 28-30. However, some other reports said the ceremony would be on May 26, the same day as Modi took oath as PM five years ago.
The Union Cabinet meeting scheduled this evening at South Block will recommend the dissolution of the 16th Lok Sabha. President Ram Nath Kovind will dissolve the present Lok Sabha once the Cabinet's recommendation is passed in the form of a resolution. The term of present Lok Sabha will end on June 3. The 17th Lok Sabha has to be constituted before that.
Advertisement
While Modi's 2014 oath-taking ceremony was a major diplomatic event attended by the leaders of SAARC countries, including former Pakistani Prime Minister Nawaz Sharif, it is expected to be an even bigger extravaganza this time around.
Who gets what
As far as cabinet portfolios are concerned, there are speculations that party president Amit Shah will join the government as home minister. Some party insiders said Shah's name is also being considered for either finance or external affairs ministry. With both Finance Minister Arun Jaitley and External Affairs Minister Sushma Swaraj having health issues, there are rumours that they may not be part of the new cabinet. Another contender for the finance portfolio is Piyush Goyal. Smriti Irani is likely to make a comeback as Union minister following her historic win in Amethi against Congress president Rahul Gandhi. However, Defence Minister Nirmala Sitharaman is expected to continue with her present role.
Senior faces, including Rajnath Singh, Nitin Gadkari, Ravi Shankar Prasad and Prakash Javadekar, are likely to figure in the new cabinet as well.
Allies Shiv Sena with 18 seats and JD(U) with 16 seats are likely to land plum berths. New faces from West Bengal, Odisha and Telangana are also likely to land ministerial berths, sources said.