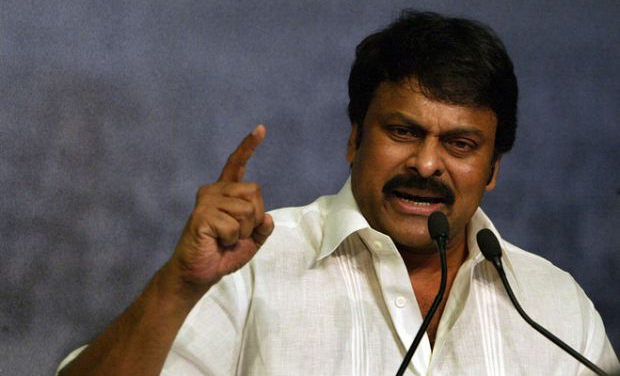 During his heydays, Telugu megastar Chiranjeevi was known for his punch dialogues that would send his fans into a rapturous applause. After a disastrous tryst with politics, the actor is now making news for his silence. His reticence on his younger brother Pawan Kalyan's Jana Sena Party has raised eyebrows in political circles.
Millions of his fans expected him to extend support to his brother and make an appeal to the people to vote for the party which is making an electoral debut in Andhra Pradesh in the coming elections to the Assembly and Lok Sabha. However, he has neither made a public appearance nor issued any statement in support of his brother's party.
Sources close to the 63-year-old reclusive star say that he has been holidaying abroad after a hectic shooting schedule for a period movie "Sye Raa Narasimha Reddy." His 150th film 'Khaidi No 150' was a big hit at the box office.
The reports of friction between the two actor brothers did the rounds when Pawan Kalyan, popularly known as "Power Star", launched Jana Sena Party in the run-up to the 2014 general elections and supported the BJP-Telugu Desam Party combine in the polls, saying he was an "ardent fan of Narendra Modi". Chiranjeevi was then with the Congress and had apparently differed with his younger brother's political moves.
End of political avatar
The former Union Minister's tryst with politics has virtually come to an end. He has chosen not to renew his membership in Congress, indicating that he wants to bid adieu to politics. His Rajya Sabha term ended in April last year.
Chiranjeevi has a huge fan following among the youth across the two Telugu states, particularly in the coastal Andhra Pradesh where Pawan Kalyan factor could tilt the scale in a close multi-cornered contest. Another actor-brother Naga Babu has joined Jana Sena Party and is being fielded from Narsapuram Lok Sabha seat.
Chiranjeevi, a self-made star in an industry dominated by a few families, is a mass hero in the mould of N T Rama Rao. He is known for his action movies and dancing skills. Since the bifurcation of Andhra Pradesh in 2014, Chiranjeevi has been keeping himself away from party activities and did not even attend Rahul Gandhi's meetings in the region. He did not respond to the Congress high command's invitation to campaign for the party in the December 2018 Assembly polls in Telangana.
Flop show
In a career spanning over three decades, Chiranjeevi churned out several blockbusters and became the uncrowned king of Tollywood. However, his tryst with politics has been anything but fruitful. Promising "social justice and change", he entered politics with a bang by launching Praja Rajyam Party on August 26, 2008, conducted hugely successful road shows, reminiscent of the NTR magic, and raising hopes that he might emerge as an alternative to the two main contenders for power—the Congress and the Telugu Desam Party.
However, his political show turned out to be a flop. His party managed to win just 18 seats in the 294-member Assembly of the combined Andhra Pradesh. His party ended up splitting the opposition votes and helping the Congress secure a second term in office in the 2009 elections. Both Pawan Kalyan and Naga Babu had campaigned for the PRP, then. However, they did not contest the polls.
Later, he merged his party with the Congress. He was nominated to the Rajya Sabha in April 2012 and subsequently made Union Minister in UPA-II. The big blow came in the 2014 general elections when Congress drew a blank in the Seemandhra region for which he was the campaign chief.
The question is whether Pawan Kalyan will end up like his brother and spoil the prospects of either Chandrababu Naidu-led TDP or YSR Congress Party headed by YS Jagan Mohan Reddy in the coming elections.Curious silence of megastar Chiranjeevi