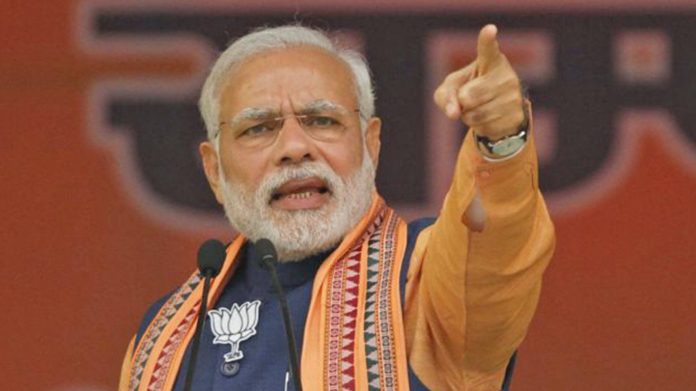 The BJP's first list of 184 candidates for the Lok Sabha elections declared on March 21 has the three distinct hallmarks of the party's brand of politics in the Modi-Shah era. One, it endorses the BJP's tried and tested formula of ignoring Muslim candidates for strategic reasons. Two, it shows winnability matters over loyalty. And, three, it proves its current bosses have no qualms about ruthlessly forcing their former bosses — even mentors — to retire, proving that sentiments have no role in the cut-throat world of politics.
No tickets for Muslims
The list, as expected, doesn't include a single Muslim candidate in mainland India, even though it covers states like Uttar Pradesh, Maharashtra and Rajasthan, where the percentage of minorities is significant and, thus, merits representation. This trend of ignoring Muslim candidates shows the party will, like in the Assembly polls in Uttar Pradesh, Rajasthan and Madhya Pradesh earlier, pursue the strategy of consolidating its core Hindutva constituencies. It won't even resort to tokenism for the sake of Muslim votes.
BJP's string of victories has convinced party leaders that the party gains by wooing Hindus by ignoring Muslim candidates. The ploy helped the party sweep the Uttar Pradesh elections in 2014 and 2017, giving it confidence to try the same strategy in other states. But, the 2019 election is slightly different. This time the Muslim vote may not get divided between its rivals in key states like UP and pose a bigger electoral challenge to the idea of majoritarian politics.
Victory at any cost
In its quest for victory, the BJP has axed several of its incumbent MPs. In UP, if the first list is an indication, a third of the current parliamentarians are likely to be replaced. This shows the BJP is worried about anti-incumbency, even in an election it wants to fight in the name of Narendra Modi and the issue of nationalism. Some of them have been replaced by leaders imported from its rival camp, like Baijyant Panda in Odisha.
A few years ago, the BJP came up with the ingenious idea of making quick electoral gains in the Northeast by importing winnable candidates from other parties. The prime example is Tripura where it co-opted several Congress leaders through defections and resignations and went on to win the assembly polls by riding on their popularity. In West Bengal, the party has carried forward this strategy by fielding turncoats and celebrities in an obvious attempt to encash their personal electoral equity. And since winnability is the only criterion, controversial candidates like former West Bengal cadre IPS officer Bharati Ghosh — accused of extortion—and Sanjeev Baliyan, a Jat strongman named as one of the key instigators of the Muzzafarnagar riots, also figure in the first list.
Bye bye, seniors
Party margdarshak (guide), architect of Hindutva politics, the original lauh purush (iron man) of the BJP and Modi's mentor LK Advani has been unceremoniously made to retire. BJP president Amit Shah has been named the party's candidate from Gandhinagar, a constituency Advani nursed for several years after Rajesh Khanna gave him a tough fight in New Delhi three decades ago. With Advani's omission, his co-traveller in the journey, Murali Manohar Joshi and many other seniors may also have resigned to the fact that their time in politics is up.  It is a clear indication that anybody over and above 75 has no future in the BJP.
Narendra Modi's candidature from Varanasi isn't a big surprise. But, there is growing demand from the cadre to field him from a constituency in the east, preferably Puri. Since Modi had contested from Varanasi and Vadodara in 2014, chances of his candidature from some other seat can't be ruled out. Having entrusted Gujarat to Shah, will Modi explore a new territory—either in Odisha or in Karnataka— to expand the party's base and galvanise the cadre? This question will be answered by the BJP's subsequent lists.