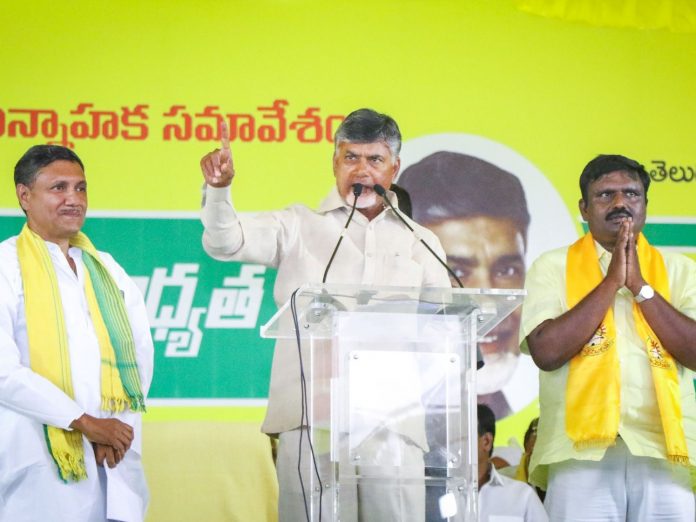 Andhra Pradesh chief minister Chandrababu Naidu has said Prime Minister Narendra Modi is harassing him. "They may arrest me tomorrow or day-after," he told an election rally in Vishakhapatnam.
Naidu said on Friday that the Centre was using the enforcement directorate, the Central Bureau of investigation and the Election Commission to hem in opponents. Naidu's comments come in the wake of the April 5 order of the Election Commission transferring AP chief secretary Anil Chandra Punetha and replacing him with senior IAS officer LV Subrahmanyam. The EC directed that Punetha, scheduled to retire next month, be given any assignment not related to the elections.
The move further deepens the rift between the state government and the poll panel ahead of the April 11 elections to the state Assembly and Lok Sabha.
The stunning order came in the backdrop of a string of GOs issued by the state government defying the EC's orders on shifting three IPS officers, including the chief of Andhra Pradesh intelligence wing AB Venkateshwar Rao. The poll panel had last month ordered the transfer of three IPS officers, including two Superintendents of Police, following a complaint by the opposition YSR Congress Party.
Earlier on Thursday, the poll panel summoned the State Director General of Police RP Thakur to Delhi before stripping him of the additional responsibilities of heading the Anti-Corruption Bureau. Before that, the state intelligence chief Rao and superintendents of police of Srikakulam and Kadapa districts were removed from their positions.
Chief Minister N Chandrababu Naidu, who has been on a collision course with the EC, accusing it of being partisan and unprofessional, condemned the latest order of transferring the chief secretary.
"The Election Commission owes an explanation as to why it ordered the transfer of the top officer. This is highly condemnable," Naidu said while addressing an election rally in Visakhapatnam on April 5. The indiscriminate transfer of officials and the raids on the houses of the Telugu Desam Party leaders by the Income Tax and Enforcement Directorate reflected "witch-hunting" by the NDA government, he alleged.
Earlier in the day, Naidu led a massive protest at Ambedkar statue near government hospital in Vijayawada to protest against the alleged vindictive actions of the Modi government targeting its political opponents. Releasing black balloons in the air, he said, "I never saw such a mean prime minister in my 40 years of political life. I challenge Modi to do whatever he wants and whatever he can. Ultimate victory is mine."
The TDP government has been at loggerheads with the EC ever since the latter ordered transfer of three IPS officials last month. The government had filed a writ petition in the High Court challenging the EC directive. This, according to sources, could have angered the poll panel.
On March 30, the government was forced to transfer Rao after the High Court rejected its plea. The court dismissed the government's contention that the intelligence official had nothing to do with the conduct of elections and that the Election Commission had no jurisdiction over him and ruled there was "no case for interim relief."