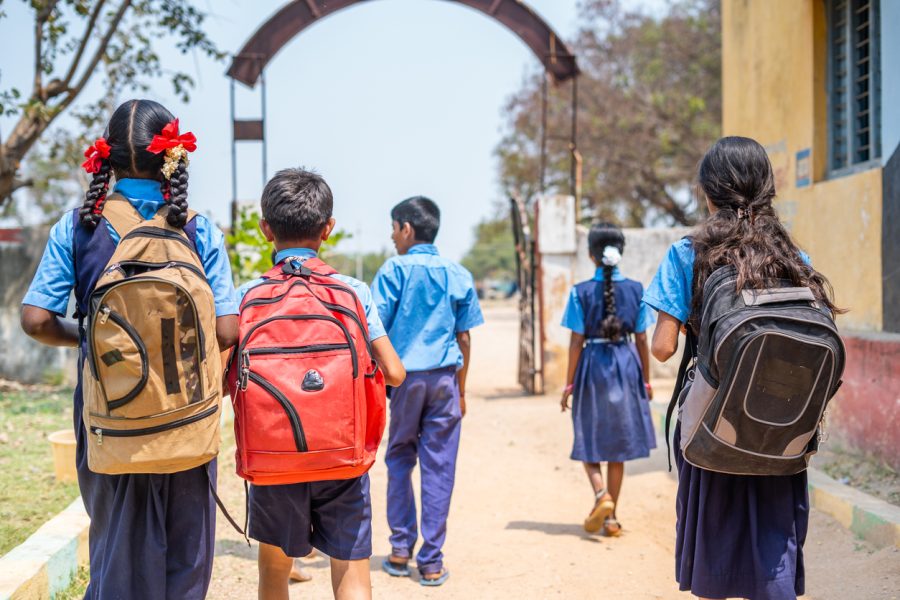 Telangana takes a baby step, but school bags continue to burden Indian children
Writer RK Narayan, who was nominated to the Rajya Sabha in 1986, spoke just once in Parliament. This was to raise the issue of weighty school bags, and make a fervent plea to reduce the "daily burden" of children. School bags weighing over 5 kg made many children "hang their arms forward like chimpanzees and like a pack-mule", he remarked. Narayan sought an "abolition of school bag" as a national nolicy by an ordinance.
Over three decades hence, school children in India continue to suffer from the burden of heavy loads. This despite repeated warnings and concerns raised by doctors and educationists. The issue persists due to a combination of factors, including the lack of strict regulations and enforcement, limited awareness among parents and educators, and the pressure to cover a vast curriculum.
Many schools still prioritise academic content over the well-being of students, resulting in overloaded backpacks filled with textbooks, notebooks, and other learning materials. The heavy weight of their bags puts immense strain on children's developing bodies, leading to a range of health problems, including back pain, spinal deformities, and reduced mobility.
To address this grave issue, concerted efforts are needed from educational authorities, schools, parents, and policymakers to implement and enforce weight guidelines, promote digital learning solutions, and raise awareness about the importance of lightening the loads of children's school bags for their overall health and academic success.
'No Bag Day' —Telangana's new initiative
The Telangana School Education department recently took a step in this direction by  designating the fourth Saturday of every month as a bagless day in all schools. The new initiative, christened as 'No Bag Day,' aims to make learning more enjoyable through a diverse range of activities while reducing pressure on students.
Also read: Tamil Nadu: Candidates anxious over delay in results of MRB assistant surgeons exam
Under the guidance of the State Council of Education Research and Training (SCERT), a wing of the Telangana School Education department, Class I to X students will experience 10 bagless days throughout the academic year. These days will offer an opportunity for students to engage in various activities both inside and outside the classroom.
The bagless day curriculum encompasses field visits to museums, historical sites, and gram panchayats, allowing students to explore and connect with the world around them. In addition to these, indoor activities like science experiments, doodling, model assembly and elections will help stimulate their creativity and critical thinking skills.
Different activities for different grade levels
The No Bag initiative, which aims to bridge the gap between theoretical knowledge and practical application, includes various activities for different grade levels. For the primary section, there are three sessions focusing on communication skills and creativity.
Class I and II students will speak about their family, imitate a family member, and draw a sketch of a family member. Class III, IV, and V students will engage in activity-based learning centred around livelihoods, where they will speak, act, and draw tools related to their preferred occupation.
For secondary level students (Class VI to X), the stress will be on experiential learning through field visits to places such as post offices, construction sites, and ration shops. Activities like family budget surveys, model assembly model elections, and financial transactions are also included.
Also read: Physics Wallah partners with Xylem Learning, to invest Rs 500 cr in South
Students will have the opportunity to interview postmasters, postmen, and householders during the post office visit, gaining insights into different professions and services. Additionally, secondary school students will be introduced to artificial intelligence basics, its applications, and potential career paths.
This initiative is essential because it will promote practical learning experiences, enhance communication skills and creativity, and provide students with insights into various career opportunities. It will also introduce them to emerging technologies like artificial intelligence, enabling them to explore potential career paths in these fields.
Karnataka reissues the 2019 circular
Lightening the loads of kids' school bags is essential for their overall physical health and well-being. Last week, the Karnataka government took a step towards addressing this issue by urging schools to strictly adhere to school bag guidelines.
The Department of School Education and Literacy in Karnataka reissued a circular from 2019, instructing schools to ensure that the maximum weight of a school bag does not exceed 15 percent of the student's weight. The circular specified the permissible weight for different grade levels: 1.5-2 kg for class 1-2, 2-3 kg for class 3-5, 3-4 kg for class 6-8, and 4-5 kg for classes 9-10.
This order applies to government schools, aided and unaided private schools, and compliance with the regulations is mandatory. In addition to weight limits, the circular also recommended schools to observe a 'no bag day' once a week, preferably on Saturdays, where students would not be required to carry any school bags.
The decision to impose these guidelines was based on the recommendations of the Dr VP Niranjanaradhya Committee, which was commissioned by the state government to study the health implications of heavy school bags on students. This move aims to reduce the physical strain and health issues caused by carrying heavy school bags.
The School Bag Policy, 2020
In line with these efforts, the Bureau of Indian Standards (BIS) announced in April this year that it would develop a standard to address the issue. The BIS stated its intention to conduct research and prepare a standard to mitigate the burden on students.
While the issue has been a concern for parents, children, and school authorities for a long time, the initiatives mentioned above reflect a growing recognition of its detrimental impact on the overall development of students. The Union ministry of education addressed this issue by implementing the 'School Bag Policy, 2020,' which was released by the National Council of Educational Research and Training (NCERT).
The policy underlines that teachers should inform students in advance about the necessary books and notebooks for each day and regularly check their bags to ensure they are not carrying unnecessary materials. It also sets weight limits for different classes, ranging from 1.6 to 2.2 kg for Classes I and II, up to 3.5 to 5 kg for Classes XI and XII.
Also read: Dropout rate at secondary level higher than national average in seven states: Centre
By shifting from a textbook-dominated culture to a learner-centric, competence-based approach, the education system can reduce the stress and discomfort caused to the students. As per policy guidelines, the focus should be on understanding concepts rather than rote memorisation, offering the necessary subjects at each stage.
The policy recommends regular monitoring of bag weights in schools, and the promotion  of lightweight bags with padded and adjustable straps that evenly distribute weight on both shoulders. Wheeled carriers are discouraged. It suggests printing the weight of each textbook on them, displaying bag weight charts in classrooms and notice boards, and including the school diary in the bag weight.
It also encourages providing adequate, high-quality mid-day meals and potable water to eliminate the need for lunch boxes and water bottles. Children with special needs are also considered, with provisions for double sets of textbooks through book banks and lockers in classrooms for storing and retrieving books and other items.
Besides, the policy also proposes timetables to ensure students do not have to carry all books every day and exceed the weight limit. These recommendations are based on surveys and studies conducted by the NCERT, analysing data from thousands of students and parents across various schools, including Kendriya Vidyalayas and state government schools.
However, despite numerous debates and discussions on the issue, students continue to suffer. Child counsellors, psychologists, and educationists have consistently highlighted this, with a unanimous agreement that the weight of school bags must be reduced. Although circulars have been issued to schools, the travails of children have not stopped.