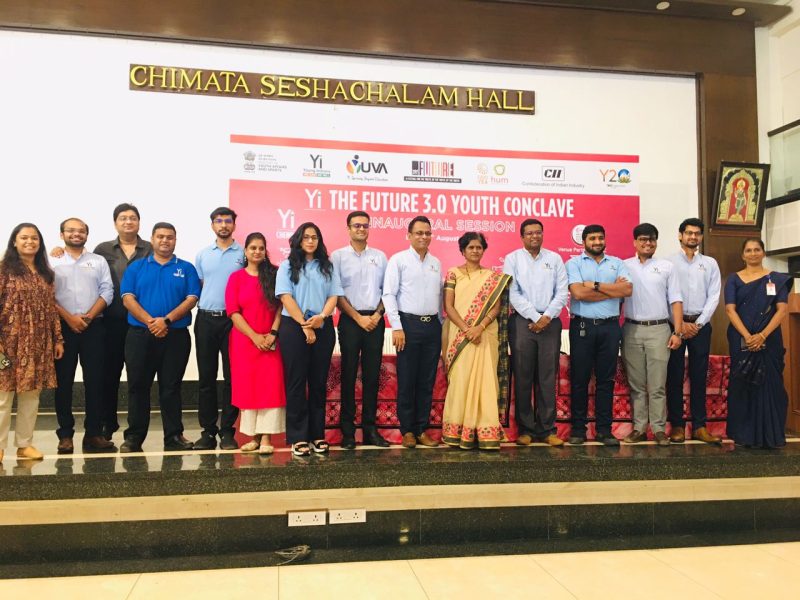 Students ideate, come up with solutions at Yi Chennai's Future 3.0 Youth Conclave
Yi Chennai, along with the Ministry of Youth Affairs, recently conducted the Future 3.0 Youth Conclave. The inaugural session was convened  by Nitin Bothra, National Yuva Co-chair, Yi, and Krishna Nathani, Past Chair, Yi Chennai. 
The other guests on the dais were Mohanapriya, Principal, SKPC; Pratheep Chandramohan, Chairperson, Yi Chennai; Mahesh Vasan, Innovation Co-chair, Yi Chennai; and Varan Mittal, Yuva Chair Yi Chennai.
The chief guests emphasised on the importance of industry and practical knowledge for students to excel in their careers. Over 150 students participated, ideating and coming up with solutions from their respective domains. 
The domains under which the problem statements were given were: Future of lifestyle for sustainability, Future of digital economy, Future of education, Future of manufacturing, and Future of agri-tech. The ideation went on for six weeks with different master classes given to the students by the mentors assigned for each domain.
10 different institutions
The students were from 10 different institutions across Chennai, and the mentors were members of Yi Chennai who are experts in their respective domains. Rohit Khetan, Janani Iyer, Rishi, Smylee, Vinayak and Amirthavarshini were the mentors of the above mentioned domains. 
The event was hosted by Yuva College SKPC. 
The outcome document is expected to contain more than 20 solutions for different problem statements under different domains. This will be presented to the Ministry of Youth  Affairs.