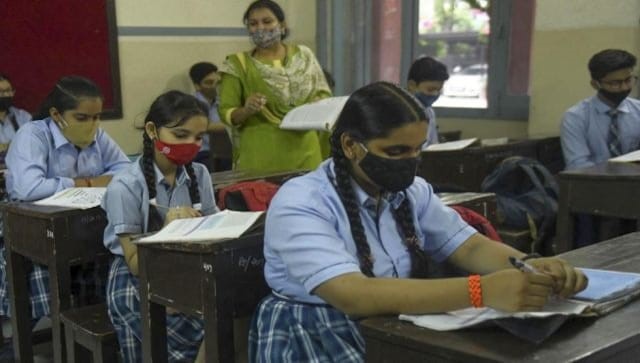 A reform outlined in the new National Education Policy (NEP), PARAKH will set up assessment guidelines for all boards to help remove disparities in scores of students enrolled with different state boards. Representational image
The sorely-needed uniformity in assessment across more than 60 boards in the country will be facilitated by PARAKH, India's first national assessment regulator, said Educational Testing Service (ETS) CEO Amit Sevak.
ETS, which conducts key tests such as TOEFL and GRE, has been chosen by the National Council for Education Research (NCERT) to set up the regulatory platform – PARAKH.
The Performance Assessment, Review and Analysis of Knowledge for Holistic Development (PARAKH) will work on setting norms, standards and guidelines for student assessment and evaluation for all recognised school boards in the country.
"PARAKH will be an independent organisation affiliated to the education ministry, which will be looking into three major areas – large-scale assessment like the National Achievement Survey, school-based assessments and thirdly, capacity building.
"The first step is to develop some norms and standardised guidelines for assessment including summative tests and constant new forms of assessing students," Sevak told PTI in an interview.
Stressing upon the diversity in school education in India due to geographic differences and multiple languages, Sevak said PARAKH will bring in the "uniformity" in assessment across the 62 boards in 36 states and Union territories.
Also read: NEP reoriented India's education system for future demands: PM Modi
"Our vision is to be able to effectively measure the acquisition of skills at K12 level. Right now we are in the process of setting up a blueprint for PARAKH, an initial framework…. We will have discussions around organisational forms, roles and responsibilities, eventually we will be talking about more specific details like location and so on," he said.
"We will study the current context in which assessments have been provided…now that we are in a post-COVID world, we want to have a fresh look in the current context…the kinds of measurement that the government wants to track and explore the ability to go beyond traditional cognitive assessment," he added.
Sevak, however, did not comment on a definite timeline by when PARAKH will be formally ready. A reform outlined in the new National Education Policy (NEP), PARAKH will set up assessment guidelines for all boards to help remove disparities in scores of students enrolled with different state boards.
"ETS's understanding of global best practices in curriculum and assessment will help in standardising several aspects across various school boards thereby paving the way for equality, consistency and uniformity not only in assessment but also in teaching and learning practices, he said.
Asked about whether PARAKH will include moderation of grades, a policy junked by the Central Board of Secondary Education (CBSE), Sevak said it is too early to comment on it.
Also read: A gap year can fill some critical gaps in Indian education system
"Inflation of grades is not only a problem in India but a global issue. Though it is (too) early to comment on what the nuances are going to be but some kind of moderation will be needed to normalise the grades, considering the wide diversity in the country at multiple levels such as language, demographics, learning levels and accessibility, he said.
ETS develops, administers and scores tens of millions of tests annually, including TOEFL, TOEIC, GRE and the Praxis Series assessments, in more than 200 countries and at over 9,000 locations worldwide.
"PARAKH will serve as global model for how to build world-class assessment and learning systems to deliver high-quality student outcomes, advance education and improve millions of lives, he said.
Elaborating on ETS's role in the National Achievement Survey (NAS) currently conducted by NCERT, Sevak said in the next survey, the requirements will be more refined.
"Education is evolving in India, survey will also be evolving to keep up with times. It is going to be a process. We help conduct national surveys for many countries, so the best practices and parameters from different countries will also be incorporated," he said.