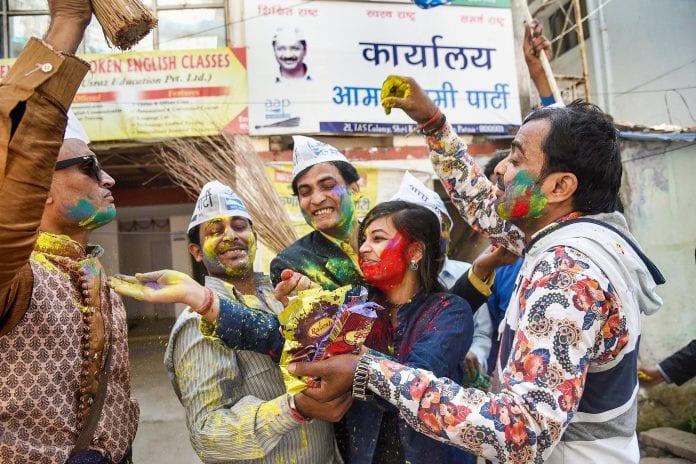 Congratulations have begun pouring in for Aam Aadmi Party (AAP) and its leader Arvind Kejriwal with early counting trends suggesting a win for the party in the Delhi Assembly polls on Tuesday (February).
People of Delhi have given a befitting reply to the BJP's "politics of hate and violence," the CPI(M) said as it congratulated Kejriwal and AAP for a resounding win.
According to the Election Commission (EC), AAP is leading on 59 seats while the BJP on ahead in 11.
Advertisement
"Congratulations @ArvindKejriwal @AamAadmiParty and the people of Delhi who have given a befitting reply to BJPs politics of hate and violence. Union ministers called for gaalis and golis. People have given their answer," tweeted CPI(M) general secretary Sitaram Yechury.
Related News: What is happening in seats that saw anti-CAA protests
He also said national security means securing lives, livelihoods, education and health and that "abuse and threats to shoot down the electorate in the face of a serious economic crisis in the country, jobs loss, democracy in tatters, all got a fitting rebuff."
"BJP's top leaders, its ministers and MPs cannot be allowed to get away with incitements and threats to murder. Last time such an atmosphere of hate and violence was generated, Gandhiji was assassinated," he said.
Congratulating Kejriwal, Kerala Chief Minister Pinarayi Vijayan wished the "resounding victory", to be a harbinger for inclusive politics in the country. "Congratulations to @ArvindKejriwal and @AamAadmiParty on a resounding victory in Delhi elections. Let this victory be a harbinger for pro-people and inclusive politics in our country," he tweeted.
Earlier, West Bengal Chief Minister who congratulated Kejriwal, said that the AAP's win shows that people have rejected the BJP.
"One state after another slipping out of the BJP's grip. The party will soon lose all states under its control," she said at a rally in Bengal's Bankura district.
Shiv Sena chief and Maharashtra chief minister Uddhav Thackeray congratulated Arvind Kejriwal and said, "The people of Delhi have shown that 'Jan Ki Baat' will work on the country now and not 'Mann ki Baat'. The so-called national government that put all its might could not succeed against the broom. They powerful party parachuted its senior leaders in the elections, compared Kejriwal to a terrorist, they ignored the local issues… but the people of Delhi stood firmly behind a man who sincerely worked towards development."
NCP Minister Nawab Malik said that people of Delhi have chosen development by re-electing the AAP government. "Prime Minister Narendra Modi had appealed to the people to vote against the traitors. And the people of Delhi have declared BJP the traitors by not voting for them," Malik said.
Congratulating Aam Aadmi Party and Arvind Kejriwal for the sweeping victory in Delhi Assembly polls, former Congress leader and Shiv Sena deputy leader Priyanka Chaturvedi tweeted: "Delhi has rejected BJP's hate filled and divisive campaign by decisively voting for AAP's development & better standard of living agenda. Congratulations to @ArvindKejriwal and @AamAadmiParty".
(With inputs from agencies)