In a bittersweet ending, the BJP managed to increase its tally in the 2020 Delhi assembly elections to 8, up from the 3 it had five years ago.
Interestingly, six of the eight seats — Karawal Nagar, Ghonda, Gandhi Nagar, Rohtas Nagar, Laxmi Nagar, and Vishwas Nagar — came from east Delhi across the Yamuna, the election results came as a face-saver to the Narendra Modi-led party.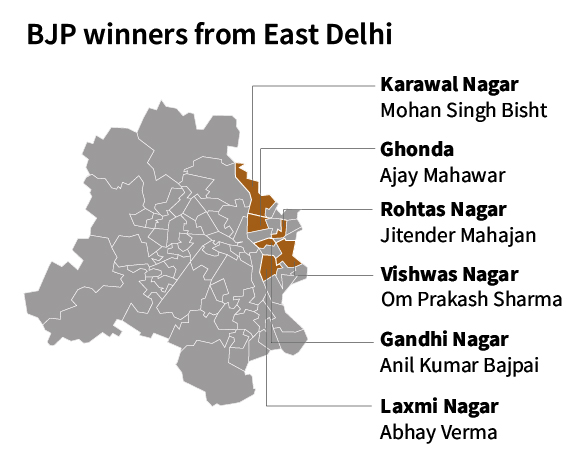 The winners in these seats were Om Prakash Sharma in Vishwas Nagar, Mohan Singh Bisht in Karawal Nagar, Ajay Mahawar in Ghonda, Anil Kumar Bajpai in Gandhi Nagar, Jitender Mahajan in Rohtas Nagar and Abhay Verma in Laxmi Nagar.
While in most places the party got a comfortable victory, in Laxmi Nagar, Abhay Verma edged out AAP's Nitin Tyagi by just around 800 votes.
Related news | AAP sweeps off BJP's agenda of polaristion to complete hat-trick
In 2015, the BJP had managed to win only Vishwas Nagar and Mustafabad from East Delhi. Incidentally, the party lost Mustafabad this time to AAP's Haji Yunus.
These constituencies are close to Uttar Pradesh's Ghaziabad and are largely dominated by people from eastern UP and Bihar, who are referred to as Purvanchalis, or Easterners. BJP's current Delhi president is Manoj Tiwari, who hails from Bihar and is known for his Bhojpuri films and songs.
The BJP however could not score any seat in south-eastern Delhi, where the Shaheen Bagh protests have created an impact. BJP leaders like Amit Shah had during campaigning said that people must vote to ensure there are no Shaheen Baghs in Delhi and that their votes should give a "current" to Shaheen Bagh.
Apart from the East Delhi seats, former Delhi BJP chief Vijender Gupta retained his seat in Rohini in north-west Delhi and Ramvir Singh Bidhuri won Badarpur in south Delhi.