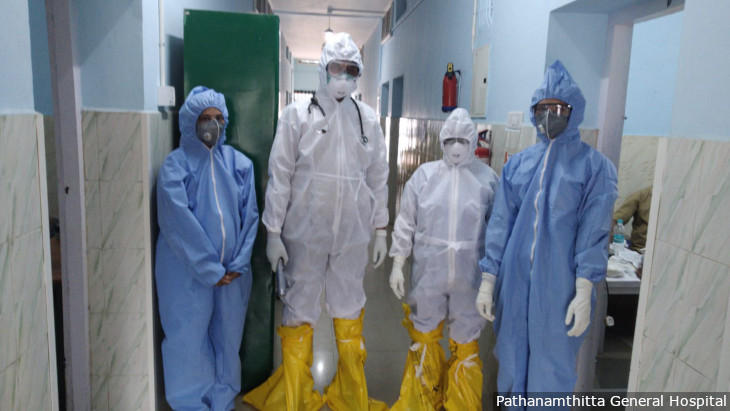 With coronavirus cases rising rapidly in Karnataka (46 cases of as March 25), the medical fraternity is faced with a new challenge – the shortage of hand rub solutions and personal protection equipment (PPEs) including gloves, masks, face-shields, gowns, head covers, and shoe covers.
Confirming the shortage, doctors at hospitals treating COVID-19 patients requested the government to take necessary measures to ensure the availability of PPEs.
Citing the mistakes of Italy and Spain that accounted for a majority number of coronavirus positive cases and were understaffed with less equipment, healthcare workers across the country feel this is an urgent concern that the government should resolve.
With the Karnataka doctor, who treated the deceased coronavirus-infected Kalburgi man, testing positive for COVID-19, it has become even more critical for the government to look into this issue.
Jayanagar member of Legislative Assembly Sowmya Reddy, tweeted about the shortage in certain hospitals on Wednesday and said they were looking for manufacturers to pitch in and help.
"We are short of N95 masks, triple-layer masks, and PPE kits and we are trying to connect with manufacturers and vendors," Reddy told The Federal.
She appealed to the media to not publish the names of the hospital which in turn could create panic among the public and risk the case reportage.
#URGENT In touch with a few hospitals who are treating #Covid19 cases. Running out of the below.
1. N95 Masks
2. Triple layer mask
3. Sanitizers
4. PPE kits
If you know any vendor/supplier plz let us know asap. We need to help the #healthcare workers who are helping us.Thanks pic.twitter.com/SP6dITxQt2

— Sowmya Reddy (@Sowmyareddyr) March 24, 2020
While the Ministry of Health and Family Welfare (MOHFW) has given clear instructions on the manufacturing and usage of PPEs, these are not strictly followed on the ground, leading to shortages in hospitals and even small flu clinics.
"Despite clear directives for optimal use of PPE from MOHFW, healthcare workers themselves were seen using precious N95 masks where they are not required to," Dr Sudheendra Rao, a physician-scientist and scientific advisor at Organisation for Rare Diseases India (ORDI) said."If continued, this might create unwanted shortage when it is needed badly," Dr Rao said.
Related news: Govt likely to announce Rs.1.5-lakh-crore plan to tackle COVID-19 slump
He also cautioned that it is extremely crucial to address the availability of PPEs, and encourage their rational use among health care workers.
Dr Rao added that manufacturing PPEs is possible locally because India has industries well set up to get these done.
As the days pass, reports of shortage are flooding in from several doctors and medical students all over India who took to twitter to raise the concern.
Is this the thanks they get ? Is this the gratitude ? No PPE, now no house even pic.twitter.com/ppUS7ycvyC

— Dr. Aditi Rana (@itrollmuggles) March 23, 2020
Responding to the requests, the Health Ministry made it clear that they will keep a central buffer stock of PPE and ventilators but pointed out that making sufficient PPE available to end-users is the responsibility of the states.
The Karnataka government which made a decision to purchase 1000 ventilators from a Mysuru-based company called Skanray Technologies is also looking at procuring sanitizer and thermal scanners from other companies.
Health Minister B Sriramulu on March 23 said the government has already taken steps to buy ten lakh (triple layer and N95 masks), and five lakh PPEs from Hindustan Latex Ltd.
Most of the hospitals and even small flu clinics need N95 masks at the frontline — triage, emergency wing and for the treatment wards. These are essential for doctors.
These are essential for doctors. Dr Rao was of the opinion that a certain number of PPEs should be made available as a package per COVID19 reserved bed so that the health care workers working for that patient know that sufficient PPEs are available for them to handle that case.
"PPEs should be made available right away without delays. In addition, adequate PPEs should also be ensured in private hospitals who have been provided responsibilities to handle COVID19 cases," the doctor said.
Besides, Dr Rao said that rare disease patients are extremely vulnerable to COVID19 and they depend heavily on a lot of health care providers.
"It is, therefore, essential to make sure that health care workers are protected with enough PPEs.
"He further noted that manufacturing of PPEs are possible locally as we have well set up industries to get these done. However, reports were coming in that factories in industrial areas manufacturing PPEs were not permitted to open because of lockdown.
"In addition to liberalizing certain manufacturing facility rules for some time, the government needs to ensure the process of licensing is fast-tracked, thereby let companies address the pressing needs of the medical community for PPE and sanitizers," the doctor said.
"I would also suggest them to look into strengthening their workforce by recruiting qualified volunteers to speed up the quality check process."Rao added that if we do not observe these 21 days lockdown procedure very sincerely, the country will end up looking at explosive COVID19 case numbers by mid-April. "That will be too late for health care workers and for the community," Dr Rao adds.