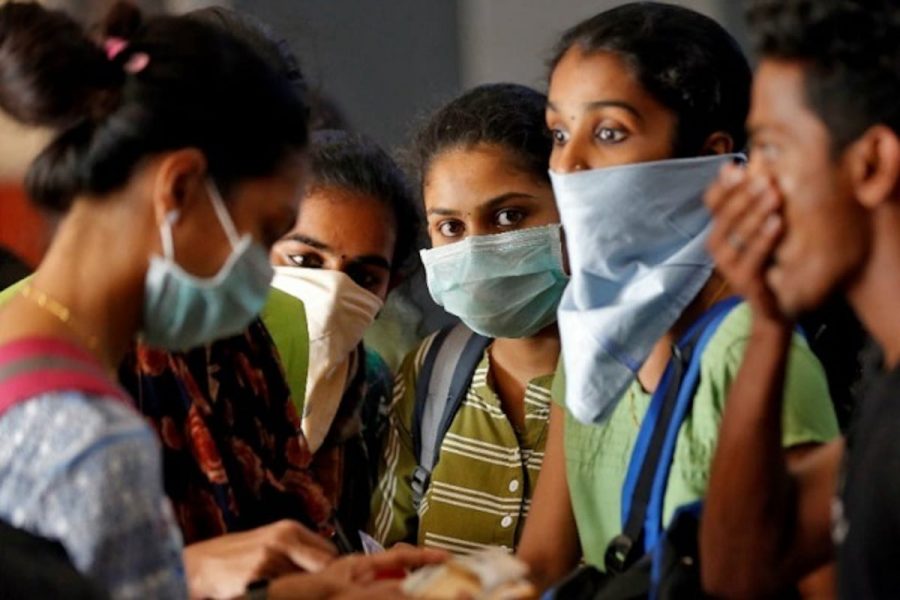 The ongoing surge of COVID in European countries, especially among fully vaccinated people there, has put Kerala on alert.
"Because Kerala is more epidemiologically similar to the European countries than other Indian states," says Dr Anish TS, a member of the expert committee advising the Kerala government on pandemic control.
In Kerala too, breakthrough infections are shooting each day, even though 95.3 per cent of the population has got the first dose and 56.1 per cent both doses of the COVID vaccine.
Europe saw a 6 per cent increase in new infections last week compared with the week before, and a corresponding 12 per cent rise in deaths. Experts across the world said Europe was the new epicentre of COVID and many governments rushed in to impose lockdowns. In the latest, the Netherlands moved into a three-week lockdown.
According to the WHO, Europe is at a "critical point" and the spike in cases is likely because of "uneven vaccine coverage" and early relaxation of pandemic curbs.
EU data said inoculation campaigns had hit a high point and then 'plateaued' in many countries. According to data provided by the European Centre for Disease Prevention and Control (ECDC), there were 7,67,99,553 cases across Europe [as on November 11]. The five countries reporting most cases are United Kingdom (93,01,909), Russia (88,34,495), Turkey (82,06,375), France (72,03,823), and Spain (50,31,796).
The 2011 Census put the number of Keralites working abroad as 16.25 lakh. No official data is available on how many Keralites are in Europe but estimates say there were 45,000 Keralites in the UK alone.
Dr Anish was quoted as saying in the Indian Express: "What's happening there could have similar results here. Why (cases are rising) in Europe is an important question. Is it because the effects of the vaccines are waning? Or since it's winter there right now, there will be more closed interactions. It could be because of such social factors, we still don't know it yet. So it's certainly alarming for us."
Also read: COVID pills are round the corner; what this means for India and the world
In Germany, where 67.2 per cent population is fully inoculated, over 50,000 cases were noted on Thursday, the highest since the beginning of the pandemic.
In the UK, one of the worst-affected countries in Europe in terms of COVID fatalities, more than 35,000 cases were reported this week.
In Kerala, the latest seroprevalence survey found antibodies in 82 per cent of the population, but on Thursday, as many as 47 per cent of new cases in the state were noted among those who were fully vaccinated.
Also read: Kerala government freezes Mullaperiyar tree felling order
"Almost all the breakthrough infections are not very severe. Comparatively, death rates are low. Such data is very consistent with that from European countries. In other Indian states, breakthrough infections are perhaps not being captured, it may be very mild so that the (health) system doesn't capture it. That may be one reason. The second reason is natural infections are quite high in other states. So it will be a sterilising kind of immunity where there will be no infections at all. Those who have been infected with the Delta variant of the virus once may not get infected again at all," Dr Anish reportedly said.
But he cautioned, "It's clear that we cannot drop our guard right now."
As per EU data put out on November 7, in the EU, there was a 'high and rapidly increasing overall case notification rate and a low but slowly increasing death rate.' A weekly surveillance summary said 10 countries (Belgium, Bulgaria, Croatia, Czechia, Estonia, Greece, Hungary, the Netherlands, Poland and Slovenia) were categorised as of 'very high concern.' It put 13 countries in the high concern category (Austria, Denmark, Finland, Germany, Iceland, Ireland, Latvia, Liechtenstein, Lithuania, Luxembourg, Norway, Romania and Slovakia); and three countries in the 'moderate concern' category (Cyprus, France and Portugal). The low concern countries were Italy, Malta, Spain, and Sweden.
The two-week forecast said there would be an increase in death rate and hospital and ICU admissions in Europe.