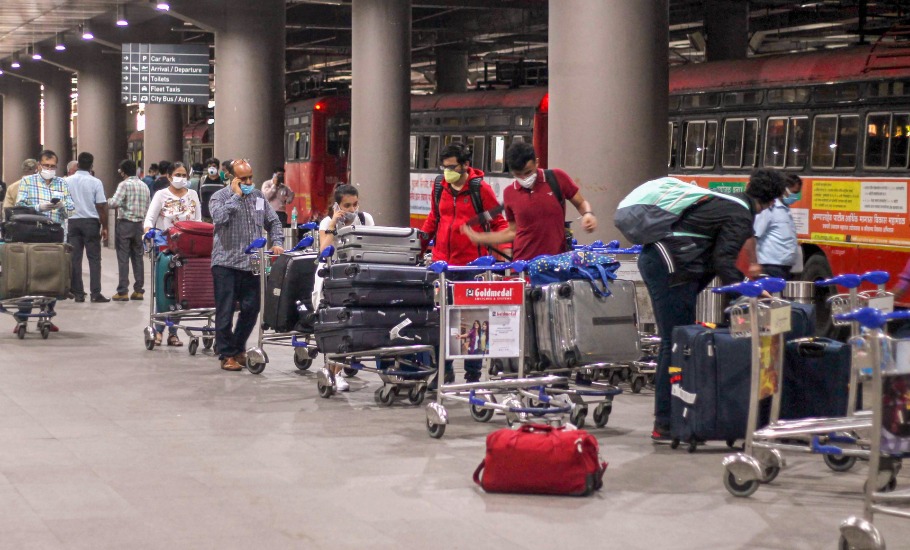 Over 1,500 Indians stranded in various parts of the globe were brought back by flights and ship on Sunday (May 10) and more are expected as part of a massive repatriation exercise in the midst of COVID-19 pandemic and lockdown.
Nearly 572 Indians who were stranded abroad due to the coronavirus-enforced lockdown landed at the Mumbai international airport early Sunday morning, said a Maharashtra government official. Two flights, one from London and another from Singapore, landed here in the morning, he said. A flight from Manila, Philippines carrying 241 passengers is expected to land in Mumbai on Sunday night, he added.
Another Air India flight, carrying 171 people, arrived in Chennai from Kuwait on Sunday, officials said. One more flight from Riyadh, carrying 139 Indians, has landed in Delhi, said foreign minister S Jaishankar. Besides, an Air India Express flight carrying 177 passengers and two infants from Kuala Lumpur landed in Kochi on Sunday, said the Kerala government.
Indian Navy ship INS Jalashwa arrived at Kochi port at 9:30 am on May 10 with 698 repatriated Indians, completing the Navy's first massive evacuation exercise from foreign soil during the COVID-19 lockdown. The first batch of repatriates included 14 children below 10 years and 19 pregnant women.
Under the Samudra Setu mission, the Indian Navy had dispatched two ships — INS Jalashwa and INS Magar — to Male, Maldives to commence its first phase of evacuation operation from May 8. INS Magar departed from Male, Maldives on Sunday for Kochi in Kerala with 202 Indian nationals, the Indian Navy said.
The Union government had earlier this week announced its plans to begin a phased repatriation exercise of its citizens stranded abroad, from May 7.
In the first phase, Air India will operate a total of 64 flights between May 7 and 13 to bring back around 15,000 Indian nationals from 12 countries. Besides, the Navy has sent three vessels to Maldives and the UAE to evacuate the country's citizens amid the pandemic.
Related news: Two Indians flown back from UAE to Kerala test positive for COVID-19
Beginning the Vande Bharat mission, two Air India Express flights brought the first two batches of 354 passengers and nine infants from Abu Dhabi and Kochi. Of the repatriates on the two flights – Abu Dhabi-Kochi and Dubai-Kozhikode – two Indians tested positive for COVID-19 following their arrival.
On May 9, an Air India flight with 182 Indians from Sharjah, UAE had arrived in Lucknow. Besides, two flights carrying 362 people from Oman and Kuwait arrived at the Kochi airport on Saturday night. Two more flights carrying 359 repatriates from Dubai had reached Chennai earlier in the day.
In the first phase of the US-India segment, flights have been planned from San Francisco, Chicago, New York and Washington DC to New Delhi, Mumbai, Hyderabad, Ahmedabad, Chennai and Bengaluru. Officials said 1,961 Indians are likely to be repatriated through seven flights in the first phase.
(With inputs from agencies)