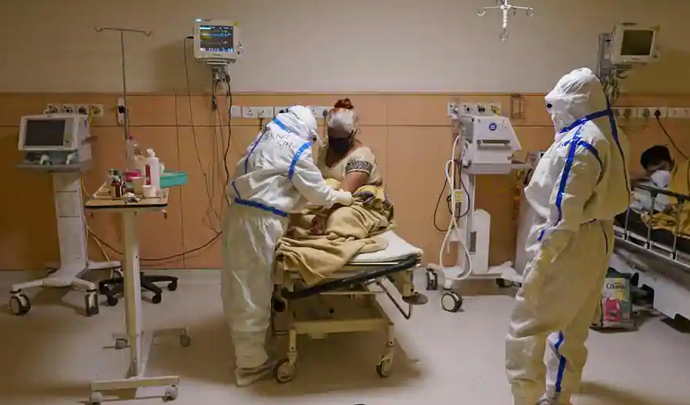 A rare severe fungal infection is said to have afflicted many COVID-19 patients, doctors have reported from various parts of the country. Media reports quoting doctors said the survival rate for mucormycosis is 50 per cent in cases where it affects the brain.
Many such patients have reported loss of vision with doctors also reporting removal of the nose and jaw bone in such COVID cases. Delhi's Sir Ganga Ram Hospital has seen more than a dozen cases of mucormycosis fungus in the last fortnight, media reported.
Also read: Next 4 to 6 months might be the worst during the pandemic: Bill Gates
Another report said that in Ahmedabad five cases of the fungal infection have surfaced among those who were being treated for COVID-19 or had recently recovered from the deadly virus infection.
In Ahmedabad, two died and two among the survivors have lost their eyesight. Four of the five were males between the age of 34 and 47; the fifth was a 67-year-old man from Bhuj. All showed enlarged eyeballs, which were bulging out of their sockets, a TOI report said.
Also read: COVID vaccine: Pfizer seeks clinical trial waiver in India, but lacks data on Asians
The patients had unusually high sugar and low immunity and were on steroids.
Black Fungus or mucormycosis is caused by a group of molds called mucormycetes which exist in the environment. Mucormycosis mainly affects people who have health problems or take medicines that lower the body's ability to fight germs and sickness.
The symptoms are face numbness, one-side nose obstructions or swelling of eyes, or pain. The Indian Express report said an extensive surgical debridement was undertaken by a team of ENT and eye surgeons, and the patient had to be subsequently put on life saving antifungal medication and vital critical care support for more than two weeks.
Early detection can prevent loss of eyesight, nose or jaw through clinical intervention, doctors said. Dr Shaloo Bageja, a senior eye surgeon at the hospital, told The Indian Express: "Orbital involvement (the bony cavity that contains the eyeball) is a grave development in the course of this disease, and points not only towards the possibility of permanent loss of eyesight but life as well because brain involvement is the leading cause of death in mucormycosis."